Monday, February 20, 2006
How do you encourage a group of junior high school students to express themselves? Some might suggest you teach them to use a camera. Community members, local artists and regional businesses have collaborated to make it possible for area students to explore the art of photography.
Central Junior High School is one of three Lawrence schools that participate in the Safe Schools/Healthy Students after-school program. The program is free and provides a safe, supervised environment for students after the regular school day ends.
Tim Stauffer is one of 12 college-age instructors who works with students teaching a variety of subjects. Stauffer is a sociology major at Kansas University and became active in the community as a volunteer with Big Brothers/Big Sisters. His talents were quickly recognized by Jennifer Ybarra, the program manager at Central. Shortly thereafter, Tim was hired and has been working with students after school for a little more than two years now.
"I've learned that each student here needs a way to express their voice," Stauffer says. "Photography is a wonderful means to get each student telling his or her story."
Realizing the need for camera equipment and technical expertise, Stauffer called on the community for support. Cameras and film were donated by area newspapers and several Lawrence artists. He recruited members of the Lawrence Photo Alliance to give demonstrations and act as mentors to these aspiring photographers.
The Lawrence Public Library and the Olive Gallery have been crucial to the success of the class - both of them donating gallery space for the class to hold its quarterly exhibits. Image Works has processed their film into contact prints at 25 percent off the normal price.
"When members of the Lawrence community support our efforts, everyone involved gets to see how vital schools really are to the success of a community," Stauffer says.
Photo Gallery
Showing their stories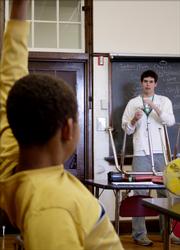 Junior high students learn to tell personal tales with cameras.
At the beginning of each class, students gather around a table and review the photos taken during the last session. Stauffer leads a discussion, and the kids critique their own work.
"I think it's great. I might want to be a professional photographer one day," says DJ Simmons, a seventh-grader at Central.
Stauffer has taken time to emphasize how photography can be used as a powerful communication tool and as an effective means of self-expression. He and his volunteers have led the group on several outings, including trips to Burcham Park, downtown Lawrence and the KU campus.
Volunteers and teachers who have worked with Stauffer agree that he is doing a great service to the community by introducing these young minds to the power of art. But he remains humble and persistent in his efforts.
"The young adults that I work with have taught me life lessons that are priceless," he says. "I've learned how to be brave and stand up for who I am. They've helped me become me."
Work by the young artists enrolled in Stauffer's photography class will be on view through Feb. 24 at the Olive Gallery. For more information regarding the Safe Schools/Healthy students after-school program, visit www.lawrencesshs.net.
Dan Coburn is a photographer working in Lawrence. He has been helping Stauffer work with the students this quarter.
More like this story on Lawrence.com