Thursday, February 23, 2006
When putting together a list of the greatest rock records, The Beatles' "White Album" always ranks high.
But it's a little surprising how many die-hard fans there are of the "The Brown Album."
Never heard of it?
Several years before "Jesus Christ Superstar" became a Broadway sensation and a hit film, it began as a 1970 concept record - one dubbed the "The Brown Album" by its many devotees.
"I shared a room with my brother, and he always got cool records," recalls Lawrence guitarist Kory Willis. "Whatever he listened to, I listened to by default. I've listened to 'The Brown Album' nonstop for over 30 years."
Last year, Willis ran into drummer friend Bret Dillingham, and the pair ended up drinking and spinning discs back at Willis' house.
"We got out 'Jesus Christ Superstar,' and we found out that we both had this shared lifelong affection for it," Willis says.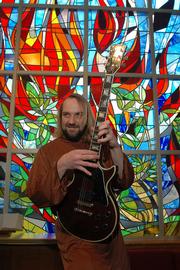 The two discussed whether it would be possible to mount a live version of "The Brown Album."
"The wheels in my brain started turning and wondering who would want to do this," he says. "Fortunately, we're in Lawrence, where every third person is a great, versatile musician. We were able to put together a band, and it kept snowballing."
Now, more than a year after the idea was first kicked around, a collective of 15 Lawrence musicians will perform the material from "Jesus Christ Superstar" in its entirety. The ensemble is booked for two shows Saturday at The Bottleneck, 737 N.H., followed by two on March 4 at Kansas City's Record Bar.
"It's going to be like an in-concert tribute to the album," says Eric Mardis, who "portrays" Jesus. "There's really no acting. It will just be the musicians onstage, and we'll bring the soloists up to the front. No costumes."
Past Event
Saturday, February 25, 2006, 7 p.m.
Bottleneck, 737 New Hampshire, Lawrence
All ages / $5
Mardis, who is banjoist in the band Split Lip Rayfield, also was introduced to the Andrew Lloyd Webber/Tim Rice-composed album by an older brother when he was 13. This "Original London Concept Recording" featured Deep Purple singer Ian Gillan in the Jesus role. Mardis considers the heavy metal act his "all-time favorite band."
"We're trying to make it all about the rock and less about the theatrical aspect, or even the religious message - if there is one," he says. "We're letting the music speak for itself."
It was this aspect that Mardis and his fellow players found particularly challenging.
"I've always known all the words and can sing the thing to annoy anyone," he says. "But I've never tried to tackle the music until this last year. It's really been fun learning all those guitar parts and how to substitute guitars or keyboards for all the orchestral parts."
Willis adds, "It's not just three-chord rock and roll. There are a lot of different time signatures. There is all sorts of arranging to do."
Past Event
Saturday, February 25, 2006, 11 p.m.
Bottleneck, 737 New Hampshire, Lawrence
21+ / $5
To handle the material, a lineup of two guitars, two keyboards, bass and drums has been assembled. Some musicians also will double in the eight-member choir.
In addition to Split Lip's Mardis, Willis (The Midday Ramblers) and Dillingham (The Shebangs), other Lawrence bands represented are The What Gives, Drakkar Sauna and Marry Me Moses. Special guests include songwriter Arthur Dodge as King Herod and former Tenderloin bassist John Cutler as Simon.
"This was one of my mother's favorite operas," Cutler says. "She passed on about a year and a half ago. I wish she was alive now to see this. I don't think she ever came to see any of the other bands I was in. My family had a history with this piece of work. We used to sing these songs on family vacations when I was a kid."
Proceeds from the Lawrence shows will go to LINK (Lawrence Interdenominational Nutrition Kitchen) and the Lawrence Humane Society. The K.C. event will benefit Harvesters - the Community Food Network and the Kirk Rundstrom Cancer Fund. (Rundstrom is the guitarist for Split Lip Rayfield who was recently diagnosed with throat cancer.)
"It's been a real labor of love," Mardis says. "It's been a chance for me to play with some of my favorite Lawrence musicians I've looked up to for a long time."
What's the toughest part about portraying Jesus?
"For me it's trying to capture the emotion in the original performances," Mardis says. "But I'm 33, which is kind of a good age to be playing Jesus. It's my Jesus year."
More like this story on Lawrence.com