Friday, February 24, 2006
Two summers ago I was having dinner with some film critics and industry types in New York when our table was joined by a jovial character actor named Jim Tooey.
He told us about the movie he'd been shooting in Prague called "Running Scared," in which he portrayed a mob goon. I asked Tooey to describe it, and he said, "It makes 'Pulp Fiction' look like a Saturday morning cartoon."
While that comment seemed a bit blasphemous at the time, after finally seeing "Running Scared" I know where he's coming from.
Hyperviolent and sadistic, the movie borrows liberally from filmmaker Quentin Tarantino (and Tony Scott and Guy Ritchie). At times it's as abusively detached as watching over the shoulder of someone playing "Grand Theft Auto." Other moments are as hilariously campy as "Showgirls."
But make no mistake - "Running Scared" is never boring. In fact, up until a really misguided epilogue, the flick is supremely entertaining in its total commitment to its own luridness. For a picture so fetishistically obsessed with death, "Running Scared" is vibrantly alive.
Generic leading man Paul Walker plays Joey Gazelle (running, get it?), a small-time mob flunky whose job often involves getting rid of hot guns used in murders. It turns out he's been hiding these weapons in his own house for years as "insurance."
After a particularly bloody shootout between his Perello family gang and some dirty cops, Joey stashes the pistols in his basement. But he doesn't realize son Nicky (Alex Neuberger) and his Russian neighbor pal Oleg (Cameron Bright) watch him do it.
Oleg steals a distinctive snub-nose and uses it in a crime of his own. The shooting threatens a tentative truce between the Perellos and the Russian mob, and a corrupt detective (Chazz Palminteri) hopes to exploit this fact.
Soon, a frazzled Joey and his wife, Teresa (Vera Farmiga, a Maggie Gyllenhaal lookalike) are racing all over town trying to find Oleg and retrieve the incriminating gun, encountering everything from killer pimps to perky pedophiles.
Movie
Running Scared
***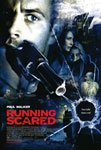 For a picture so fetishistically obsessed with death, "Running Scared" is vibrantly alive. Paul Walker stars as mob flunkie whose family draws the wrath of underworld types when a hot pistol in his care is used in another murder. Up until a misguided epilogue, the flick is supremely entertaining in its total commitment to its own luridness.
Writer-director Wayne Kramer follows up his underdeveloped "The Cooler" with a much slicker effort. It's tempting to say his movie is all style over substance, but I found his style quite familiar. The South African's use of jittery camerawork and desaturated colors is old hat these days.
What was impressive was his narrative - in other words, the substance. The premise is great. And despite a complicated plot with a constantly expanding cast of characters, it's easy to follow what's going on at all times.
Unlike a lot of Tarantino knockoffs, Kramer generally steers clear of pop-culture witticisms - admittedly, his John Wayne-obsessed Russian mobster is rather amusing. But he does orchestrate a gimp-in-the-box moment that Tarantino would relish. It's a "Pee-wee's Playhouse" nightmare of depravity that jettisons the project into cult-film territory.
Perhaps most unsettling is the fact that so much of "Running Scared" deals with kids. Joey may be the lead, yet it's the creepy, asthmatic Oleg who drives the tale. In fact, the film's unifying theme is that almost every character has some savage back story involving their parents or children. Much of this kids stuff is pretty horrific, but some of it is just plain funny.
After his harrowing evening, young Nicky asks his mom, "Do I still have to go to school tomorrow?"
Make no mistake, there will be a large contingent of people who will absolutely hate and be repulsed by "Running Scared," just as there was with last year's "Sin City" or "A History of Violence." Come to think of it, just as there was when "Pulp Fiction" was released.
More like this story on Lawrence.com