Sunday, February 26, 2006
Young love is blooming onstage at the Lawrence Arts Center.
Clara Kundin clutches Colton Rice's shoulders and plants a kiss on his cheek. Seconds later, as she flees the room, Colton grabs Clara and returns the favor - this time on the lips.
From offstage, director Moses Goldberg stops the action.
"Maybe kiss for a half a second longer," he says.
And so the scene begins again. The teenagers have kissed at least a half-dozen times during this rehearsal alone. They reply with nervous laughter each time Goldberg adds a nuance to their exchange.
"I just have to pretend I'm 13 again and I've got my first boyfriend," says 16-year-old Clara, who's playing the title role in the Seem-To-Be Players' touring production of "The Diary of Anne Frank." "And I have to remember I'm in a different time period, so I don't know anything about what you learn about in health class today."
Anne and Peter's innocent relationship represents one of the lighter themes in the play, which uses Anne Frank's real journal to reconstruct two years of her Jewish family's life in hiding during the Holocaust.
Photo Gallery
"Diary of Anne Frank"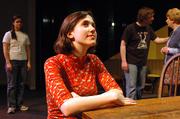 Clara has rearranged her own life this semester to learn all about Frank's experience. She took a semester off from her sophomore year at Free State High School and enrolled in the Lawrence Virtual School to accommodate a rehearsal and tour schedule that will take the professional company to more than 13 states from California to Maine. She's even taking an independent study on the Holocaust, reading books like "Schindler's List" and watching movies like "Sophie's Choice."
"It's a really great opportunity," Clara says of the starring role. "It's not something most people do in their sophomore year. But it's great, and it's going to help me find out if I want to do this for the rest of my life or if I'm never going to do acting again afterward.
"I don't think that will happen."
'Very good actress'
Although this is her first professional production, Clara feels at home onstage. She started acting in fourth grade, when her mother, Liz Kundin, signed her up for the arts center's Summer Youth Theatre. She played Dorothy's dog, Toto, in "The Wizard of Oz."
"It was a fun little part for someone who didn't like to talk very much," Clara says.
She got over her shyness quickly, though, and graduated to leading roles in "To Kill a Mockingbird" and "Les Miserables." When it came time to cast a young actor in the banner role in "Diary," producer Ric Averill knew just who to call.
'The Diary of Anne Frank'
When: 7:30 p.m. Thursday and Friday Where: Lawrence Arts Center, 940 N.H. Tickets: Adults, $8.50; students and seniors, $6.50 Ticket info: 843-2787
"I knew she was smart enough and ambitious enough and clever enough to do it," says Averill, artistic director of the Seem-To-Be Players. "And she's a very, very good actress. The age-appropriate casting was contingent upon making sure we had somebody we felt could handle the role and could do it well."
Averill invited Clara to tackle the part last spring. Since then, she had beefed up her Anne Frank knowledge. She took a trip to Europe with her mother that included a stop in Amsterdam to visit a Jewish museum, a synagogue - and the secret rooms where Frank and her family hid from Nazi soldiers from 1942 until being discovered in 1944.
"I'm glad she had the opportunity to actually be in the house, be in the rooms, see how small they were, learn a little bit more about the history," Liz Kundin says. "And I would think and hope that as she's doing this play that it's perhaps a little more real since she's been in the actual facility."
More complete story
Frances Goodrich and Albert Hackett's Pulitzer Prize-winning "Anne Frank: The Diary of a Young Girl," which debuted on Broadway in 1955 and has been viewed by generations of theater-goers, was based on a version of Frank's journal published right after World War II and censored by her father. The complete version was released after Otto Frank's death in 1980, and playwright Wendy Kesselman adapted the original script to include some of the new material.
"Her version is, I would have to say, more balanced," says guest director Moses Goldberg. "It includes more negativity, more pessimism, perhaps, than the original version."
Natalie Portman led the 1997 Broadway premiere of Kesselman's adaptation, which she and Goldberg have whittled to the 70-minute version being staged by the Seem-To-Be Players. The length is tailored for middle school and high school audiences, a new demographic for the company.
"I think this is a play that every young person should see once while they're still in school," says Goldberg, former artistic director of Stage One Louisville. "I think it contains so much important information about human nature and a terrible event in history and how to survive real sensory deprivation.
"And it's also a play about coming-of-age under a very unique situation and staying positive and being able to express yourself."
Hooked for life?
The cast has been rehearsing six hours a day since mid-February and will hit the road after performances next weekend in Lawrence.
Clara, a straight-A student, has worked ahead in all of her classes so she won't fall behind during weeks on the tour van. Between singing in the Lawrence Children's Choir and school vocal groups, and acting in productions at the arts center, school and the Lawrence Community Theatre, Clara always has been remarkably focused - arranging her social life and boyfriend time around her busy schedule, her mother says.
The "Diary" tour will help Clara decided whether acting will remain a part of that schedule in the future.
"Behind the glamour of doing a lead in a show for a couple of days is going on the road for six weeks, seven weeks and being in a van for endless hours with the same nine other people and living in a hotel room," Goldberg says. "If she still likes being an actor after that, then she's probably hooked."
With that in mind, Clara has been looking at colleges that have acting programs.
"I've spent so much time doing this. I don't know what I'd do if I didn't," she says. "I'd have seven hours a day to just sit around and pick my nose or something.
"And, of course, most everyone who does acting likes being onstage and getting applause. I'm not going to say I don't."
More like this story on Lawrence.com