Monday, February 27, 2006
The day is fast approaching when teachers, firefighters, nurses and other low-income service workers might have a hard time finding affordable housing in Lawrence.
At least that's the opinion of Rebecca Buford, executive director of Tenants to Homeowners.
"It's happening in Lawrence, unlike most places in Kansas," Buford says.
"People think, 'I should be able to get a three-bedroom, two-bath starter house on a teacher's salary' - but you can't," she says. "If you look out on the market for $80,000, you can buy a house that's falling apart and not livable."
Tenants to Homeowners helps first-time homebuyers ease their financial burden. The organization's newest program - The Lawrence Community Land and Housing Trust - offers homebuyers a subsidy to lower their up-front costs. In exchange, buyers agree to keep the home affordable for the next low-income buyer.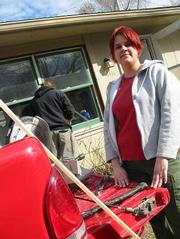 The organization uses volunteers to help clean up construction sites and cut costs so that the savings can be passed on to clients.
"The more volunteers we have to help us cut costs on our building projects, the more affordable they are," Buford says. "It's a great volunteer opportunity to spend two hours cleaning up a site and save us $500-1000."
Groups of volunteers are most helpful, Buford says, but individuals can offer their services as well.
"We don't need skilled carpenters or construction workers, but if you have those skills we certainly could use them," she says. "We had a group of Boy Scouts who were 12-13 years old and they just had a bunch of energy that they needed to get rid of. Not too many skills, but they were great to send out to the construction site and clean it up."
Those volunteer efforts benefit more than just one client, Buford says, as LCLT houses will eventually be passed on to future homebuyers.
"You're helping create a permanently affordable house in the community of Lawrence," Buford says. "The Land Trust program allows us to stay in business."
Community members can also support the LCLT by becoming a member of the organization. A minimum donation of $1 or one hour of service entitles members to a vote at annual meetings.
"A lot of those communities can say that 30 percent of their community is a member of the land trust," Buford says. "If you are a prospective buyer, it's a very good way to keep track of what we're doing, and you might be eligible to use our services at a later time."