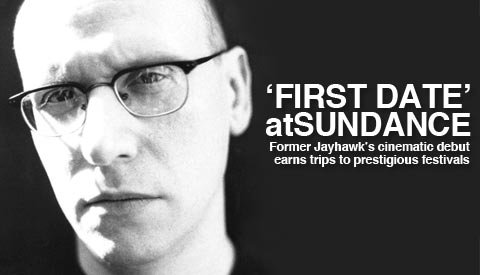 Thursday, January 12, 2006
Gary Huggins found a unique way to pass the time while working at the Kansas City Kansas Public Library. The fledgling filmmaker would study the patrons and then imagine ways to cast them in different movies.
"It's a real 'colorful' mix of people, races and backgrounds," Huggins says. "They all seemed like naturals."
One regular in particular intrigued him.
"He looked like a low-level drug dealer," Huggins says of Santiago Vasquez. "But he came in looking for the video of Akira Kurosawa's 'Sugata Sanshiro'. There was a weird disconnect, like, 'Wow, this thug has really great taste!'"
"I think Gary was taken aback," Vasquez recalls. "I had long hair past my shoulders and a beard. I have an accent. I'm asking him all these questions about all these different films from Japan and South America. I never told him that I was a police officer, and at that time I was working undercover in narcotics."
The men developed an ongoing friendship, and several years later Vasquez revealed his secret.
"I think I made him show me his badge because I didn't believe him," the 38-year-old Huggins admits. "He was pretty convincing."
Now Huggins has cast the talented role-player Vasquez in a real movie. It's proved to be quite a successful step for both men.
Their edgy cinematic collaboration, "First Date," will make its debut Jan. 20 at the 2006 Sundance Film Festival.
Following its six-show run in Utah, the cast and crew trek to the Clermont-Ferrand Film Festival in France - Europe's most comprehensive short-film event.
"I had absolutely no reason to think I'd get in to either," says Huggins, who attended Kansas University in 1986 before dropping out. "I shot it on a borrowed camera. I edited it on a borrowed iMac."
"First Date" is one of only 20 narrative shorts selected by Sundance from around 4,500 entries the festival receives. Huggins competes against some familiar faces in his category. Oscar-winning actress Gwyneth Paltrow showcases her directorial debut "Dealbreaker." And comedian Bob Odenkirk ("Mr. Show") introduces his Holocaust Museum-set comedy "The Pity Card."
Oddly enough, both these pictures also are about first dates.
Huggins says, "We might have to duke it out."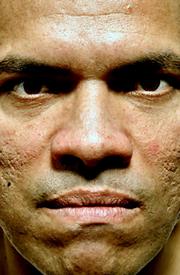 Undercover actor
Huggins' library experiences also provided the springboard for the story.
"One of the jobs was monitoring computer usage," the Kansas City native recalls. "So a lot of scruffy, down-on-their luck individuals would be typing away. Occasionally, you'd catch over their shoulders, 'Just got out of a high-powered lunch and am trying to grab a few minutes at my desk before I have to go to a high-powered meeting. Can't wait to see you tonight.' Stuff like that made me wonder: Who were they talking to? How did it get started? Who was on the other end? Who did they think was on the other end?"
"First Date" follows a volatile ex-con (Vasquez) who arranges an encounter with an underage boy (Tian Wei) he met online. Lacking a car, he must beg, borrow, steal (and do worse things) to keep the date.
Nearly every cast member in the picture is one of Huggins' former library patrons.
"In the beginning I was reluctant to play in the film," says Vasquez, who is still a KCK police officer but no longer works undercover. "This is a total amoral character - though it has nothing to do with his homosexuality."
The Venezuelan native and Baker University graduate is used to playing similarly sketchy individuals. During his eight years undercover - three at street level in KCK and five years with a federal task force - Vasquez posed as an array of drug dealers, assassins and male prostitutes.
"Believe me, I was the best," the 41-year-old says. "But you are conducting an illegal transaction in a legal way. If you are immoral, guess what? You never come back. You forget you are actually acting."
Past Event
Friday, January 13, 2006, 7 p.m. to 9 p.m.
Record Bar, 1020 Westport Road, Kansas City, MO
All ages / $6
Price of admission
Vasquez will join Huggins on the trips to Park City, Utah, and Clermont-Ferrand, France. In order to help lighten the cost of the expedition, the "First Date" team is holding a fundraiser Friday at Record Bar in Westport.
"It's just staggeringly expensive to go," Huggins says. "We've got a condo at Sundance, and it's probably costing more than the film."
The director has no illusions that his drama will get picked up by a major studio, whereas the French festival is attended by around 2,500 broadcasters from around the world who are there specifically to buy short films.
As for America's most acclaimed film festival, Huggins says, "If anybody has a chance of anything good happening at Sundance, I think it would be Santiago. He's great onscreen and equally impressive off the screen."
Huggins claims his lead actor taught him an important lesson when it comes to evaluating people based on their appearance.
He advises, "Be nice to the thug. You never know, he might be a cop."
More like this story on Lawrence.com