Imagine sitting though a domestic-violence court case and approaching the victim at its conclusion. You hand her a business card. She looks at you and cries.
"It's often just this overwhelming emotional experience because they didn't know that we existed," says Rachel Cloud, an advocate for Women's Transitional Care Services (WTCS). "A lot of domestic violence happens in isolation, so seeing someone realize that they don't deserve this or that this is happening to tons of other people is very empowering."
Cloud, 21, volunteers at WTCS when she's not busy finishing up her Spanish degree. She's a sounding board for distressed women and children, a court advocate, an outreach coordinator and a volunteer trainer. She admits to occasionally being "completely drained," but she keeps on because the work has its own rewards.
"Just knowing that you're working on something that's so important gives you a source of renewal," Cloud says. "I can't see everything being ok as long as domestic violence is going on. You're in your home in the heart of where you exist in what's supposed to be your peaceful resting place."
Cloud's WTCS experience began 2 1/2 years ago with 40 hours of training that covered topics like sexism, power dynamics, LGBT issues, and domestic-violence parallels between people and animals.
"It's intense, but it's great," she says. "I don't know anyone who says they wish that training would have been shorter."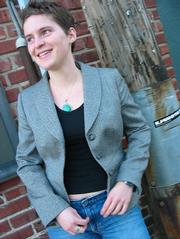 Armed with more information than the public school system ever offered her, Cloud began her journey as a shelter advocate. Now, in addition to meeting survivors and allowing them to share their stories, Cloud connects them with local legal and health resources.
"We're not going to tell somebody what the right decision is," she says. "If we make it, it's not going to stick."
Though the majority of WTCS's clients are women, Cloud says that male advocates can be just as crucial to the recovery process.
"A little boy that comes in and has seen his father beating his mother needs to see a positive male role model," she says. "For women that are in the shelter, it's good to see a man standing up and saying, 'No, it's not like this in every relationship - I'm never going to hit my partner.'"
When Cloud heads out into the community to do outreach, she's often surprised by the lack of domestic violence awareness. One of her main goals, she says, is to remind people to act on their natural instincts.
Spring WTCS new volunteer sessions: Saturday, Jan. 21, 3-5pm at the Lawrence Public Library Tuesday, Jan. 24, 6-8pm in Tammaney Hall at Haskell Friday, Jan. 27, 6-8pm at Solidarity Library (11th and Mass.) Tuesday, Jan. 31, 4-6pm at Centennial Room, Level 6 of the Kansas Union
Women's Transitional Care Services
For more Lawrence volunteer opportunities, check with the Roger Hill Volunteer Center at rhvc.org.
"Sadly enough, the articles are often at the back of the paper," she says. "We're taught to accept things and say, 'Oh, that's their relationship. I shouldn't call the police when I hear the next door neighbor beating his wife. It's not my responsibility.'"
WTCS volunteers typically stay involved with the center for at least six months and work a minimum of four hours a week. Some volunteers, however, may find it difficult to leave.
"A couple of my dearest friends in Lawrence I met through WTCS," Cloud says. "Confidentiality isn't a problem when you both volunteer at the shelter, so you can call each other up and say, 'Oh my god, do you know what happened to me today?'"