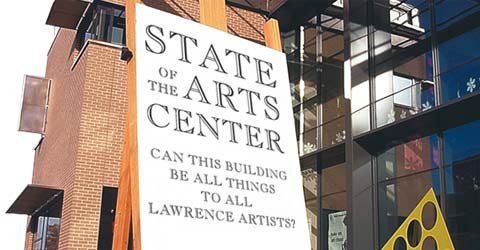 Last Friday, the Lawrence Arts Center opened its doors to 70 local artists and 92 works of local art.
The Lawrence Art Guild's annual all-member show is the first of more than a dozen LAC shows this year that will showcase Lawrence artists. Last year, the center displayed the works of more than 1,000 locals.
"The LAC is who it is because of Lawrence," says Saralyn Reece Hardy, director of the Spencer Museum of Art. "It belongs to a whole group of local arts agencies that really started this grass-roots effort to involve local communities in the development of art, not just importing."
With that kind of community involvement, it's hard to imagine anyone taking issue with the LAC's support of the local art scene. But there are plenty of detractors out there - most of the ones we met wouldn't critique the LAC on the record, as if they were afraid of certain retaliation.
What they all have in common is they would like to see even more from the $7.25-million, 4-year-old, metal-tinged edifice at 940 New Hampshire St.
"It's the Lawrence Arts Center, yet there's a whole group of artists in the community who don't feel like it serves their needs very well," says Dave Loewenstein, a longtime Lawrence painter and muralist (as well as lawrence.com blogger).
"But the artists have to do something about it, and it's hard to get artists organized. It's one thing to say what it's not; it's another thing to make it happen."
Wishful thinking
Loewenstein, admittedly, hasn't been actively involved in the LAC for more than a decade. He sometimes stops by to see shows, but his last direct contribution was a workshop he taught at the old Arts Center - the Carnegie building on 9th and Vermont - sometime around 1995.
He supposes that any frustrations directed at the LAC probably stem from a general shortage of accessible gallery spaces in town.
"We got some coffee shops and The Olive Gallery, but I think there is a frustration with not having enough places to show - or not having the kind of places you want to show," Loewenstein says.
"But I know from living in Lawrence for years and years that to have a commercial-type gallery that's successful is just really difficult. So many of them have come and gone."
Loewenstein asserts that it would be most productive to critique the LAC by comparing it to other community art centers - precisely what Lawrence Arts Commission member Judi Kellas has done.
"Many arts centers around the country have artist's studios that artists can rent for very reasonable amounts of money and art galleries that are related to those studios," says Kellas, who served on the LAC board of directors from 1986 to 1989. "Even if the (LAC) only had 10 or 12 studios for rent, it would be a wonderful thing for the community to be involved in what the artists are doing."
Kellas cites the Millennium Arts Center in Washington, D.C., as a prime example of such a community. That institution converted old classrooms into studios and hosts "meet-the-artist" sessions once a month.
Recent KU graduate Kendra Herring (MFA painting) says she'd like to see the LAC work harder to bring in exhibits that "shift people's perceptions and paradigms of what art is." She cites the Rochester Art Center in Minnesota as an example of an institution that strives to bring in cutting-edge exhibitions.
"They have really mind-blowing art on the walls," says Herring, who grew up in Rochester and recently visited the center to impress her niece. "Rochester is real conservative, even more so than Lawrence ... The (LAC) has so much potential, and I guess that's why I get frustrated - because I've seen what a thriving art center can be."
Herring says she respects the LAC's mission to serve local artists, but that it's simply not enough to keep the building on her radar - even though it's just a block from her house.
"A lot of the ideas that are in Lawrence get really regurgitated, and it'd be nice to see something fresh - something national or international," she says. "I just feel like an art center should be able to accommodate everything, but maybe it can't."
Balancing act
LAC Gallery Director Rick Mitchell knows all about trying to "accommodate everything."
Each year, Mitchell receives 30-40 applications for individual and/or group shows. Of these, he can select only half a dozen, as the other slots are already committed to mainstays like the Lawrence Photo Alliance, the Lawrence Public Schools show, the Indian Art Show, and the Lawrence Art Auction. The latter accounts for most of the LAC's fundraising, raising $94,000 last year.
"The mission of this place has always been to create an exhibition space for people who have some linkage to Lawrence," Mitchell says. "I hasten to add that there are quite a few Lawrence artists who have national and international reputations."
Mitchell invites anyone who would doubt the LAC's commitment to innovative art to come in and check out the Ivan Fortushniak show that is on display until Feb. 28. The former KU professor (who now teaches at Indiana University of Pennsylvania) worked up a series of Renaissance-style paintings that feature apes.
"They're very subtle as paintings, but intellectually they're quite overt," Mitchell says. "Not that I'm seeking controversy, but they raise some interesting questions."
Mitchell says that he'd like to see more exhibition applications from KU students and 20something local artists. If there's a perception that the LAC doesn't display work from that demographic, he explains, it's only because they don't apply for shows.
"If I got more applications from that group, I certainly would look carefully at them," Mitchell says. "One of the things that is a reality for us is that there are an awful lot of older artists that we feel obligated to show because they've had careers in art and their work is good and worthy of people in the city seeing it."
Mitchell says that the LAC must do a hefty amount of fundraising - auction, corporate or otherwise - to even pull off the amount of shows (12-15) that it hosts each year. The center rarely recoups much in the way of commissions. The Lawrence Art Guild show, for example, typically sells only four or five pieces in the $150-300 range. The LAC gets 35 percent of that.
Perhaps even more telling are the tallies from a recent exhibition titled "Convergence: Work by Canadian and U.S. Artists," which cost the LAC $9,000 to produce.
"It was a big-deal show with lots of publicity and surrounding events, but we sold less than $2,000 worth of art and our commission was 25 percent of that," Mitchell says. "It's not a reflection of the quality of the work, it's just more a reflection of who walks in and wants to buy something."
A fair trade?
Though the issue of poor art sales is not unique to the LAC, it does put more pressure on the center to maintain a credible financial relationship with its exhibiting artists.
One hot-button issue lately has been the fairness of the annual Lawrence Art Auction, which calls on local artists to contribute pieces. The artists walk away with 1/3 of the sale price, a personal page on the LAC's website, a one-year membership to the center (usually $40), and a $15 gift certificate towards an LAC class. They can also write off the part of the donation on their tax returns - though it's limited to materials costs (whereas the purchaser of the work may write off the full price).
Though all who interviewed for this story were careful not to badmouth the LAC on-the-record, one local artist said she stopped contributing to the auction because selling her work below fair retail price - and then receiving only 1/3 of the proceeds - was akin to being "stabbed in the heart." She suggested that local artists would be better off simply writing a check to the LAC.
In response, LAC Executive Director Ann Evans said "it would make all of us a lot happier" if Congress would pass a long-delayed bill allowing artists to write off the fair-market value of anything they donate to museums or non-profit agencies.
"There's quite a bit of interest within the art world to want to see that change," says Evans, the LAC's director for the last 30 years. "We've heard some artists say that they don't give to other auctions, but they'll give to us because we're the arts agency in the community."
But even had the bill in question (H.R. 1120) not stalled in committee last year, it wouldn't have helped the Art Auction. As currently written, it stipulates only art that is retained (not sold or auctioned) by institutions can be deducted by the artist.
Evans says that the LAC is considering allowing the Lawrence Arts Guild to take control of the gallery shop, which currently sells the work of more than 100 local artists. The center takes a 25 percent commission for sales of more than $500 and 35 percent for sales of less than $500.
"Hopefully, by having more people involved, there would be more sales generated," Evans says. "I wish we could sell 5-6 times as much work as we do. We'd like to change that, but because we don't actively promote sales like you would do in a commercial gallery - and we have some shows that don't have things for sale - people don't always come here to buy."
Artful thinking
As for Kellas's vision of a thriving community of artist studios, don't expect it to materialize anytime soon.
Evans says that the LAC considered building such studios, but the Center decided that "helping support individual artists was not our role, other than exhibiting their work."
Artists who enroll in classes or "open studio" sessions are allowed to use the facilities at their convenience. The center also supports one ceramic artist-in-residence and might add a painting residency in the near future.
Herring's desire to see more "mind-blowing" art from the nether-regions of the earth may be a tad closer to fruition. Though the LAC galleries are booked solid for the next two years, Evans indicated a desire to eventually reach beyond Lawrence-connected artists.
"One of the things that I dream of is to do a show that would have a much broader audience and bring in visitors from a much larger area," she says. "The gallery space we have now is so much bigger and so much more wonderful (than the Carnegie building) that we are still working to explore what we can do with it."
Evidently, so are the people who fill its walls with art.