Tuesday, January 17, 2006
Maybe it's the sunflowers, or perhaps there's something in the water. Or is it because the summers are too hot, the winters too cold?
Kansas, it seems, has more than its share of noteworthy characters.
Twenty-seven of these folks are featured in "John Brown to Bob Dole: Movers and Shakers in Kansas History," a collection of biographical essays now in area bookstores - just in time for Kansas Day, Jan. 29.
Jonathan Earle, an associate professor of history at Kansas University, has read most of the profiles.
The collection, he said, "kind of reaffirms a conclusion I reached shortly after I moved to Kansas: This state does produce a lot of quirky, interesting characters."
Earle, who was named one of the nation's top young historians by the History News Network last month, contributed the essay on abolitionist John Brown.
"I make the argument the Kansas made John Brown as much as John Brown made John Brown," Earle said.
Other profiles:
Agitators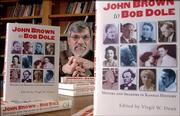 ¢ Anti-Semitic preacher and one-time U.S. Senate candidate Gerald "Jayhawk Hitler" Winrod.
¢ Populist attorney Mary Elizabeth Lease, who urged farmers to "Raise less corn, more hell."
¢ Former Kansas Atty. Gen. Vern Miller.
Motivators
¢ Sen. Robert Dole and former President Dwight Eisenhower.
¢ Women's rights activist Clarina I.H. Nichols, a leader in efforts to make Kansas the first state to allow women to vote.
Innovators
¢ Land Institute founder Wes Jackson.
¢ Dr. Samuel J. Crumbine, whose public health crusades led to the invention of the fly swatter.
¢ Cattle trader Joseph McCoy, who "invented" the cowtown and helped create the cowboy mystique.
"He was a guy who had the right idea at the right time and who was in the right place to make it happen," said Jim Hoy, an English professor and director of the Center for Great Plains Studies at Emporia State University. He wrote the essay on McCoy.
Photo Gallery
Kansas movers and shakers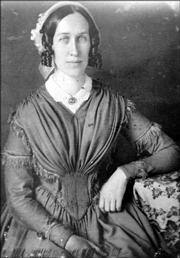 Hoy, too, was struck by the number of Kansans who spent time on the national stage.
"We've had plenty, that's for sure," he said.
Narrowing the list of high achievers to 27 wasn't easy.
"We wanted to cover 150 years of Kansas history in a way that would be fairly representative of a lot of different areas - not just politics," said the book's editor, Virgil Dean, who lives in Lawrence.
Some of the state's better-known icons - Carrie Nation, Amelia Earhart, Langston Hughes and Dr. John "Goat Gland" Brinkley - did not make the cut.
"We didn't want it to be entirely predictable," Dean said. "And it's really not intended to be a book about famous people, it's intended to be a book about people who, for better or worse, made things happen."
U.S. Sen. Nancy Kassebaum isn't featured.
"That was a tough decision. She was hard to leave out," said Dean, who's also editor of the Kansas State Historical Society's quarterly journal, Kansas History.
Dean said if University Press of Kansas decides to print a second collection of essays, it likely would include Kassebaum.
"John Brown to Bob Dole: Movers and Shakers in Kansas History" he said, took three years to assemble.
Part of the challenge, he said, was finding writers who had the time to research their subjects and who were interested in contributing essays.
Eleven of the 27 contributors are on the KU faculty.
Brian Moline, an attorney and chairman of the Kansas Corporation Commission, profiled Vern Miller, who as attorney general gained notoriety in Lawrence for jumping out of car trunks during drug busts. Miller also attracted national attention when he forbid airlines from serving liquor on flights over Kansas.
"He did a lot of crazy things," Moline said. "But he was so relentless in equally enforcing the laws that were on the books, he ended up dragging Kansas into the 20th century."