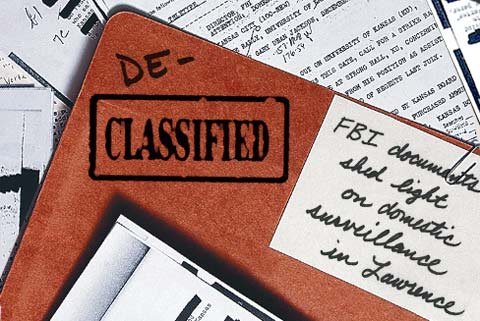 Mysterious men watching houses from parked cars.
Secret government infiltration of activist groups.
Classified FBI files on seemingly innocuous citizens.
It's the stuff that conspiracy theories are made of. And it all happened in Lawrence during the political upheaval of the late '60s and early '70s.
The proof is in a box at KU's Spencer Research Library, where thousands of pages document government surveillance of leftist organizations, underground publications and the university itself.
The collection of files, amassed and donated by a private group with the Freedom of Information Act at its back, is a reminder that the current administration's domestic surveillance tactics might be controversial - but they're nothing new.
"It's gone on forever," says Pam Loewenstein, vice president of the Douglas County chapter of the American Civil Liberties Union. She says the Spencer collection specifically reveals abuses of power by the Nixon administration.
"President Nixon was doing a lot of wiretapping of people like Martin Luther King, Jr. - and anyone who disagreed with him," Loewenstein says.
The ACLU, along with other civil liberties groups, last week filed a federal lawsuit in Detroit asserting that President Bush's own domestic wiretapping without warrants is unconstitutional.
In a 42-page white paper released last week, the Bush administration defended its wiretapping of Americans without court approval, saying that congressional authorization to defeat Al Qaeda after the Sept. 11 attacks "places the president at the zenith of his powers in authorizing the N.S.A. activities." That is, as commander in chief in the war on terror, he need not appeal to the judiciary for warrants.
Surprise, you're on FBI documents
The seeds of the Spencer collection were planted in the late '80s, when Lawrence-based author David Ohle began compiling oral tales of local counterculture, later to be published in "Cows Are Freaky When They Look at You: An Oral History of the Kaw Valley Hemp Pickers." Another member of the Lawrence literati, William Burroughs, penned the book's foreword.
Ohle says that Burroughs' close friend and editor James Grauerholz took interest in the project. Grauerholz, Ohle and others, with the help of a Washington, D.C.-based attorney who specialized in retrieving documents through FOIA, pieced together the files. Little of the material made it into the book, and the researchers donated it to Spencer in the early '90s.
The government files name several then-Lawrencians as affiliates of the "New Left" to be watched. Targets of domestic spying included members of Students for a Democratic Society, People's Voice, First Artaud Romantic Tautological Society (FARTS), the Black Student Union, Lawrence Liberation Front and the Gay Liberation Front.
Also named in the surveillance documents is a publication alternately named The Screw, The Reconstruction Press and The Vortex. None of the groups or newspapers were known to encourage violence or pose a threat to society, though they did propagate ideas that were radical at the time - affirmative action, gay rights and anti-war sentiment.
Ohle says that, upon retrieval of the de-classified documents, some of those people were notified that they'd been spied upon.
"Most found it amusing that the government wasted time on them," Ohle says.
Retired KU professor emeritus Grant Goodman expressed similar surprise, if not amusement, over the Department of Homeland Security's opening of a personal letter mailed from the Phillipines last month. Goodman, whose story made national headlines in recent weeks, told the Lawrence Journal-World that he was uneasy and amazed at having been the target of government examination.
Loewenstein says the public assumes a level of trust with the government.
"Most people think, 'of course they would never spy on me,'" she says. "But if you write 'jihad' in an email, you could be in trouble."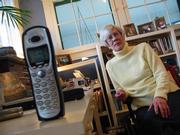 While many might be shocked at the pervasiveness of government surveillance, Bay Area journalist Bill Berkowitz barely batted an eye when we told him that his name appears in the FBI files from the '60s and '70s.
Berkowitz, a New York native, came to KU in the fall of 1965 and quickly became active in student politics, left-wing groups and publications. Now a freelance writer, Berkowitz is behind the popular online column "Conservative Watch." He was unaware of the Spencer collection, but seems unimpressed that the Federal and Kansas Bureaus of Investigation kept records of his Lawrence address, political activism and mentions in local media.
"It doesn't surprise me at all," Berkowitz says.
A broad stroke
Berkowitz's name appears in government surveillance files of two groups, People's Voice and FARTS, and of the alternative newspaper Vortex.
Berkowitz says he co-founded People's Voice to campaign for support of affirmative action at KU. Along with professors, deans and other students, he'd been appointed to a committee to reconsider governance at the university. The committee made its recommendations, but Berkowitz and others put out a minority report calling for more students and teachers of color.
"People's Voice was founded to solicit votes to support this minority report," Berkowitz says. The group took its then-radical ideas to sorority and fraternity houses and other groups.
In a memo from Nov. 1, 1968, the FBI instructed its Kansas City field office "to conduct a discreet investigation concerning the People's Voice..." What resulted were more than 200 pages of surveillance on the organization and an affiliated group, Students for a Democratic Society. Another government memo called for cases to be opened on listed individuals - whose names are blacked out - who attended SDS meetings.
Several members of People's Voice and SDS also were involved with the Tautological Society, which has an FBI file of its own. There, Berkowitz is referenced in a University Daily Kansan story ("Union Scene of Battle," 2/10/69) on the Society's protest of U.S. Marine recruitment at the Kansas Union.
The story, clipped and mounted to an FBI form, describes Berkowitz as conducting "revolutionary theater":
"Berkowitz, campus hippie-in-residence, spieled, 'Be a leader of men! Be a lady Marine.' Berkowitz hawked Marine newsletters, claiming they were the latest from the underground press."
Berkowitz's name appears again in a file on Vortex, an alternative newspaper to which he contributed for several years. The file lists the names and addresses of individuals who jointly filed to incorporate their publication business; the location of the paper's "principal place of business" (615 Tennessee Street); and the publication's objectives.
An included FBI report states that a source, whose name is blacked out, informed the agency that he rented a trailer to a KU student for the purpose of moving a printing press. The report also says that a special agent observed a Vortex associate visiting Time to Read Book and News Store at 12th and Main in Kansas City:
"A white male, described as short, approximately 5'5", 130 pounds, early 20s, long light brown hair tied in the back with a bow, carrying a cloth side bag over his shoulder entered the store in an attempt to collect for 'Vortex' papers that had been sold at that location... This individual was observed driving a Volkswagen mini-bus, color white over maroon, red Kansas license plate D/G 10182."
People's Voice, FARTS and Vortex all are named in the files as factions of the "New Left movement," which FBI memos characterize as a threat: "All individuals involved in New Left extremist activities should be considered dangerous because of their known advocacy and use of explosives, reported acquisition of firearms and incendiary devices, and known propensity for violence."
But Berkowitz says that it was the ideas themselves - not any tactics used to further them - that alarmed the government. Most members of the targeted groups were not militant.
"It's a bit of an overstatement," Berkowitz says of the FBI warning. "Reconstruction Press and Vortex certainly took radical positions on civil rights, affirmative action, political and social change, cultural change. The newspaper was a vehicle for expressing these views."
Berkowitz points out that, ideologically, it was a very different time.
"In 1968, when Martin Luther King, Jr., was assassinated, there were doubts about whether the flag should be lowered on campus," he says.
In that climate, Berkowitz says, the Nixon administration waged expansive surveillance tactics to cover as many bases as possible, even of peaceful groups. Indeed, the Black Student Union appears in files on KU, simply for having staged a strike after the firing of a black assistant dean.
"It was such a broad stroke that just about anyone dissenting against government policy would be caught up in the surveillance," Berkowitz says.
ACLU vice president Loewenstein uses similar language to describe current domestic spying.
"This simply has been a broad sweep," she says. Loewenstein adds that it was Nixon's tactics that led public outrage and eventually the Foreign Intelligence Surveillance Act, which requires warrants to be granted in most surveillance cases.
Well aware
In 1973, Berkowitz traveled to Cuba with the Venceremos Brigade to disrupt U.S. blockade efforts. The brigade returned to the states and shared its experiences with the public, Berkowitz says. Soon thereafter, he claims, the KBI showed up at his door.
"I think the first question they asked was, 'How was the weather down there?' It was clear that they were interested in what we had going on."
During his KU days, Berkowitz says, he and his peers believed that they might be under watch.
"Even at the time, we were well aware there was an effort to destabilize the leftist movement in the U.S.," he says, referring to grand juries, government presence at Vietnam protests and promises by then Attorney General Vern Miller to raid Lawrence marijuana growers. "Our question was, how much of it was happening in our area."
Berkowitz says rumors circled that FBI sources had infiltrated political groups. The Spencer collection shows that many pages were withheld under FOIA caveats, with a common reason listed as "information furnished by a confidential source."
"I remember new people would show up that seemed unlikely," he says. Those unlikely joiners tended to have violent streaks, he says, prompting further rumors that FBI sources or members themselves were behind on-campus bombings and other lawbreaking. The thinking was, these individuals aimed to incite violence by groups under scrutiny, thus justifying their own surveillance.
The relationship between spies and the spied upon, Berkowitz says, was a paradoxical one.
"As the FBI ratcheted up their surveillance, we - the progressives - ratcheted up our paranoia."
It was a paranoia that now appears to have been warranted. In one of the most striking documents in the Spencer collection, two government agents give handwritten detail of goings-on at 645 Michigan Street, a location thought to have been connected with the radical Lawrence Liberation Front. The surveillance log, dated Sept. 18, 1970, describes vehicles by their license number and "Kimball for sheriff" stickers, as well as the people who came and went:
"5:40 p.m. - Surveillance established, a white female, long, over the shoulder dishwater blond hair, blue eyes, fair complexion, was observed sitting on the front porch. She was reading a women's newspaper pink in color..."
Later in the log:
"6:21 p.m. - W/M, long brown hair, shoulder length, wearing cowboy boots, fu-manchu mustache, came out onto the front porch with a rifle and loaded it with several shells. He then sighted the rifle by pointing it around the parking lot..."
Loewenstein says that present-day Lawrence groups have experienced similar surveillance. The Solidarity anarchist group has been spied upon, she says, with government agents even seeking information from member David Strano's family and others. But she doubts that many people are aware of spies in their midst.
"Lawrence is not Washington, D.C., so there's probably not going to be as much talk about it," she says. "I hope American citizens wake up and understand what this president is doing."
A different world
KBI senior special agent John Gauntt says that extreme times, such as the turmoil of the late '60s and our post-9/11 world, call for extreme measures of protection.
Gauntt, who joined the KBI in 1979, says the laws concerning domestic surveillance have changed considerably during his time with the agency, most recently with the Bush administration's loosening of surveillance restrictions - and sidestepping of those restrictions altogether. But, Gauntt says, it's a change that mirrors a changed world.
"It's much more dangerous now," Gauntt says. "Our culture is much more volatile."
Gauntt says that the computer age "has shrunk our world so much," creating a new host of potential threats to national security.
Berkowitz thinks the government has used the computer age to its advantage, developing more sophisticated databases and electronic spy-ware for its surveillance programs. But, he says, the information that agencies rely on is no sounder than in the past - intelligence that once came from ground-level leaks now comes from biased political groups.
"Today they get information from right-wing think tanks about potential targets like Greenpeace," Berkowitz says. "The manner of gathering material is more sophisticated. But the info itself comes from partisan sources. In the current FBI spying scandal, they've concluded that groups are dangerous because of information from conservative idealogues."
The world reacts
The current outrage over presidential authorization of illegal surveillance tactics broadened last week when a right-wing group called for Congressional hearings on the issue. The group, Patriots to Restore Checks and Balances, includes such prominent conservatives as former U.S. Rep. Bob Barr and lobbyists David Keene, Paul Weyrich and Alan Gottlieb.
Loewenstein says that criticism by conservatives reveals the graveness of the matter.
"A lot of people, including many Republicans, have said publicly this is against the law," she says. "So it's not only one group of people taking issue."
Still, while citizens may be outraged by possible abuses of power in the National Security Agency and FBI, Loewenstein believes our society is less given to protests and political organizing than its 1960s counterpart.
Berkowitz says that, while protest does occur today, it's deterred by a tense, post-9/11 atmosphere.
"The climate created by this administration has aimed at stifling dissent and increasing the level of fear," he says. "But the more reporters and investigators uncover how deep this surveillance goes, the more people will become outraged."
More like this story on Lawrence.com