Anyone who thinks square dancing is a dying art didn't go to the founders dance of the Happy Time Squares last weekend.
More than 200 dancers - the women in poofy, frilly skirts and the men in long-sleeved shirts and ties - promenaded, left-allemanded and do-si-doed the night away at the Douglas County Fairgrounds.
"We say square dancing is fun and friendship set to music," says Lloyd Northrop, president of the new club.
The Happy Time Squares had their first dance Jan. 14. The founders dance drew guests from 19 visiting clubs from as far away as Wichita. Twenty-six squares filled a building at the fairgrounds.
"It is a huge turnout because a lot of these dances we go to in surrounding areas have three to seven squares, or maybe 10," Northrop says.
Photo Gallery
Happy Time Squares Dance Club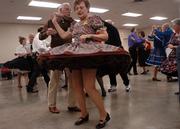 Eight couples began planning the group, which focuses on traditional square dancing, in August. It now has more than 80 members.
"That's a good enrollment for a new square dance club," says Kay Grover, an organizer. "Square dancing has been going downhill for awhile. I'm getting the feeling it might be coming back a bit."
Those in atttendance last weekend twirled to a string of instructions from caller Vic Perry, a Lawrence resident. Northrop says the dancers ranged in age from 12 to 83.
"It's wonderful exercise for an individual," Northrop says. "You will be walking approximately two to three miles every evening, and it's much more interesting and fun than walking on a treadmill because we have all of our friends there and good music. It's a great deal of fun."
Square dancers generally move to the sounds of recorded music, with a live caller. Occasionally there is live music.
"Some people feel like they're not good dancers for regular dancing," Grover says, "but with square dancing you don't have to have perfect rhythm and you can still be a good square dancer."
The Happy Time Squares will begin offering dance lessons Jan. 31 for anyone wanting to learn to square dance. They especially want to teach the dance moves to a younger generation.
"We need students," Grover says. "We need new people coming all the time. I'd say in our club, it's predominately people whose children are grown. Years ago, the square dances were more young people. I don't know why that's happened exactly."
Square Dance Club info
Happy Time Squares, a new traditional square dancing club in Lawrence, plans to have dances at 7 p.m. the second Saturday of each month at Building 21 at the Douglas County Fairgrounds, 2110 Harper St. However, dances may occasionally be moved to Prairie Park School, 2711 Kensington Road. Square dance lessons will take place from 7 p.m.-9 p.m. Tuesdays starting Jan. 31 at the former Dance Gallery, 2500 W. 31st St., Suite F. For more information on the club, contact Bob and Rosalee Rainbolt at 842-9799, or Lloyd and Connie Northrop at 841-3826.