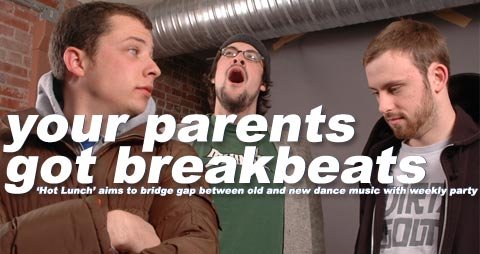 Saturday, January 28, 2006
No, Thursday nights at the Jackpot do not feature edibles.
Quite opposite (ahem), the name for the new dance night 'Hot Lunch' was found on a site listing porn flic names by DJ Kyle Garrison.
"It sounded like something you'd remember," Garrison said.
If things go as planned, Lawrence DJs Garrison, Phil Torpey and Jay Wells will have an event more memorable for its music than its punchy, porno-referencing title.
"It'll be relentless," Garrison promises. "We'll be feeding off (the crowd) as much as they are feeding off of us," Garrison says. "There are moments that form when you are out on the dance floor in a club, and someone is grinding against you ... We want people to walk away affected."
Though the building has seen its share of DJ events as Coco Loco and La Tasca, The Jackpot itself has built its name mostly as a rock venue.
"Thursday is traditionally a big party night, and there's a history of successful dance nights there," Wells says. "It's where Neon started. But as the Jackpot, they really haven't had the same kind of DJ history. It would be nice to solidify that."
Torpey adds: "We'd like to bring the success of Neon to a different crowd."
Tri-pronged attack
Wells and Torpey began DJing together at KJHK and the Eighth Street Taproom under the moniker "Your Parents Got Breakbeats," spinning an eclectic mix of rock, jazz-funk, hip-hop and anything containing a funky pulse.
"It's a wide array of music," Torpey says, "but it all has the same spirit of making people want to dance."
Torpey, who hosted a "Breakfast for Beatlovers" show before teaming up with Wells, says that if "Hot Lunch" aims to bridge the gap between old and new dance music, than he is the bridge in the equation.
"Hip-hop is the number one genre in my collection, and I especially love stuff from 1980 to 1995," Torpey says. "Jay plays a lot of the older stuff that rap came from and Kyle plays the newer, electronic stuff, and I serve as a liaison between the two."
Garrison - the host of KJHK's electronic show Pipe Dreams and the student-run station's Music Director - says he focuses on collecting esoteric, regionalized forms of dance music such as Detroit Techno and Baltimore House.
"It's more raw," he says. "It's parallel to what Jay and Phil are playing in that these artists and producers don't have exposure outside their region. It's stuff that when people hear it, they like it, but they just don't usually get the chance to hear it."
Among Garrison's recent interests is the lyrically explicit dance and rap music that he describes as "raunchy, revolting and juvenile."
"There's something charming about how disgusting it is," he says. "Dance music to me is all about sex. Here's this group of people who are being very honest about it they lay out what they want to get accomplished in each track."
Wells says Lawrence's location is ideal for an evening that showcases music from so many different eras, genres and geographical regions.
"Relative to Lawrence, it's nice to combine these styles," Wells says. "It won't be too much of any one thing. It'll change a lot to keep you interested."
Raised on Wax
When Wells dubbed his and Torpey's radio show "Your Parents Got Breakbeats," it was not just in celebration of what he calls a bygone era of quality dance music, but also a nod to the family members who introduced him to it. Wells had just begun his DJ career when a death in the family left him and his brother with an instant library of records from the '60s and '70s.
"I had an uncle who passed, and it was actually his older brother who had a serious vinyl collection," Wells says. "He used to DJ at a place called Big John's in Salina, so he had a bunch of free 12-inches, promotional copies and stuff."
Wells says the vinyl inheritance had influenced him much earlier, however. Growing up and being exposed to music he would have otherwise only heard through pop samples, he began learning about different players, labels and producers.
"My favorite thing about it is you can get this old obsolete album and give it a new use value and make it appealing," he says. "It's remaking something wack cool."
The passion for collecting is shared by his Hot Lunch mates.
"Being a DJ fosters a larger appreciation of music in general," Garrison says. "There's no comfort level with it either. You can't just be satisfied because you're always looking for better stuff."
Don't expect the DJs at Hot Lunch to be shielding the labels from inquiring eyes, either.
"My favorite thing is when you put on one of your favorite records and you see one or two people start to bug out to it," Torpey says. "Hopefully they'll go out the next day and try and check it out. It might have been different in the past, but this shit is accessible to everyone now, so why not share the love?"
Group Vibe
As ready as they are to talk up each other's ability to play the right record at the right time, the Hot Lunch crew is quick to point out that they aren't on any ego trip.
"It's less about the DJ and more about the group vibe," Wells says. "It's about being on the same level with each other."