Like most people, Hilary Bowker has heard all the stereotypes about homeless people: they're lazy, drug-addicted and "it's their own fault."
Unlike most people, Bowker has the firsthand experience to refute such a claim.
"I'm just like, 'Ha! You're absolutely wrong, because I've seen it!'" says Bowker, a 19 year-old volunteer at Lawrence's Community Drop In Center.
"I wanted to go in there and see for myself what it was really like instead of just speculating," she explains. "A lot of them are really happy to learn new things, and they're intelligent, bright people who just haven't had a lot of the same opportunities as I have."
Bowker spends 2-4 hours a week visiting with homeless clients and helping with the day-to-day upkeep of the CDIC. She came to the center because of a social welfare class, but she stayed beyond her required tenure and now volunteers two nights a week from 8 to 10 p.m.
"I do lots of things like cleaning and folding things, but what I really like to do is talk to the people and see what they're about," she says. "When I go to them and start talking, it just kind of comes out ... A few people that will just open up and tell you their life story."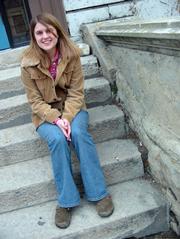 These life stories can sometimes be difficult to swallow, but Bowker's role is simply to be a sounding board.
"I'm shy, so it's kind of one step at a time for me," she says. "Every so often you'll come across something that really gets to you ... I just try and calm myself and listen because I know that talking through it is going to help them."
That type of community support is enough to inspire many homeless people to stay optimistic, Bowker says.
One homeless client even went so far as to tell Bowker that he plans to enroll in some social welfare classes and eventually return to the center to "give back." Such victories, however small, provide fuel to overcome the inherent challenges of helping the homeless.
More volunteer opportunities are available on lawrence.com/volunteer/ or rhvc.org.
Persons interested in volunteering at The Community Drop In Center can call 785-832-8864.
"Everyone's really understanding and good to work with," Bowker says. "One of the people who works there tells me, 'Life comes first and if you ever feel too stressed out you don't need to come in and we'll understand.'"
Oftentimes, however, it's the center's clients who pick up the slack.
"There's a volunteer sheet and people are usually more than happy to volunteer for something," she says. "You just do things when they need to be done."