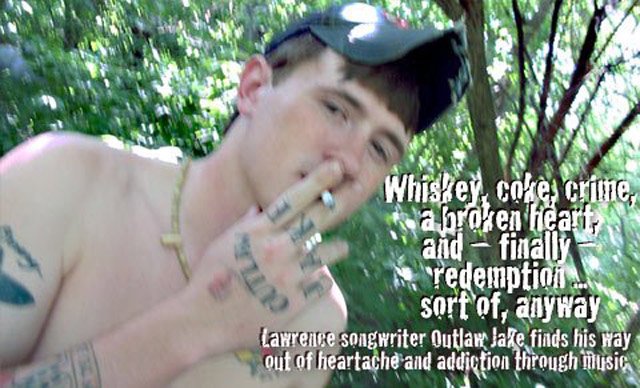 Sitting in the darkened, sticky confines of The Pink Flamingo Club - Lawrence's lunch buffet eatery/strip club - is a country fried rocker known as Outlaw Jake.
Or simply 'Outlaw,' as the 20something musician refers to himself.
It's early afternoon on a scorching summer day, but Jake's beating the heat with his liquid lunch in one hand and a large wad of singles in the other.
The Outlaw is well known in these quarters.
This interview for this profile is frequently interrupted by the Dirty Bird's birthday-suited entertainers. They giggle and fawn over him like he's a beer-soaked puppy. "Everyone here knows me," he boasts.
The rest of Lawrence is no doubt less familiar with Outlaw Jake but that could soon change.
A marketing rep for Universal Music Group - Adam Murphy - is a recent convert and Outlaw-Jake evangelical. He's the first to admit, however, that Jake is an unlikely candidate for rock stardom.
Upcoming shows
Outlaw Jake and the Chain Gang
"He looks like an older, country version of Haley Joel Osment." Don't let that fool you, though, says Murphy. "His music is pissed off and really rough. Waylon Jennings meets Townes Van Zandt. He's really raw and brutally honest," he says. "He's Outlaw Jake."
When asked who his music appeals to, Outlaw's response is perhaps honest, if brutally raw (Note: readers beware, the following quote will be offensive to many). "I have more of a rock fan base than a country fan base," Outlaw says. "People who like Garth Brooks or Tim McGraw or some them fags out of Nashville aren't going to like Outlaw Jake and the Chain Gang."
Outlaw's meeting with Murphy has become a bit of blue collar lore that serves only to enhance the musician's mystique. After a friend of his locked himself out of his car on a snow swept, 4 a.m. winter night, Murphy called AAA.
None other than Outlaw Jake answered the call with his tow truck. Thankful for the assist in such adverse conditions, the recording industry representative invited the scruffy driver in for a beer. As it turned out, the two had much in common.
"We stayed up all night drinking Shiner Bock and listening to music," says Outlaw.
Album Mp3s

Drinkin' Whiskey Fast
Jake gave Murphy a copy of his own CD, "Drinkin' Whiskey Fast," recorded with his band The Chain Gang. The Universal rep was immediately taken. "He's one of my favorite Lawrence bands. One of the best new artists out there," Murphy says. "He sings songs about fat girls and how they love skinny country boys." Murphy is now a vocal, and perhaps the only, supporter of Outlaw Jake in the industry - not a bad outcome for a late night tow.
Jake doesn't feel the need to romanticize, however. "Towing trucks is great for the image, but it doesn't pay the bills," he says His calling is rather his music, a boozy blend of alt-country and classic rock that's awash in amphetamines and feedback. Admittedly, though, his passion occasionally outstrips his professionalism. "The saying in my band is, 'If you can't play good or you can't sing good, and all you've got is three chord songs, you better mean what the fuck you're saying."
Courtney Smith, bartender for one of Outlaw's most frequent venues, The Jazzhaus, has witnessed this ethic first hand. "He's got a little bit of that honky-tonk swagger, but he's genuine and funny. He let's his songs speak for themselves. They're pretty vulgar, though." For example, "'Cocaine' is a crowd favorite," she says. "'Fuck You and Kiss My Ass' gets people singing along. They shout out and get riled up."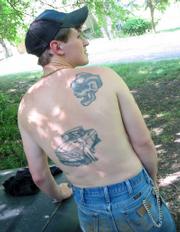 Though unsavory in subject, all of Outlaw Jake's songs are autobiographical. Many of them - including "Fuck You and Kiss My Ass", "Cocaine" and "Insecurities" - deal with the troubled relationship and inevitable breakup he had two years ago with his high school sweetheart, Alden (last name withheld upon her request).
"I was with that girl for three years right out of high-school." Jake's frequent drug use and binge drinking, predictably, proved to be too great a strain on the relationship. This set into motion some personal misfortunes that might seem like a series of bad country-and-western cliches...if they weren't all true.
"She left my trailer and took the dog. I got drunk, woke up in North Carolina and wrote "Fuck You and Kiss My Ass," he says.
Because of that incident, he "went into rehab for a year for cocaine. Before I went to North Carolina, I almost OD'd. I ran out of coke. I couldn't get any coke. So I took 22 pain killers and a fifth of whiskey and woke up in the ER. That's what happens when you lose your job, dog, girl and truck all in the same week."
Audio clips
Outlaw Jake and the Chain Gang
As a permanent reminder of those days and of his ex, Jake has one hell of a memento on his back. "It's a tattoo of her and my '66 step-side Chevy pickup, with her on the hood in a bikini and a cowboy hat," he says.
That proverbial "ex" doesn't dispute any of Jake's account. In fact, Alden has heard Outlaw Jake and The Chain Gang's album and is remarkably magnanimous. "His music is truly from the heart. It was difficult to listen to," she says. After such a diplomatic response, one wonders, has she forgiven him? A long pause follows.
"For some things yes. For some things no. He has my best wishes to carry on with his dreams, but he can do it without me there." Alden and Jake haven't spoken to each other in over a year. She has no plans of breaking that silence between them anytime soon.
For anyone wondering if Outlaw Jake has earned his name, he assures me that he has. Without wanting to get into specifics, he tells me he has had warrants out for his arrest in the past and has served time in jail. One incident in particular involved an unnamed law enforcement official breaking down the door to his trailer, then kicking his dog.
"He got the hay maker right in the face," he says.
It was during the ride home, after getting bailed out from this transgression, that the "Outlaw" became permanently prefixed to Jake. "A Waylon Jennings song was playing on the radio with the line, 'You think this outlaw thing is getting out of hand?' My friend goes, 'You should be Outlaw Jake.' And it stuck after that."
The musician side of Outlaw likes to think his music finds a welcome ear when he's onstage. "'Fuck You and Kiss My Ass' is kinda tongue in cheek, but there's not anybody in a bar who can't relate to that on some small level."
At this point in the conversation, another of Outlaw's nude fans virtually leaps into his lap. "Heyyyy cutie! I remember you!" After a few pleasantries are exchanged, she returns to her work. He doesn't skip a beat and continues with the conversation.
After discussing the origin of his stage name, I thought it only appropriate to press him on the death of his Christian name. Does he even still have a last name?
He thinks for a moment and takes a drag off of one of his ever-present cigarettes. "I prefer Outlaw Jake."
More like this story on Lawrence.com