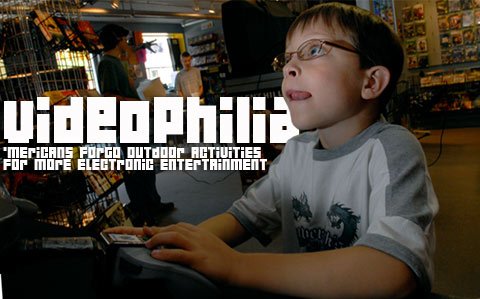 It may seem obvious to some, but a recent study shows younger Americans would rather watch TV and play video games than play outdoors.
"The paradigm is changing," said Oliver Pergams, a University of Illinois-Chicago professor.
Pergams and another researcher set out to determine why visitation to national parks dropped 25 percent between 1987 and 2003.
What he found surprised him. Much of the decline could be attributed to increases in the time Americans are spending watching movies, playing video games and browsing the internet.
Americans are less interested in nature and more interested in electronic media, Pergams said.
The study is one of the latest criticisms of a culture that some argue is too sedentary, too fat and too video-addicted.
The U.S. Census estimated adults spent more than four hours a day watching television on average in 2004.
"I think parks are just a proxy - an indicator of how much people are going out in general," Pergams said. "People are doing these things more and going outside into nature less."
Gamers like Tyler Whitebread, 14, of Eudora, defend their hobby. Tyler, who stopped in at Game Guy, 7 E. Seventh St., last week to play some games with his younger brother Jake Whitebread, said playing video games is all about balance.
"I know people that have picked up weight because of staying inside all day and playing video games," Tyler said. "I like to do something during the daytime."
Tyler said he plays games at night so he can do other things during the day, like hang with friends and play pool.
"The best is when you find a balance," he said.
From dieting to computer use, everything has a breaking point beyond which it becomes unhealthy, said Charlie Kuszmaul, a program coordinator for Bert Nash Community Health Center.
There's such a thing as too much television and computer use, especially for young people, he said.
"What they end up getting is a lot of electronic stimulation in place of human stimulation, human interaction," he said.
It can affect creativity because kids don't learn how to amuse themselves with creative play, he said.
"The less experience you have at stimulating yourself or doing creative play, the less good at it you are," Kuszmaul said. "The less good at it you are, the less likely you are to engage in it."
Pergams' study appears in the latest edition of the Journal of Environmental Management. Patricia Zaradic, a conservation biologist, is the paper's co-author.
Pergams tested numerous variables and found a high correlation between the decrease in park visits and increases in internet use, home movie rentals, theater movie watching, video games and oil prices.
The results, he said, show a strong association between the rise in electronic media use and the decline in park visits, but not necessarily a cause/effect relationship. The researchers coined the term videophilia, the new human tendency to focus on sedentary activities involving video screens or electronic media.
Pergams said the findings can be alarming because as people become less interested in nature, they won't be interested in environmental conservation.
Shannon O'Lear, Kansas University assistant professor of environmental studies and geography, said there may be other indicators of whether people are environmentally conscious.
"There may be other ways that people are getting back to nature," she said. "Maybe working in the garden is getting back to nature."
People are often very busy these days, she said, and getting a dose of nature doesn't have to mean visiting a national park.
"It's as easy as getting outside, being around plants and trees, taking a walk, listening for bugs, digging in the dirt," she said.