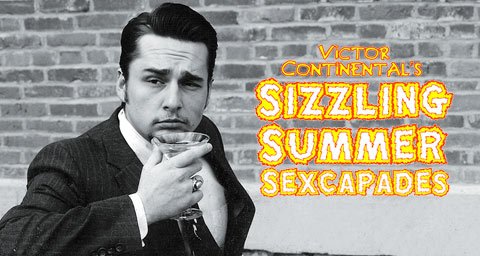 It's a hot Saturday night, and all across Lawrence, friends are gathering in backyards to drink beer and talk shit.
But at a two-story family home on Prescott Drive, this particular group has come together to drink beer, talk shit and plan one of the city's most unique comedy shows.
The yard is pitch black except for a single porch light that casts deeps shadows the three women and two men lounging in a circle. Paul Rosen pulls out a piece of paper, and a few people take turns passing the sheet around and reading what's written on it out loud. They like the material, but it needs a little something.
"We can definitely dirtify it," Hilary Morton says.
These friends are all part of the Victor Continental Show. Half sketch show, half musical revue, the Victor Continental Show has been produced in Lawrence since 1998. The show at Liberty Hall on July 21 and 22 will be its 13th incarnation.
The show is known for bawdy humor and for brutally skewering Lawrence and the people who call Lawrence home.
Past Event
Friday, July 21, 2006, 10 p.m. to 1 a.m.
Liberty Hall Cinema, 644 Massachussets Street, Lawrence
All ages
Past Event
Saturday, July 22, 2006, 10 p.m. to 1 a.m.
Liberty Hall Cinema, 644 Massachussets Street, Lawrence
All ages
"It's not for kids or for the faint of heart," Rosen said.
What's special about the show is the way it comes together. The shows writers, actors and producers are scattered across the globe, yet somehow they manage to find the time to create 90 minutes of comedy that brings an audience back again and again.
It starts with finding the right material, which usually comes straight from the city's news sources.
"It's very topical," Rosen said of the show's comedy style. "But sometimes it's about a state-wide or national issue. Or about Fred Phelps. We can pull that out and make fun of him once in a while."
Some favorite topics of the past include corporate stores on Massachusetts Street, roundabouts (and those who just can't figure the damn things out) and the smoking ban.
"We have a rule that you can't make fun of anything if you can't make fun of yourself," said Jeremy Auman, one of the creators of the Victor Continental Show.
The writing continues for about two months before the show date. Only about 50 percent of what's written is actually used in the show. The rest is saved for future shows or buried in the comedy graveyard.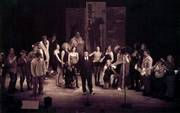 Will Averill, another founding members of the Card Table Theatre (and blogger on this site), which created the Victor Continental Show, said another essential part of the show is being done at the same time the writers and actors are making up sketches - the production team starts cranking out publicity materials and contacting sponsors. The band also starts working on the musical numbers.
As show time grows closer, it's time to bring everyone together. Rehearsals are held just about anywhere that will let the rowdy group in, from warehouses to driveways to school gyms.
More video highlights ...from The Victor Continental Show, 2005, available here.
"The whole cast doesn't meet until two weeks before the show," said Averill. It's an intense and quick rehearsal process, and it's a group effort. Everyone is just awesome, and that makes it easier."
At rehearsals, the actors work out staging and tweak lines for bigger laughs. Costumes and sets are also assembled. Sometimes they have to buy a few things, but mostly they use props they have lying around the house.
"I have a tub of stuff that I go through every year, and I say, 'no, I've got to have that for the Victor show,' " said Kari Jackson, a veteran actor in the show.
By now you're probably wondering where Victor is in all of this.
Well, it turns out Victor isn't in the sketches. He doesn't come to most of the writing sessions or rehearsals.
Huh.
Victor, played by Jerry Mitchell, is more like an emcee. And all his jokes and commentary are pretty much done in the final days before the show. Or the final minutes, whatever.
"Victor is the surprise," Morton said. "We don't know what he's going to say."
More Victor Past coverage of the show, including video and an audio conversation with Victor himself are available here
But everyone agrees that there's a reason the show is named after him.
Averill said the plan at the beginning was to have a different actor play Victor each time the show was put on, but that Mitchell was so good, he was never replaced.
"There could never be another Victor," Morton said. "If he decided not to do it, we would be done."
But for now, the show will go on. And afterward, the friends will be sad and mope around as everyone returns to their families and grown-up responsibilities. But it won't take long before something funny or weird happens that will spark a sketch idea, and the friends will gather in the backyard with a cooler full of beers.
More like this story on Lawrence.com