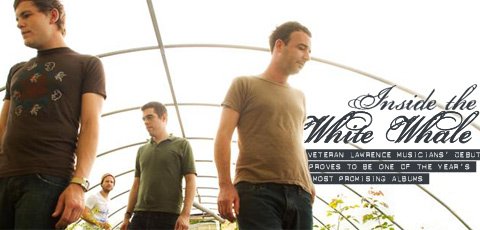 When a bunch of seasoned salts from Kansas band together to embark on an epic musical voyage, it's no surprise that well wishers line the quays to wave them off. Advance reviewers of White Whale's "WW1" shout "Grandiose!" "Artistic!" "Primal!" "Expressive!" As the intrepid crew - John Anderson (Boys Life), Dustin Kinsey (The New Amsterdams), Matt Suggs (Butterglory), Zach Holland and Rob Pope (The Get Up Kids) - sets the course with its July 24 release on Merge Records. White Whale references their sound as "Roxy Sabbath," (Roxy Music + Black Sabbath), which affords only a hint of the aural storm that propels White Whale to strange sonic worlds and new musical adventures. The band's Dustin Kinsey and Matt Suggs put into our podcast studio for a friendly chin wag before casting off on their maiden voyage as White Whale.

› Get the podcast
› Listen to the mp3 of the podcast
› Preview the new album "WWI"



Interview highlights sans music
lawrence.com: Matt, you're the singer and one of the guitar players and this album is to be released on Merge Records, a label that you have some history with.
Suggs: Yeah, I've been associated with the label since about '92. It's been a long history and a great relationship. When we were batting this idea around of starting a new project I was in contact with Merge from the get-go, just kind of letting them know what I was up to, and basically left it at "We'll send you a CD when it's done and if you guys want to put it out, we'll be more than happy to oblige". And they went for it. Kinsey: They took the bait and we're ecstatic for it.
Kinsey, what do you do in the band?
Kinsey: I play guitar and synthesizer. I'm your basic jack-of-all-trades, everyman. You need something shook or banged on, you call on me.
Suggs: And then Zac Holland plays guitars and keys, John Anderson plays drums and Rob Pope plays bass and bass-oriented keyboards.
Matt, your background includes a band called Butterglory and then some solo albums:
Suggs: :Which a lot of these guys played on. This whole thing morphed from the solo albums into a band thing and that's how we get to White Whale. Kinsey: We've been playing with each other for the past six years, on and off.
Except for Pope.
Suggs: Except for Pope. He's new in the equation.
He's put a new slant on things.
Kinsey: He's a hell of a musician. He's got more gear than you can imagine. If he gets an idea for something to do, he just goes to his closet and brings out another keyboard or a different bass and off he goes.
This is dense, textured, layered music. And I know there's a specific process that goes into the making of White Whale's music:
Suggs: Generally these songs came about with me coming up with a skeletal idea, a melodic phrase and some basic chords. Then I usually take that to Dustin, who embellishes it, adds to it, kind of smoothes it out. We collaborate and kind of make it into something even bigger. And the next step is to take it to the band. The band pulls it apart, builds it back up and jumbles it around-it goes through at least three stages, four I guess, if you count the recording process, because it even changes as we're recording. It's kind of a three- or four-tiered process.
Its seems that the spirit of the band is a truly collaborative one.
Suggs: I wasn't going to show up to practice with completely written songs. It was going to be something where the five of us just get together in a room and see what happens. With an idea-I don't like to show up to practice without an idea. There needs to be an idea, something we need to be working on.
Kinsey: Otherwise it evolves into a bad jam.
The internet has changed everything for the independent label and the independent artist, also for the independent music store. What do you think the internet will do for the independents? Will it kill independent music, or expand it? Is it just a time of transition?
Suggs: I think its too early to tell. I can see in the next ten years that people probably won't be buying CDs anymore. You wouldn't have an actual thing to buy anymore. More and more, people will be buying the downloads. I personally still buy CDs and records-I'm not really into the whole mp3 thing. Now everything's just at everyone's fingertips. You can just do a Google search and read all about your favorite band. And everyone's got an opinion.
Kinsey: Right now it's ubiquitous but we'll learn how to filter it. We'll get used to the information overload. I think there will always be a need for that hard copy, and it may bode well for the smaller stores in that it's going to destroy the big chains because you can get it all online at home. The reason for going to the big chains was convenience, but there's nothing more convenient than downloading it in your own home.
Think about how many copies of Electric Ladyland or Sgt. Pepper's were sold by the cover alone.
Kinsey: We've got a pretty sweet cover. Get the CD, you open it up, there's a surprise inside.
More like this story on Lawrence.com