Gretchen Mol is ebullient and charming as "The Notorious Bettie Page" in an affectionate new biopic of the quintessential 1950s pin-up queen (directed by Mary Harron - "American Psycho," "I Shot Andy Warhol").
If the real Bettie Page is as elusive and naÃive as the film's wandering screenplay would have us believe, then it's a good thing there's more to savor here than Mol's striking resemblance to Page.
For anyone who wants to know how a sweet girl from Tennessee could wind up a beloved cult figure by way of underground bondage photographs, TNBP will shock you in how tame its erotic photo sessions actually are on the set.
Despite Mol's winning performance, Bettie herself remains hard to define, leaving the movie to be more effective as a time capsule of extreme sexual repression.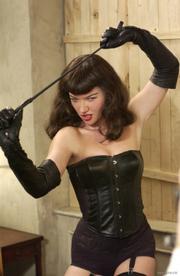 Bettie's positive outlook on life never seems to dim, even after sexual abuse in her family, an abusive marriage, and a gang rape - all of which are suggested but never shown.
After moving to New York, Bettie stumbles into modeling via a chance encounter with a police officer/part-time photographer on a beach on Coney Island. Even in this impromptu photo op, Bettie is having fun mugging for the camera, and when a curious crowd turns disapproving, she is quick to defend herself - she can't understand what all the fuss is about.
Bettie later poses for private "photo clubs," girlie magazines, and eventually for Irving and Paula Klaw's independent photo distribution network, all the while pursuing acting lessons that don't seem to pan out. A screen test turns sour when she can't think of anything to say, but her still photos showcase the inner exuberance of her personality, whether she's in a high-heeled S&M; outfit, a leather bikini, or nothing at all.
Movie
Notorious Bettie Page
** 1/2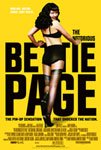 Gretchen Mol is a delight as the saucy brunette Page, a God-fearing innocent oblivious to the use of those pinup photographs for which she so cheerfully posed. But because this odd biopic so assiduously avoids interpreting its subject, it's hard to decipher what it says - if anything - about women, faith and sexual fantasy.
As anyone who has seen the real Bettie Page's photos will tell you, it isn't just her beauty that makes her so unique, but her fresh-faced enthusiasm for cheeky role-playing - and Mol captures this essence perfectly.
The same innocence she portrayed then is what appeals to her huge cult following now. Evolving sexual attitudes have allowed her formerly risque photos to be viewed now as retro kitsch. Her effect on popular culture happened under the mainstream radar, the same way her cult following has grown. The film doesn't connect the dots for the audience, but it does suggest that Bettie helped to change sexual attitudes by merely playing dress-up for some "very high class people," as Paula (Lili Taylor) puts it.
Harron effectively neuters the bondage and fetish-oriented behavior by going behind the scenes at these low-budget photo shoots via Bettie's wholesome point-of-view This causes the eventual photos themselves to have a completely different effect for the audience than they do for the characters, such as Bettie's disapproving boyfriend.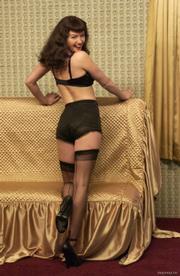 Since her dark side is only hinted at Bettie seems genuinely comfortable in her own skin when she's posing semi-naked outdoors, a complete portrait is as slippery as one of Bettie's knee-high leather boots. Harron switches from black-and-white to color film stock to distinguish her inner feelings, but it is just not enough to grab hold of.
On the other hand, the Washington hearings on obscenity, presided over by Senator Estes Kefauver (David Strathairn), prove to be as campy and hilarious as any of Bettie's costumes or poses. While chiding the old fogies on the government committee, Harron reminds us that there was a time when a smiling woman in a jungle-striped bikini frolicking with tigers was more threatening to some folks than an imminent communist threat.
More like this story on Lawrence.com