Let the summer season begin. Well, the music season, anyway.
With a gazebo packed full of musicians and the South Park lawn packed full of concert-goers, the Lawrence City Band kicked off the annual Summer Concert Series on Wednesday night - marking a century of warm-weather performances at the historic bandstand.
"I don't wanna quit," longtime band member Paul Jordan said before the band started the show. "This is too much fun."
This year, the Lawrence City Band will play eight concerts in the South Park gazebo, introducing a host of guest musicians and conductors to the Lawrence institution.
The performances will happen every Wednesday night. Over the lunch hour on Thursdays, different bands will play at Ninth and Massachusetts streets. The shows, sponsored by Lawrence Parks and Recreation and Downtown Lawrence, will continue until July.
Photo Gallery
Lawrence City Band concert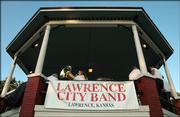 Next week will mark the 100th anniversary of the first summer park show at the gazebo just weeks after construction finished in 1906.
Besides a quick bout with the bandstand's electrical system, everything went off without a hitch Wednesday.
Before the show, children sat in pine tree limbs while parents sprawled out on blankets and in camping chairs as the cacophony of 50-plus instruments tuning at the same time rang through the air.
Linda Slimmer sat alone on a blanket, watching her two boys as they ran with other kids near some trees.
She said that she's been coming to the summer concerts for years, at least since her oldest, 8, was just a baby.
Her husband, Pat, walked up from talking to a friend.
"This is almost a neighborhood thing," Pat said. "There's a feeling of security here."
For Lawrence City Band conductor Robert Foster, it's also an important tradition, one of the many ways the community embraces the arts year after year.
It is also, Foster said, an event that separates Lawrence from other communities.
Turning back to watch his kids, Pat Slimmer felt the same.
"This is one of the little treasures of Lawrence," he said.
Outdoor performance schedule for summer 2006
Wednesday Night shows with the Lawrence City Band: June 7: Classics for summer nights June 14: Flag Day June 21: The first day of summer June 28: Heritage and tradition July 5: Our own Fourth of July concert July 12: Children's concert July 19: The grand finale concert
Thursday Brown Bag Concert Series, noon to 1 p.m. at Ninth and Massachusetts streets June 1: Billy Spears & the Beer Bellies June 8: Lonesome Hobos June 15: Key West Jazz Quartet June 22: Alferd Packer Memorial String Band June 29: Borderline Country July 6: Lonnie Ray Blues Band July 13: Billy Ebeling and the Late for Dinner Band July 20: Country Rhythm July 27: The Konza Swamp Band
More like this story on Lawrence.com