Filmmaker Robert Greenwald recalls learning from a neighbor who had been hired at Wal-Mart that the man was unable to afford the company's health insurance. However, management suggested he apply for state-subsidized health coverage, which was paid for by California tax dollars.
Greenwald couldn't comprehend how one of the world's largest and most profitable corporations was encouraging "associates" to essentially go on welfare. Once the director began to investigate the company's practices, he realized he had a cinematic subject of David vs. Goliath proportions.
"Wal-Mart has a clear identity coming from (founder) Sam Walton ... that everything is OK in the service of squeezing an extra nickel," Greenwald says. "That gets transformed and transmuted, and that gets sent up and down the chain of command. And then you have the abuse you see in the film."
The result of Greenwald's investigation is "Wal-Mart: The High Cost of Low Price." The documentary meticulously takes the mega-retailer to task in areas such as worker exploitation, government subsidies, foreign labor practices and environmental abuses.
"They're an interesting corporation in that their first statement about everything is, 'We're perfect. We're here on earth to make your life better, only behind Mother Teresa,'" Greenwald says of Wal-Mart's response to his film. "Then they say, 'Oh wait, we've changed and we're making it better!'"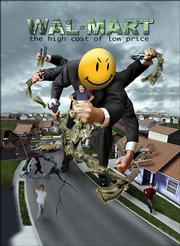 Radical distribution
Greenwald's documentaries have jousted with other powerful targets, such as the Fox network in "Outfoxed: Rupert Murdoch's War on Journalism" and the Bush administration in "Uncovered: The War on Iraq." That in itself isn't peculiar, given the customary politics of those who make their living in Hollywood. What is unique, however, is the method Greenwald has adopted to get his message heard.
"It's radically different," he explains. "Our focus through Brave New Theaters (a company he founded) is reaching as many people as possible, but not through movie theaters. We use the Internet - where people can purchase copies - and through screenings at homes, churches and schools."
Interested parties can go to bravenewtheaters.com or walmartmovie.com and buy or borrow a copy of the film. Greenwald doesn't charge any usage fees for screenings, either.
He says that the first week his "Wal-Mart" was released (in November), nearly 8,000 screenings were organized.
"It's the equivalent of a huge studio release," he says.
Lawrence resident Tim Hjersted bought a copy off the Web site, and together with friend Matt Toplikar decided to stage a showing at Liberty Hall, 642 Mass.
Past Event
Monday, June 5, 2006, 7 p.m.
Liberty Hall Cinema, 644 Massachussets Street, Lawrence
All ages / $2
"I was trying to spread awareness and get more people involved in some of the issues that have been affecting our community," the 22-year-old says. "It seemed like showing this movie would create a dialogue to figure out, 'Do we want big corporations springing up around this city?'"
Proceeds from Monday's event will go toward efforts to raise local awareness and keep the proposed second Wal-Mart from developing at Sixth Street and Wakarusa Drive.
Hjersted says, "I really love how it's not a left or right issue; it's a human rights issue."
Wal-Mart responds
Not so, says Wal-Mart spokesperson Dan Fogleman.
"More than 100 million Americans shop at Wal-Mart every week, and they're tuning out the critics groups and union benefactors," he says. "Working families haven't heard a single idea from these groups: no solutions, no vision, just criticism."
Fogleman has seen "Wal-Mart: The High Cost of Low Price," and he's not impressed.
"What stood out to me was the number of errors and misrepresentations," he says, citing the opening scene which shows a family-owned hardware store closing after 43 years once Wal-Mart comes to their small Ohio town. He claims the store sold to another local owner three months before Wal-Mart opened.
For a more accurate picture, he suggests renting Ron Galloway's documentary "Why Wal-Mart Works: And Why That Drives Some People C-r-a-z-y," which was made in response to Greenwald's film.
Fogleman asks, "Have these negative attacks from these no-idea critics saved working families any hard-earned money? Have they created a single job? Have they helped reduce greenhouse gasses? Have these negative attacks helped any families get health insurance? Without a single idea, the critics are just talking to the critics. Quite frankly, the American people aren't taking them seriously."
From features to docs
Greenwald took a rather circuitous route to crafting rabble-rousing documentaries.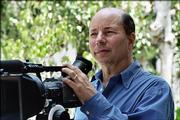 The 60-year-old filmmaker started producing and directing television movies in the 1970s, most notably the award-winning drama "The Burning Bed." His body of TV projects have since earned 25 Emmy nominations.
But he's probably best known for another award entirely. His 1980 musical flop "Xanadu" was what inspired John Wilson to create the Razzie Awards, which continues to dishonor the worst achievements in film.
So has Greenwald met any other directors who started in features and then shifted almost exclusively to documentaries?
"No. I'm afraid I'm the only nutcase," he says, laughing.
When approaching the "Wal-Mart" project, he had to sort through more than 400 hours of interviews in order to assemble the tale.
"With documentaries, unlike the 50-odd non-documentaries I've done before, the form of each film is very different," Greenwald explains. "With 'Outfoxed' we spent a huge amount of time looking at clips. Most of the movie was there, but it was finding it and getting the five or six Fox employees to come forward. ... With 'Wal-Mart,' the biggest part of the movie was finding the people who are the story. That required sending people all over the country and all over the world to find people who'd be willing to come forward."
Next up, Greenwald is releasing "The Big Buy: Tom DeLay's Stolen Congress" on June 26 (which he produced but didn't direct). He also is engaged in creating a documentary about war profiteering.
As for how Wal-Mart will adjust to the mounting negative charges, community protests, lawsuits, fines and judicial injunctions, Greenwald is surprisingly optimistic.
"(Ten years from now) I think they'll be a more responsible company," he says. "Capitalism has always been most effective with restraints. I think the market driven by social activists will impose restraints and constraints - both legislatively and community - that will cause them to be more responsible. Will they be the ideal corporate public citizen? Probably not."
More like this story on Lawrence.com