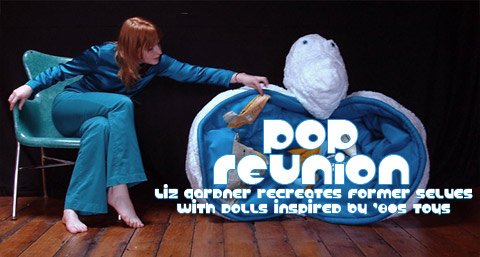 It wasn't an Easy-Bake Oven.
Or an Astronaut Barbie. Or a Speak & Spell.
No, of all the 1980s children's toys that blipped on artist Liz Gardner's radar screen, the short-lived Popple doll captured her imagination most of all.
She can't really explain it, but her mania for the plush Mattel toy is evident in a home movie her father discovered recently while transferring years of VHS footage to DVD. The video shows Gardner receiving a Popple as a gift at age 5.
"I was freaking out - going, 'I got a baby Popple, Mom! I got a baby Popple!' - over and over and over. It's too funny," says Gardner, a 2003 Kansas University graduate, who eventually owned two of the dolls. "One of them I dropped in the toilet, and I remember just being devastated. We must have washed it, though, because I still have it."
And the herd has multiplied.
As a sophomore textiles major at KU, Gardner decided the dolls - which can be folded in on themselves to form a furry pouch and then popped back open to reveal what's inside - would be the perfect vehicle for an autobiographical artwork. So she made her own quirky version of the creature, which evolved into a series of dolls, each one corresponding to a different stage in her life.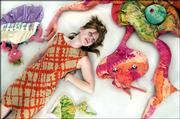 There's infant popple, encased in a fuzzy pink outer shell that zips the diapered doll into a tiny cocoon.
There's elementary popple, a slightly larger doll wearing a skirt that lifts to reveal one of Gardner's actual second-grade lessons screenprinted underneath. (It indicates that she was "funny and sometimes shy" and that her favorite subject was "spalen.")
There's a still-larger adolescent popple with body-consciousness issues, a high school popple who has started wearing lingerie and liking boys, and a college popple that represents a young woman who has finally come out of her shell.
"I think each one really does encapsulate a moment in her life," says Jill Kleinhans, owner of Olive Gallery & Art Supply, where Gardner's "Operation Popple People" is on display through June. "And I think that gives them a lot more meaning than just producing a ton of different popples."
Creative roots
Gardner's creatures aren't cheap knock-offs of the original Popples, which sprung to popularity during the 1985-'87 run of their self-titled Saturday morning cartoon. Those cuddly creatures looked like rosy-cheeked teddy bears with floppy ears and long tails tipped with pompoms. They were cute and cherubic, and went by names like Party, Penny, Potato Chip, Puffball and Punkster.
Far from mass-produced, Gardner's handmade popples are less cute than just plain strange. Although they do fold up like the dolls that inspired them, their furry exteriors give way to interiors made of screenprinted fabrics in flashy hues. Long, gangly arms and legs dangle from lightly stuffed bodies, and alien-shaped heads wobble atop lengthy necks.
"I didn't want people to look at them and say, 'Oh, she just recreated my favorite childhood toy,'" says Gardner, 25. "It's something else beyond that."
When she's not working her day job at an Overland Park furniture store, Gardner spends hours in her Kansas City, Mo., apartment, handstitching details like eyes, lips and - in once case - a nipple. Her home became so overrun with popples - which get bigger each time she makes one - that she started storing them at her parents' house in Lincoln, Neb.
She grew up in the country just outside the city of 225,000 and attributes her active imagination to her childhood lifestyle.
"My parents didn't allow us to watch cable," Gardner says. "Our TVs barely worked, so it was kind of like, 'OK, be creative. Do something to entertain yourselves.'"
Pop goes the needle
Crafting popple people hasn't been the extent of Gardner's artistic pursuits since graduation. While the creatures dangle from the ceiling of the Olive's upstairs gallery, Gardner's two-dimensional mixed media pieces fill the walls downstairs.
The self-proclaimed pack rat is often guided by the materials she collects: maps, magazine photos, brochures, sheet music (she's a classically trained violinist). She likes to tear them up and piece them back together on canvases, adding color and texture with stitching.
She feels most at home with a needle and thread.
"It's very comfortable to me," she says. "If I pick up a pen and start drawing, I start to get a little bit anxious and start fumbling a little bit. I can sit and freehand stitch a figure better than I could draw it."
Recurring event
Olive Gallery and Art Supply, 15 E. 8th St., Lawrence
All ages / Free
This talent has blossomed into a new side business, Liz Gardner Designs, that has the artist making custom pillows and linens for clients. Some of them are conservative; some are whacky and abstract, which falls right in line with how KU textiles professor Mary Anne Jordan remembers Gardner.
"Quirky. That's the word that comes to me a lot when I think of her, and I mean it in a really positive way," Jordan says. "She just has a different way of looking at things and recognizing things. Her pieces combine traditional textile techniques in a nontraditional way. That's what makes them interesting.
"She's really energetic, too," she continues. "And you can recognize that energy in her work."
It's also apparent when she signs off her phone messages as "Liz Popple."
Anatomy of a popple
Popples
¢ Characters in a Saturday morning cartoon by the same name that aired from 1985 to 1987 and spun into a line of plush toys.
¢ Resemble brightly colored teddy bears with long tails tipped with pompoms.
¢ Did things like spilled water, toothpaste and soap all over the bathroom when their human friends were trying to brush their teeth in the TV series.

Liz Gardner's popples
¢ Characters hanging from the Olive Gallery rafters this month that represent stages in artist Liz Gardner's life from 1981 to 2006.
¢ Resemble long-limbed aliens with brightly colored flesh, sometimes wearing lingerie.
¢ As a child, Liz Gardner accidentally dropped her first Popple doll in the toilet, much to her mortification.