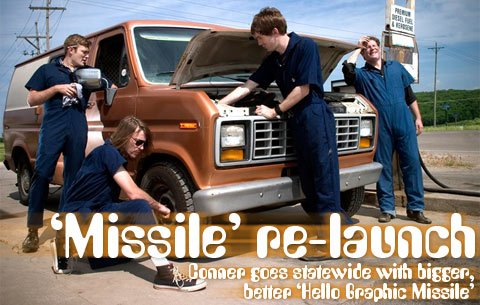 Flagship Lawrence rock outfit Conner will seek to reach a national audience this summer with the release of "Hello Graphic Missile" on Seattle's Sonic Boom Recordings. Compiling tracks from the band's first two self-released discs, the 13-song collection has been remixed, remastered and capped off with some wicked-cool 3D ink. The band will unveil the disc at a FREE show June 17 at the Granada with Kelpie, Black Christmas, Cavaliers and AM Syndicate. Joining us for a podcast were vocalist/guitarist James Duft, guitarist Tom Wagner and drummer Bryce Boley.


› Get the podcast
› Listen to the mp3 of the podcast
› Preview the album, "Hello, Graphic Missle"



Interview highlights sans music
lawrence.com: This record is very confusing. Maybe you should explain it, James.
Duft: When we got signed and had the opportunity to put out a record nationally, we thought it would be a shame to throw out what we thought were great songs from (the first album) "The White Cube" : Our favorite title of the stuff we had was "Hello Graphic Missile," so we were like, 'Why throw that away too?' I guess it's confusing if you live in Lawrence or Kansas City, but that's about it. No one else has any idea that this stuff exists.
So how many digits did you sign for?
Wagner: Well, I lost one digit and James lost two. But that's it.
What are you going to do with this record deal? Tell us about Sonic Boom.
Duft: It also has Andrew Morgan, who used to live in Lawrence and now lives in Chicago. He's also on Broken Horse Records with us in the UK, along with Ghosty.
What will this mean for the career of Conner?
Duft: Money. No, I don't know. Obviously we have hopes that something good will come out of it. It gives us an opportunity to release a record - that's pretty good. And somebody else is paying for it, so that's even better.
Past Event
Saturday, June 17, 2006, 9 p.m.
Granada, 1020 Mass., Lawrence
All ages / Free - $2
Tell me some of the highlights of the past year for you guys.
Duft: Touring and stuff has been fantastic. We went out with The Killers in August. We played to 10,000 people in Michigan and every show was like 5,000-6,000 people. St. Louis was like 3,000 and I think that was the smallest one.
Boley: We had hotel rooms, free food, liquor - it was awesome.
Duft: We sold a crap-load of CDs, so that was good. The glorious MySpace was in its infancy still and we got lots of "friends" off of that. In five days we were out of merch.
Wagner: It at least gave us the confidence to know that in front of that many people we could sell our stuff. That's the only question we're asking ourselves right now: 'Will we sell our CDs?'
Duft: That's what we ask ourselves every day. Does anybody really care what we do? Most likely no - but we're putting out a CD just to find out. My mom liked it.
Album Mp3s

Hello Graphic Missle (2006)
So what are you going to do now that you've got this record out on this huge, multinational record label?
Duft: We'll be out on tour pretty much all of August and then the fall doing that craziness.
Do you have somebody doing that for you?
Duft: Me. But I do booking and stuff, so I'm just as good as a booking agent.
Is this a rough time to be a band booking a tour with gas prices and all that? Does anybody really listen to good music anymore?
Duft: I think bands that are good do well and that's just the way it works, even though there's too many bands right now : More now than ever in history, everybody when they turn 16 is like, 'I'm going to start a band!' Which is great because there's more bands, but it's bad because then there's more bad bands and they want to tour, too.
More like this story on Lawrence.com