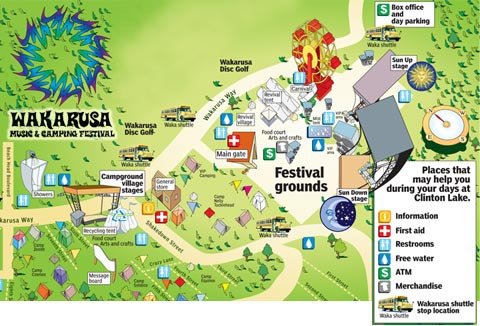 This, the 3rd annual festival at Clinton Lake again features an eclectic mix of more mainstream pop/rock bands - most notably the Flaming Lips - respected by the indie crowd as well as the usual bulk of jam/dance bands beloved among heads and hippies who will travel from all over the country to see the likes of STS9, Robert Randolph and many more. There's also the bluegrass and folkish Americana contingent - Bela Fleck, Keller Williams and the like - which have become perhaps the festival's core, thanks to their crossover appeal.
Schedules
...by day:
› Thursday
› Friday
› Saturday
› Sunday

...full schedule:
› Thursday through Sunday
Wakarusa Tools
Behold our power to send free text message show reminders to wake up your passed-out ass before Bootyjuice goes onstage.
› Full schedule and event reminders via txt msg and email at mobile.lawrence.com
› iPod-formated schedule [download][help]

Breaking news
› Partiers beware: Police out in full force near Wakarusa festival
› Note: Miles of stand-still traffic

Top Three Bands That Are Obviously Awesome
(1) The Flaming Lips
Saturday, 10:30 p.m. to midnight, Sun Up Stage
How Wayne Coyne and company made the transition from psychedelic alt-rock pioneers to hippie festival favorites is one of our generation's more perplexing happenstances. Perhaps it has something to do with the furry animal costumes, the bubble-bursting confetti, the gratuitous jumbotron boob flashes and a megaphone-wielding ringleader straight outta Barnum-and-Bailey summer camp. We prefer to think it was the music: a marvelously wrecked blend of stadium-friendly psychedelia, warped electronic pop and excess-infused classic rock, featuring Lawrence's own Kliph Scurlock on drums.
(2) Bela Fleck and the Flecktones
Sunday, 10:15 p.m. to midnight, Sun Down Stage
The most insanely talented virtuosos of the banjo, bass, saxophone and drums compose the renowned Flecktones. Leaping across caverns of genres in a single bound, the quartet veers between jazz, bluegrass, funk and folk with five-string innovator Fleck at the helm. The Flecktones' latest "Little World" is a remarkably schizophrenic exercise in vintage and modern musical traditions.
(3) Michael Franti and Spearhead
Friday, 6 p.m. to 7:15 p.m., Sun Down Stage
During the course of his two-decade career as a punk rocker, hip-hop emcee, reflective acoustic statesman, R&B; crooner and funk barnstormer, MF has proved that the medium is secondary to the message. His upcoming album "Yell Fire!" is a response to his travels in Iraq, Israel and Palestine, where he learned that people in war zones would rather not hear songs about war. The uplifting collection was previewed last year for the maximum security ward of Folsom Prison - believe it or not, the first time a band had journeyed there since Johnny Cash.
Top Three Non Jam Bands
(1) Cracker / Camper Van Beethoven
Cracker, Saturday, 1:45 p.m. to 2:45 p.m., Sun Up Stage
Camper Van Beethoven, Saturday, June 10, 12:30 p.m. to 1:30 p.m., Sun Up Stage
Before David Lowery scored a string of hits with his seminal alt-rock band Cracker, he fronted CVB, a "surrealist absurdist folk" band from Santa Cruz. Aside from racking up a reputation as one of the most unpredictable acts in the burgeoning underground rock scene, Camper recorded a five-record catalog that grew exponentially more popular following the band's early '90s demise. The band re-emerged in 2002 in fittingly bizarre fashion - a song-for-song tribute to Fleetwood Mac's "Tusk" - and picked up right where they left off with 2004's "New Roman Times."
(2) Andrew Bird
Saturday, 3:15 p.m. to 4:30 p.m., Sun Up Stage
AB is an astoundingly accessible combination of songwriter, violinist, guitarist, vocalist and professional whistler. His sampling-infused solo performances have been tripping triggers for years, but his true talents lie in composing lush, orchestral folk songs peppered with gypsy jazz licks. Bird has released three albums for Ani DiFranco's Righteous Babe label and is currently supporting the whimsical 2005 release "Andrew Bird and the Mysterious Production of Eggs." Read our review of his show with Ani Difranco at Liberty Hall.
(3) Todd Snider
Thursday, 1:15 p.m. to 2:15 p.m., Revival Tent
If outlaw country had a smarter pop edge, it would probably sound like TS. Known best for his mid-'90s hit "Alright Guy," Snider has been churning out country-rock gems for more than a decade. Adored figures like John Prine and Kris Kristofferson have bestowed heaps of praise upon Snider's sly wit and concise songcraft - both of which have helped him become one of the most enduring voices in the crowded singer/songwriter landscape.
Top Three Local Interlopers
(1) Jesus Christ Superstar
Sunday, 11 a.m. to 12:45 p.m., Revival Tent
Music from the original 1970 "Brown Album" is faithfully performed by a 12-piece Lawrence band featuring members of Split Lip Rayfield, The Midday Ramblers, Drakkar Sauna and more (read out story). The two-record set starred Ian Gillan from Deep Purple as Jesus and has remained a formative influence of some of our generation's most hardcore headbangers. This will be a rock show, not a theatrical performance.
(2) Truckstop Honeymoon
Friday, 1 p.m. to 1:45 p.m., Revival Tent
Sunday, 11:30 a.m. to 12:30 p.m., Campground Stage
Mike West and Katie Euliss (a.k.a. Truckstop Honeymoon) recently relocated to Lawrence after their New Orleans home was destroyed along with the rest of the 9th Ward by Hurricane Katrina. The couple serves up mobile entertainment of the old-time ilk, brandishing banjo, fiddle, guitar and wash-tub bass to tell stories of love and sin, pot seeds, big government, oil refineries and whatever else makes for a whoopin' good time. Video preview of the band on The Turnpike.
(3) The Homegrown Stage
Seven of Lawrence's finest acts will grace the campground's Homegrown Stage alongside syllabletastic acts such as Madahoochi, Lubriphonic and Euforquestra. The morning tent-shaking shift is the weapon of choice for Arthur Dodge (11am Thursday), Drakkar Sauna (11am Friday), Julia Peterson and the Breaks (10am Saturday) and OK Jones (10am Sunday). The more rock-star-friendly slots went to Cosmopolitics (5:40pm Thursday), Ghosty (1:40am Friday a.ka. Thursday night) and Billy Spears and the Beer Bellies (5:40pm Sunday).
Top Three Freakshows
(1) The Mutaytor
Sunday, 2:15 a.m. to 3:45 a.m., Revival Tent
Pitching themselves as oddly (or barely) dressed caricatures of liberated cyber-humanity, TM is a 10-20 person performance troupe that cites the infamous Burning Man Festival as its birthplace. Backed by live electronica, fretless bass, and the monstrous rattle 'n whomp of more than 100 fluorescent green drums, a procession of fire-spinners, dancers, anime characters, gymnasts, aerialists, and hula-hoop artists wreak havoc on the audience's better judgment.
(2) Yard Dogs Road Show
Saturday, 5:10 p.m. to 6:30 p.m., Revival Tent
Sunday, 4 p.m. to 5 p.m., Campground Stage
In an era when any reality-show-reject can stuff his or her gut in a girdle and call it burlesque, it's refreshing to see REAL freaks like the YDRS holding down the fort. The traveling neo-vaudeville sideshow features sword swallowers, fire eaters, pasties-safe burlesque and rambling hobo poetry - all animated by the live sounds of the Cartoon Jug Band. If you're in the mood for some low-brow entertainment, the YDRS is your first-class joint.
(3) Les Claypool
Saturday, 8:30 p.m. to 10 p.m., Sun Up Stage
Primus may be on the down low, but LC still has plenty of avenues to express his inner bass-slappin' weirdo. From Oysterhead to Sausage to The Frog Brigade, the only variable is the rotating casts of characters that accompany the cartoon-voiced master of ceremonies. His latest album "Of Whales and Woe" includes percussionist Mike Dillon of Hairy Apes BMX and Gabby La La, an eccentric sitar-and-ukelele-strumming lady who will perform her own set at 3:45 pm Saturday in the Revival Tent.
Top Three Dudes with Guitars
(1) Tim Reynolds
Thursday, 5:30 p.m. to 6:45 p.m., Campground Stage
Friday, 4:45 p.m. to 5:55 p.m., Revival Tent
Though he is probably best-known for his frequent collaborations with Dave Matthews (most notably 1999's "Live at Luther College"), TR is a skilled interpreter of guitar, bass, piano, sitar, mandolin, violin and ethnic percussion. His outfit T3 and frequent solo releases allow him an open forum to create a "symphony of the senses," often veering into heavy electric guitar jams and industrial-tinged electronica.
2. Keller Williams
with the Keels, Saturday, 6 p.m. to 7:30 p.m., Sun Down Stage
solo, Sunday, 12:10 a.m. to 1:40 a.m., Revival Tent
A one-man jam band, KW incorporates percussion-heavy acoustic guitar and finger picking reminiscent of Leo Kottke into his unique "solo acoustic jazz-funk-reggae-techno-grass." Firing off an audience-pleasing arsenal of originals and cover songs, "K-Dub" will perform his six-string circus midnight Saturday at the Revival Tent. This will be preceded by a 6pm Sun Down Stage performance by "Keller Williams and the Keels" - a lighthearted bluegrass trio that also features award-winning flat picker Larry Keel and upright bassist Jenny Keel.
(3) William Elliot Whitmore
Sunday, 1:15 p.m. to 2:05 p.m., Revival Tent
Banjoist/guitarist WEW splits the difference between Tom Waits and Johnny Cash with his gruff voice and old-time-Americana. Whitmore's songs harken back to the days of the steam-powered engine and butter churner, with Guthriesque overtones and accomplished finger picking.

Top Three Female-Fronted Acts
(1) Donna the Buffalo
Sunday, 1:15 p.m. to 2:15 p.m., Sun Down Stage
Sunday, 6:55 p.m. to 8:05 p.m., Revival Tent
DTB's 17-year career path has built a devoted following for the band's unique blend of reggae, rock, country, zydeco, cajun, and folk flavors. Funky and danceable with a message of tribal philosophy, the band features the female vocal talents of fiddler and accordionist Tara Nevins and keyboardist Kathy Zeigler. Though Donna delves into many musical styles, its fans - known as "the herd" - keep coming back for songs described by the band as "simple, straight-forward, melody-oriented and easy to take in."
(2) Samantha Stollenwerck
Thursday, 7 p.m. to 8 p.m., Homegrown Stage
Friday, 2:30 p.m. to 3:30 p.m., Campground Stage
This songstress recently penned the "BALCO Blues" for fellow San Franciscan Barry Bonds. Honing her soulful folk style from formative influences like The Black Crowes and Aretha Franklin, Stollenwerck has traveled the country with her band The Ritual to deliver her "sexy, delightfully raw, mellifluous Cali-soul" to the masses.
(3) My-Tea Kind
Friday, 9 p.m. to 10 p.m., Campground Stage
The Paine sisters have been playing music together since they were young-uns - on bass, drums and washboard, no less. Performing as MTK since 2004, the Tahlequah, Okla., act recently won the Wakarusa battle of the bands (Battlerusa) in Tulsa and went on to win the "upgraded" competition in Lawrence.
Top Three Misunderstood "Jam" Bands
(1) Benevento-Russo Duo
Saturday, 2:15 p.m. to 3:45 p.m., Campground Stage
This organ and drums duo create a sound bigger than the sum of its parts, deeply rooted in traditional jazz but also owing a large debt to rock, funk and eastern influences. The band has collaborated with former Phish bassist Mike Gordon on occasion but typically avoids the noodly trappings of the jam scene in favor of more exacting compositions.
(2) Robert Randolph
Friday, 10:15 p.m. to 12:05 a.m., Sun Down Stage
The LeBron James of pedal steel guitar, Robert Randolph approaches his "sacred steel" with all the cockiness of a big-time baller. Randolph's band boasts some of the most wicked soul musicians this side of Sly and the Family Stone, and the band's stage show promises to be one of the most joyful occasions of the festival.
(3) STS9
Sunday, 10:15 p.m. to midnight, Sun Up Stage
Drawing from complex polyrhythmic music like Afrobeat and acid jazz, Atlanta's STS9 creates live electronic tapestries to make your mind groove along with your behind. The band's stage show incorporates music with lighting, video, decorations and DJs - a complete environmental experience that makes up the band's extended "Sound Tribe."
Top Three Gimmicks
(1) Jake Shimabukuro
Friday, 1:15 p.m. to 2:15 p.m., Sun Up Stage
Friday, 3:25 p.m. to 4:15 p.m., Revival Tent
This 28-year-old musical virtuoso shatters all musical boundaries previously imposed - by the ukulele. Experimenting with various effect pedals, the Hawaiian's repertoire includes electric rock, jazz, blues, funk, classical, bluegrass, folk and flamenco. Less of a novelty than an exercise in creating heartfelt music with non-traditional instruments, Shimabukuro is a true-blue entertainer who also doubles as Hawaii's goodwill ambassador to Japan.
(2) Buckethead
Saturday, 12:30 a.m. to 1:45 a.m., Campground Stage
Saturday, 6:45 p.m. to 8 p.m., Sun Up Stage
Not since the days of the Unknown Comic has an entertainer been so shrouded in goofy mystery. Master guitarist Buckethead is a covertly enigmatic performer known to many as the dude who wears a Mike Myers mask and chicken bucket (preferably KFC) on his head. He has collaborated with Guns N' Roses, Primus and Saul Williams and also released numerous albums under his own bucket. One can only wonder if he wore the getup while contributing music to the 1997 feature film "Beverly Hills Ninja."
(3) Hurra Torpedo
Monday, midnight to 1 a.m., Revival Tent
The internets have been kind to this kitchen-appliance-playing rock band from Norway. The band's 1995 performance of "Total Eclipse of the Heart" became an online hit in 2005, paving the way for the Hurra Torpedo mockumentary-meets-Ford-commerical "The Crushing Blow." In the film, drummer "Schau" - also a member of Norwegian group The Cumshots - hits stoves with sticks, slams the doors of freezers and pummels grills with sledgehammers. More importantly, they wear matching jumpsuits.
More like this story on Lawrence.com