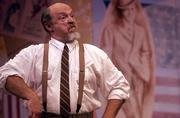 George M. Cohan's critics considered him a flag-waver, and he probably saw that as a compliment.
The Broadway composer is known for songs such as "Yankee Doodle Dandy," "You're a Grand Old Flag" and "Over There," still patriotic staples today.
"I think it's his gift of music and the legacy he's left us," says Mary Doveton, director of Lawrence Community Theatre. "Some of these things were written over 100 years ago, and we're still singing them."
Many of those songs, as well as the stories behind them, will be featured starting Friday at the theater with a production of "George M!," a 1968 musical that chronicles Cohan's life.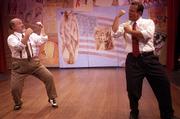 "It's different than most musicals," says Amanda Wehner, who plays Agnes Nolan Cohan, George's second wife. "It's a collection of his songs, and it covers such a long period of time. It's not a day of events or a week of events like most shows."
Cohan, who grew up in a theatrical family, wrote 80 plays, had producing credits on 150 others, made 1,000 stage appearances and wrote more than 500 songs. He received the Congressional Medal of Honor and has a statue in Times Square.
But while many people know his songs, which also include "Give My Regards to Broadway" and "Mary's a Grand Old Name," they might not know much about him.
"I didn't know a thing about him, I'm embarrassed to say," says Mark Skolaut, who plays Cohan in the production. "I was familiar with some of his music because it's classic Americana music. I think, as a kid, everyone sings the 'Yankee Doodle' song and 'Over There.'"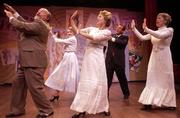 Skolaut found the role to be difficult because he's on stage for the entire musical.
"I've done quite a bit of theater in the Kansas City area, and I'd say this is by far the most challenging role I've done because of the sheer amount of stage time," he says.
Doveton, who is directing the show, says there are other challenges for the 22-member cast. For one, she says, the show offers little down time for set or costume changes.
And the production has offered a chance for some special effects, including video projections and use of new lighting equipment.
But it's clear the star is Cohan, and Doveton is expecting plenty of toe-tapping and singing in the audience.
"I think the show is really a fun, upbeat celebration of Cohan's music," Doveton says. "It leaves people in a real upbeat mood. It's good entertainment on a hot summer night."
More like this story on Lawrence.com