The streak is over.
Since the debut of "Toy Story" in 1995, Pixar Animation Studios has been responsible for one of the greatest streaks in motion picture history.
"Toy Story," "A Bug's Life," "Toy Story 2," "Monsters, Inc.," "Finding Nemo" and "The Incredibles" are indisputable classics. Charming, inventive, emotionally rich and endlessly enthralling, these films' creative achievements are equaled only by their box-office success.
So why then does "Cars" offer such a bland experience?
All the Pixar essentials appear to be there. "Cars" features dazzling visuals and witty production design - which do as much as can be hoped for in bringing to life the movement of NASCAR racing. It's got voice work that relies on talent more than star power. It displays a clear idea of the alternate world it seeks to create.
But the results are just so ... mechanical.
The answer seems to lie in the subject matter. Apparently, anthropomorphized machines are a whole lot less fun than anthropomorphized fish, insects, toys or monsters.
Remember last year's "Robots"? Yeah, me neither.
Like the Tin Woodsman of Oz, that was another flick with a sleek metallic look and no heart.
In "Cars," Owen Wilson voices Lightning McQueen, a cocky red speedster hoping to be the first rookie to win the coveted Piston Cup.
En route to the big race he unwittingly makes a mess out of a sleepy town called Radiator Springs. In order to pay for his crimes, judge Doc Hudson (Paul Newman) sentences him to community service. Although at first McQueen can't wait to escape this "hillbilly hell" and get back to a high-octane lifestyle of press adulation and product endorsements, he begins to bond with the inhabitants of the town who teach him a thing or two about humility and teamwork.
Movie
Cars
**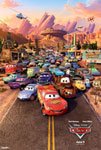 Given Pixar's track record, it hard to believe the animation studio's latest is so bland. Apparently, anthropomorphized machines are a whole lot less fun than anthropomorphized fish, insects, toys or monsters. "Cars" features dazzling visuals that bring to life the motion of NASCAR racing. But the storytelling is just so ... mechanical.
Make no mistake, "Cars" looks terrific. The vehicles themselves (which were reportedly narrowed down from 43,000 sketches) are as spirited as can be expected from objects whose eyes are windshields and mouths are bumpers/grills.
But the really impressive stuff involves the backgrounds. Radiator Springs sits on Route 66 (which was the film's working title), and the setting allows the animators to beautifully showcase the glorious mesas and deserts of the Southwestern United States. There are moments during the nearly two-hour effort that are shocking in their ability to simulate reality, as during a carefree joy ride McQueen takes with the town's attorney (Bonnie Hunt).
The film's most resonant moment comes during a flashback montage that finds a bustling Radiator Springs turned into a near ghost town after Interstate 40 is built. It's reminiscent of that memorably sad flashback in "Toy Story 2" that shows Jessie the Cowgirl abandoned by an owner who has outgrown her.
But the rest of the montages - and there are many - are just eye candy. And the rest of the story is uncharacteristically predictable, which is one aspect that has never plagued a Pixar project before.
Filmmaker John Lasseter, who directed "A Bug's Life" and both "Toy Story" productions, thinks that the NASCAR in-jokes and quirky peripheral details (such as jet trails in the sky being tire marks) can compensate for the lack of a compelling plot. There just doesn't seem to be that much at stake here, other than a selfish character getting a dose of relationship reality. Compare that with the life-or-death family struggles in "The Incredibles" and "Finding Nemo," and it's no wonder "Cars" often stalls.
The movie nearly pulls it together during the end credits, when a cast member takes note of his past voice work on other Pixar pictures. The scene is riotously funny, yet it also reminds me how those previous movies were first-place efforts and "Cars" belongs near the back of the pack.