The west side of Lawrence was a dreadlock-filled gridlock Thursday, as thousands of music fans jammed traffic on their way into the Wakarusa Music & Camping Festival.
Cars, campers and Volkswagen buses were backed up along Clinton Parkway and Kansas Highway 10 from midmorning until late afternoon, with some fans waiting four hours or more to reach the entrance at Clinton State Park.
Festival security director Gary Thomas attributed the delays mostly to more thorough checks of cars at the gate than in previous years.
"We're popping a lot more trunks and checking for glass, fireworks and narcotics, people with counterfeit wristbands," he said. "We did a lot of those things last year, but this year we're just stepping it up."
The stalled or slowed traffic was most severe from late morning until mid-afternoon, as some vehicles broke down in line or ran out of gas. Joe McNish, a driver for University Tow, said that as of 10:30 a.m., he had hauled eight cars from the bumper-to-bumper mess.
Some people not bound for the festival turned into the line by mistake, including an elderly woman in a silver Lincoln who tried to turn around by jumping the 8-inch median and scraped her car's bottom in the process.
More information on Wakarusa Fest '06
Drivers described creeping along at the pace of roughly one block per hour. For some, the wait was just part of the experience.
"It's nice that there's an area to play in," said 23-year-old Stephani Salazar, of Denver, as she twirled a hula hoop in the grassy median on Clinton Parkway. "We can bring out Frisbees and hoops and start the festival early."
Party starts
The 84-band festival is expected to draw an estimated 15,000 fans daily from around the country. The music kicked off shortly before noon Thursday, but much of the action throughout the day happened in line for the festival and in the surrounding campgrounds.
Audio Slideshow
Wakarusa Festival, 2006 - Day 1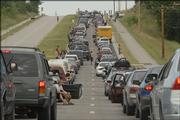 On Clinton Parkway, Todd Bankhead, of Davenport, Iowa, waited in line in his 1965 Volkswagen bus painted orange and white. The starter doesn't work, so he and his four-person group had to leave a two-car-length "starter zone" behind the bus each time traffic stopped. Every few minutes, as traffic crept forward, they let the bus roll backward, then pushed it up the hill to start it.
They killed time doing a dance they'd invented: "the invisible Hacky Sack dance."
"We're infested with festival spirit!" Bankhead said.
A shirtless man with a cigarette dangling from his lips sat on the ground on Clinton Parkway tapping a pair of drumsticks together in time with music blaring from his car stereo. Other people banged on conga drums, threw footballs, drank beer or walked to the nearby gas station to fill their gas tanks.
"This is perfect. You meet people that you're going to be camping with," said Lindsay Sorenson, 22, of Madison, Wis., who said she waited 18 hours to get into the Bonnaroo festival in Tennessee.
Beating the heat
Temperatures topped 100 degrees, and as of 6 p.m., five people inside the festival grounds had been treated by paramedics for heat exhaustion, said Capt. Lexie Engleman, of Lawrence-Douglas County Fire & Medical. In all, about 30 people had been treated for various injuries or illnesses, but nothing serious, she said.
Audio clips
Wakarusa Traffic Snarl
Once inside the festival, fans got busy setting up camp and began walking the hilly roads between the campgrounds and the stage area.
Derek Deviny, of Salt Lake City, who goes by the name MaLaCoiD, wore a hot pink T-shirt and yellow Crocs and walked around peddling $1 pairs of glasses that produced a hologram-like rainbow effect. He said he was trying to spread a message, "You don't need to be wasted, just put on these rainbow glasses."
Lawrence resident Trey Hornbeck and his friends prepared at their campsite for an 8:30 p.m. game of "beer pong." Hornbeck described his festival schedule as, "Go to the lake for the day, drink here in the afternoon, once the sun goes down, we start heading up to the stages."
Members of the Chicago-based funk band Deuce set up camp near the Homegrown Stage, where they're scheduled to perform Saturday evening. Their Chrysler van sat nearby, loaded with musical equipment, camping gear, a watermelon and a bottle of rum.
"We want to spread the message that the Deuce is loose," bandleader Matthew J. Kerr I said.
Lawrence workers
Many Lawrence residents are getting involved in the act. At a table under the Revival tent, Sarah Hill Nelson, of Bowersock Mills and Power Co., set up a booth providing information about "Green Tags," which festivalgoers can buy starting at $5 to have the amount of energy it took them to drive to the festival replaced in the power grid with alternative energy.
The Wakarusa Festival bought one of the tags for its expected energy consumption this year, which Hill-Nelson said would offset more than 63,000 pounds of greenhouse gasses.
Lawrence residents Jake Schultz and Jake Jordan, both 17, who called themselves "Wakarusa Official Waste Disposal Technicians," drove a golf cart around picking up bags of trash.
"We're keeping Lawrence safe and beautiful by disposing of this biohazardous waste," Schultz said.
More like this story on Lawrence.com