Cash drawers are popping and the dollars are dropping as thousands of Wakarusa Festival attendees head for the shops to buy everything from booze to bug spray, incense and "hippie clothing."
"Bottled water takes it all. Bottled water and tents. Then lawn chairs, then sunscreen, then bug spray. Tiki torches, too," said Bob Catlin, co-manager of Wal-Mart, 3300 Iowa.
Many businesses report a tremendous swell in sales over the past two days.
Stores benefiting most are liquor stores, grocery stores and big-box stores like Wal-Mart and Target.
Catlin said Wal-Mart prepared for the festival weekend by stocking extra in-demand items.
Audio Slideshow
Wakarusa Festival, 2006 - Day 2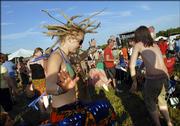 He also said Wal-Mart was "hammered" Wednesday and Thursday by festivalgoers buying camping supplies.
Area liquor stores are experiencing a similar sales boom.
Brian Fadden, owner of Parkway Wine & Spirits, 3514 Clinton Parkway, said his business has increased at least 60 percent. That's partly from the store's advertised title as the "official liquor store for Wakarusa," Fadden said.
More information on Wakarusa Fest '06
He paid $750 for a full-page ad in a promotional booklet handed out by festival promoters. The booklet steers out-of-town visitors to local businesses such as grocery stores and of course, Parkway Wine & Spirits, the only liquor store listed. But the store location doesn't hurt, either.
"I'm by the Hy-Vee. People are stocking up with food and we're on their way out there," he said.
Linda's Liquor, 1540 Wakarusa Drive, is also close to the festival grounds.
Owner Linda Vantuyl couldn't pin a number on how much sales have gone up, but she's sure the customers are in town for Wakarusa.
"They wear different types of clothes, so you know a lot of 'em when they come in. And it's fun seeing the tags come in from all over," she said.
Bob Sanner, of the Lawrence Chamber of Commerce, said the festival's economic benefits for Lawrence businesses are increasingly apparent.
"They're certainly making their presence known," he said, noting that Wakarusa-related sales have steadily increased since the festival's first year in 2004.
But not all businesses have seen gains.
Managers at three local fast food restaurants all said their sales have remained steady. And at Creation Station, 726 Mass., clerk Stephanie Staves said she hadn't noticed an increase in sales at all.
At Third Planet Imports, 846 Mass., buyer Kristen Ferrel said the shop, which sells incense, hippie-style clothing and body jewelry - merchandise that attracts customers likely to attend the Wakarusa Festival - hadn't seen increased store traffic.
Ferrel said the lack of increased walk-in customers at the store might be because most festivalgoers stay in the West Lawrence area for the weekend. But it also might be because Third Planet has a booth at the festival.
The booth, Ferrel said, is doing well selling political T-shirts, incense and "hippie clothes." On Thursday, workers at the store on Massachusetts Street had to restock the booth because it sold out of multiple items.
Hy-Vee, 3504 Clinton Parkway, also has a booth at Wakarusa. Manager John Olson calls it "the general store."
It stocks drinks, snacks, bug spray, toilet paper and other items so campers don't have to leave the festival grounds.
Olson said that the Hy-Vee on Clinton Parkway has seen sales increase at least 5 percent to 8 percent in the past two days. But that's no surprise, he said.
"You got 15,000 people," Olson said. "You can't hardly help but see some lift."
More like this story on Lawrence.com