Kliph Scurlock is careful to not become distracted onstage with The Flaming Lips. If the drummer isn't paying attention, he can end up with a mouthful of confetti - or worse - courtesy of singer Wayne Coyne's accurate tosses.
"It's weird how normal it's become," says Scurlock of his four-year tenure with the spectacle-loving band.
"If you would have asked me a couple years ago when it was still fresh, I'd probably be able to list 70 things that were strange to me. But not anymore. There will be like three or four minutes during the show where I know I'm not going to be able to see my drums because there's so much smoke or so many strobe lights going."
Just a few years back, Scurlock was one of those long-haired, tattooed guys who was a fixture of the Lawrence club scene. By day he worked in the kitchen of Mad Greek, 907 Mass. By night he played in rock bands - often three or four at a time. (His resume boasts more than 30 groups when counting studio appearances and fill-in gigs.)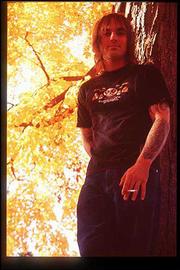 But a chance meeting in Dallas earned him a slot as a Lips roadie in 1999. Then a Lips collaboration with artist Beck in 2002 offered him a shot behind the kit. Now, weirdness is an everyday occurrence.
Scurlock, who just returned from a European tour on Wednesday, is preparing to perform at the Wakarusa Music & Camping Festival. Of the dozens of international acts booked at the four-day event, the Lips are heralded as the headliner.
This leads to some added pressure when playing such a high-profile gig in Scurlock's hometown.
"I reckon that I'll have a little something extra where, 'My friends are here, I got to notch this up,'" says Scurlock, who has lived in Lawrence since 1991. "But I try every night to give it everything I have. I'm aware that a lot of the audience is made up of people who have to go to work the next day at some (crappy) day job. They don't make a lot of money. ... For the people out there, this is something special."
In the Lips' case, very special.
Scurlock describes frontman Coyne as "a mad genius." And it's hard to argue, given the combination of critically acclaimed albums (Grammy-winning, even) and memorable stage theatrics that have characterized the Oklahoma City band since its 1983 inception.
Audio clip
Kliph Scurlock on how he became the drummer for the Flaming Lips
The Lips have ditched employing a stage full of people dressed in animal costumes while touring on their latest album, "At War with the Mystics." Instead, they've progressed to a combination of Santa Claus and outer space creatures.
Scurlock says, "It's amazing how many people try and steal the costumes after the show. Almost every night a couple alien masks will disappear."
More information on Wakarusa Fest '06
Don't expect the 32-year-old musician to be disappearing from the concert world anytime soon. While Coyne, bassist Michael Ivins and multi-instrumentalist Steven Drozd continue to be the nucleus of The Flaming Lips, the potential for full-fledged membership is there for Scurlock.
"I think it's working toward that," he says. "But as long as they've been around with different people coming in and out, they've got to make sure I'm not planning on going anywhere anytime soon."
So is he going anywhere?
"No. I'm a lifer," he says. "As long as this band's around, I'm gonna keep going."