As of Friday evening, about 60 people had been given minor medical treatments at the Wakarusa Festival. About 30 had been given more sustained treatment in the medical tents, and 15 had been sent to the hospital, according to Lawrence-Douglas County Fire & Medical.
A detailed accounting of the types of injuries and illnesses wasn't available.
Inside the Lawrence Memorial Hospital tent on Friday afternoon, a woman wandered in with a gash on her thumb that she'd received the night before while trying to cut a glow stick. She'd already been in and had it treated, but needed to have it rebandaged.
A few moments later, a woman wandered in after a bicycle accident needing hydrogen peroxide. She was followed by a man who wanted his feet doused in hydrogen peroxide, a man asking for headache medicine and a camera-laden photographer looking for the nearest water stand.
On the floor lay a nearly empty cardboard box of free condoms.
Audio Slideshow
Wakarusa Festival, 2006 - Day 2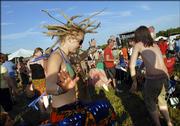 The previous night, the staff at the tent had treated a man for a swollen snakebite, and another patient was on drugs, climbing a tree and trying to eat bark, said Terri Woodson, a registered nurse with the hospital who was working at the tent.
Justin Westfall, 20, from Colorado, and a group of friends stopped at a water stand in the midday heat in an effort to avoid dehydration.
More information on Wakarusa Fest '06
"We keep a good eye on each other, make sure we drink a lot of water," he said.
During the afternoon and evening Friday, officers with the state's Alcoholic Beverage Control and the Douglas County Sheriff's Office arrested 14 people on drug- or alcohol-related charges, according to Douglas County Jail records. In a majority of the arrests, officers believed that minors possessed or purchased alcohol.
More like this story on Lawrence.com