It was a peaceful scene on the ridge overlooking the Wakarusa Sun Up Stage.
Dudes in outlandish headgear twisted in rhythm with the folksy tunes of Brothers Past. A couple of flowery girls spun enormous hula-hoops around their hips, staring off at the stage.
But back in the hot and tightly packed Tent City, life wasn't all peace and love. In fact, concert-goers said as they prepared to pack up, some things out here have been downright ...
"It's crazy!" Kyle Smith yells, almost exasperated. "The cops have been driving through here on go-carts with night-vision goggles on!
"This is the worst the cops have ever been."
And Smith should know. The Fort Collins, Colo., native does this every summer, bouncing from one festival to the next, listening to music and hanging with buddies.
But here, he said, the police presence has drawn attention from a musical lineup he called the "sickest" of any large-scale festival anywhere.
"This is probably the best lineup of the summer," he said, "but I don't think I'll be coming back."
Lt. Doug Woods, of the Douglas County Sheriff's Office, said that sheriff's deputies and state police had been using night-vision goggles to monitor after-hours activity at the park, and that it wasn't unusual.
"We've done it for the past three years," Woods said.
Audio Slideshow
Wakarusa Festival 2006 - Day 4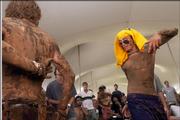 In all, Woods said police at the park have either arrested or removed 144 people from the park over the weekend, typically for alcohol or drug violations.
He also said their had been no arrests for violent crimes other than a few scuffles.
But many concert-goers complained that the police created an atmosphere that they rarely found at other such festivals, such as the Tennessee-based Bonnaroo - next weekend's destination for many Wakarusa attendees.
Back in the heart of Tent City, near an offshoot called Camp Carl, Lindsay Walker and Taylor Manning kicked back in their digs under a small, wobbly tent.
Beer cans and food wrappers covered the ground. A small table was packed with everything from aspirin bottles to Koozies.
"This weekend was awesome," Walker said, leaning back in her chair. "We've seen a lot of shows - great shows."
But Walker and Manning also had a run-in with police after an officer spotted a pipe sitting on their catch-all table.
"They ransacked our campsite," Manning said. She reminded Walker: "They dumped out your bag and you weren't even here."
Heather Lofflin, a spokeswoman for the event, said that the complaints, like all other successes or shortcomings of the still-young event, will be addressed after organizers have a chance to regroup.
"It's going to be something where we're going to have to sit down and process it," she said.
Lofflin said that some of the heavy police presence may be because Wakarusa is one of the only large festivals in the country staged on public land.
Plus, she said, the police have a job to do and it was unreasonable to expect that they would do otherwise.
"We have to support the police," Lofflin said. "The police have been here for people in trouble as well."
The police presence at the four-day festival did draw criticism from concert organizers for searches slowing traffic into the park.
Now, Lofflin said organizers will sit down and examine what happened over the weekend, and see what they can improve or try to improve for next year.
The police are going to do their jobs no matter what, she said, and the focus of the event should be directed elsewhere, anyway.
"I think that people should be focusing on the music," she said.
Campers Walker and Manning mirrored Lofflin's sentiments, saying that the police presence was what it was, nothing more.
And all in all, Wakarusa delivered everything it was supposed to: Music, camping, days in the sun and nights under the stars.
"It didn't bring it down that much," Walker said of the law enforcement efforts. "It was still an awesome time."