Members of the American Civil Liberties Union attempted to file an injunction to stop blanket vehicle searches outside of the Wakarusa Music Festival this weekend, saying the police action may have been unconstitutional.
But ACLU members had little prior knowledge of the traffic stops and searches, and had a difficult time finding the one thing they needed to take legal action: Someone mad enough to step forward.
"We couldn't find a plaintiff," Douglas County ACLU President Phil Minkin said. "Without one, we don't go looking for a plaintiff."
The possibility of an injunction stemmed from local attorneys contacting the ACLU after speaking to clients who believed the Kansas Highway Patrol's searches were based on the way they looked rather than real evidence of illegal substances or wrongdoing, said Brett Shirk, director of ACLU of Kansas and Western Missouri.
"I had concerns they have been stopping people based on what they looked like," Shirk said. "There very well may have been Fourth Amendment search-and-seizure issues."
Shirk then called the ACLU's legal panel to see about possible legal action, including a state or federal court injunction that would have temporarily stopped the searches, he said.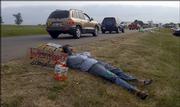 But the legal board said they required a formal complaint to proceed, and neither Shirk nor officials at the Douglas County ACLU office had received one.
The Highway Patrol stopped every car using the toll lane exiting Interstate 70 at Kansas Highway 10 Thursday and Friday regardless of how the vehicle or the driver looked, Lt. John Eickhorn from the Highway Patrol said.
"We didn't discriminate about how people looked," he said.
Eickhorn admitted some cars received more thorough checks than others, but only when evidence of wrongdoing presented itself.
The car may have smelled like burning pot. The driver could have been nervous, more nervous than a typical driver at a traffic stop.
Or, he said, the car could have looked trashed, as if someone had lived in it for days at a time.
"Typically drug dealers don't stop," he said of a dealer's driving habits. "That's a good indication that criminal activity is afoot."
Shirk said legal action against the Highway Patrol or other law enforcement units remains a possibility, but only if local attorneys or their clients come forward with complaints.
More about the festival
"If there was police misconduct, if that would happen, the ACLU may very well investigate," Shirk said. "But the ball is in the court of local attorneys at this point."
Kevin DeSisto, 35, Boston, who was standing outside the Douglas County Jail Monday after being released on bond on a marijuana charge, said he was considering filing a civil-rights lawsuit against the state for what he alleged was an improper search.
He said he and a group of his friends were arrested Sunday morning after officers knocked on the door of their rented RV and alleged that someone in the vehicle had sold LSD and ecstasy to an undercover KBI agent.
DeSisto said during the ensuing search of the people and the vehicle, officers found him in possession of a pipe and a quarter-ounce of high-grade marijuana, but he said it was for personal use. He said the group had $10,000 seized by police from a lock box inside the vehicle, which he said was money for their trip.
"We're going to do a class-action lawsuit," he said. "We're as serious as can be."
Elsewhere at Wakarusa this weekend, agents from Alcoholic Beverage Control spent time watching for minors with drinks at the concert.
Agent Fletcher Hill said that was part of the ABC's statewide enforcement effort, and Wakarusa presented an opportunity to watch for underage drinkers.
"We get pretty good at spotting people who are too young to drink," Hill said. "It's not just random."
All the ABC officers were undercover, he said, and turned over any violators to the Douglas County Sheriff's Department.
Hill said they were also on the lookout for people selling cigarettes and drinks at the festival without a license. The agency made at least one arrest after watching a concert attendee allegedly mixing drinks near a tent.
Only beer was sold at the concert.
And all the empty beer cans - and myriad of trash people produced - meant plenty of work for cleanup crews after the four-day event.
"It's hundreds and hundreds of people out here taking down tents, taking down stages, picking up trash," organizer Brett Mosiman said. "It's a huge undertaking."
Mosiman said he hoped to have the park back the way it was by Friday, and that the event had been another huge success, police presence and all.
And next year, Mosiman said he expected the event to be back at the park for four more days of music in the sun.
"I hope they invite us back," he said.