Two of the eight recipients of the 2006 Governor's Arts Awards are from Lawrence. Dee Hansen, associate professor of music education at Baker University, was recognized for her role as an arts advocate. Dave and Gunda Hiebert were singled out for their vigorous support for the arts as patrons.
They and the other winners will be honored during an invitation-only reception, dinner and ceremony tonight at the Topeka Performing Arts Center.
The Governor's Arts Awards are presented annually by the governor and the Kansas Arts Commission to honor the work of outstanding artists, arts educators, arts organizations, arts advocates and patrons for their contributions to arts excellence in Kansas.
Feeding an 'appetite' for the arts
Dave and Gunda Hiebert think they just might owe the longevity of their marriage to the arts.
The couple, who met and wed in 1978, share plenty of mutual interests. But none, they say, bind them together as steadfastly as their passions for music, dance, theater and the visual arts.
"We find that we have an insatiable appetite," Gunda says.
And she's not exaggerating.
The Hieberts fund music and dance scholarships for Kansas University students, sponsor a concert at the Lied Center by the gold medalist of the Van Cliburn International Piano Competition, support the International Institute for Young Musicians each summer at KU and, perhaps most notoriously, play host to nearly weekly instrumental recitals in their Lawrence home by KU student, faculty and visiting artists.
Their living room - complete with its Steinway grand and excellent acoustics - has seen 394 performances since 1996.
"We realized that people in the community don't really go to hear the student recitals up at KU," Gunda says. "It's our chance to open the doors to these students to play before members of the community and also to open the doors to the members of the community to discover the hidden talents that lie lurking right under their noses."
That's how the Hieberts became involved with the International Institute for Young Musicians - by sniffing around in their own backyard. Eight or nine years ago, when Gunda was out of town and Dave was looking for something to do, he went to KU's Swarthout Recital Hall, where a number of young pianists were playing.
The winners
The recipients of this year's Governor's Arts Awards: ¢ Arts organization: The Friends of the Beach Museum of Art, Manhattan ¢ Art educator: Betty Welsbacher, Wichita ¢ Arts advocate: Dee Hansen, Lawrence ¢ Individual patron: Dave and Gunda Hiebert, Lawrence ¢ Patron organization: Wichita Community Foundation, Wichita ¢ Individual artist: Gary Gackstatter, Arkansas City, multidisciplinary ¢ Individual artist: Ernst Ulmer, Bonner Springs, 2-D visual artist ¢ 2006 Kansas Arts Commission Distinguished Arts Award: Bill Kurtis
The institute draws nearly 100 musicians ages 11 to 19 from all over the United States, Australia and Asia for music study and competition.
The Hieberts quickly befriended institute director Scott McBride Smith, inviting him to stay with them during the institute and opening their home for faculty parties and student lessons.
"Our house has become action central," Gunda says, "and it's so exciting for us to be involved in this program."
Gunda has served or is currently on the boards of the Seem-To-Be-Players, Lawrence Chamber Orchestra, Lied Center, Lawrence Arts Center and Friends of the Spencer Museum of Art. Dave is on the Friends of the Lied Center and Spencer Museum of Art advisory boards and is a docent at the Spencer. He also served on the board that spearheaded fundraising for the new Lawrence Arts Center. The couple won a Phoenix Award in 2002 from the city of Lawrence for their work as arts volunteers.
Dave, a physician with a degree from KU Med, worked as a radiologist in Lawrence for 25 years, also serving part-time as a doctor with KU Athletics. Gunda co-owned the Bay Leaf, a downtown specialty kitchen and gift store, for 25 years. Both are now retired and turning 70 this year.
But don't look for them to slow down anytime soon.
They say the more performances and exhibits they attend and the more wonderful people they meet, the more events they add to their list of worthwhile causes to support.
They're delighted that their addiction has led to this statewide recognition.
"It's really icing on the cake because neither of us has any kind of goal like that in mind at all," Gunda says. "Self-aggrandizement is not something we're looking for."
Adds Dave: "We're just having fun."
A champion for creativity
It was 1997, and public school art programs rested squarely on the legislative chopping block.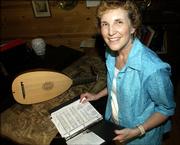 Dee Hansen, then fine arts consultant for the Kansas State Department of Education, knew she had to take action.
So she joined forces with Eric Hayashi, who directed the Kansas Arts Commission at the time, to form a grass-roots organization called Kansas Citizens for the Arts. Hansen represented schools; Hayashi represented organizations and commissions.
"There was a need for folks who advocated for the arts to come together and have a unified voice," says Hansen, now associate professor of music education at Baker University.
Between the group's active members and networking with community arts centers and performing arts venues, as well as the 2,400-strong Kansas Music Educators Assn., that voice can get pretty loud.
"Apparently the legislators know it, and they've been quite kind to the Arts Commission. With all the other budget cuts, they've managed to sustain their funding through the years," says Hansen, who's also president of KMEA. "They know that if they do something they're going to hear from us, so they're pretty careful."
Hansen's work as co-chair of Kansas Citizens for the Arts represents just one facet of her advocacy work. In her former position with the education department, she spearheaded efforts at the state legislative level to adopt a fine arts graduation requirement and a K-8 fine arts program requirement for all public schools in Kansas. That accomplishment, she says, capped off a seven-year strategy of educating the State Board of Education and constituents across Kansas about the benefits of arts in education.
"It was always done with a real sense of respect for the board and with a great deal of forethought and consideration of how will this fit with an overall quality education in our state," Hansen says. "When it came time to vote, we were sitting in the room and it happened and we didn't even know it happened.
"Several of the board members have told us this is the model for how people need to talk to us, and we were very proud of that."
The 57-year-old Lawrence resident also served as lead author of "The Music and Literacy Connection" (2004), a book she says has become one of the National Association for Music Education's top-selling titles because it allows music teachers - in the face of No Child Left Behind - to articulate how what they're teaching supports the reading process.
In addition to teaching and organizing the annual KMEA convention - a massive undertaking, with some 8,000 participants - Hansen finds time to pursue her personal musical interests. She studied vocal music at Southern Methodist University and performed briefly with the semi-professional Choral Arts Ensemble in Kansas City after college. Now she sings Baroque and Renaissance music with her husband, Eric, a lutenist. The pair sometimes gives concerts at the Lawrence Public Library.
And she remains a steadfast champion for the arts.
"The arts are a way for humans to express themselves in the most primal sort of way, and we need that," Hansen says. "Everyone chooses to advocate for something that's important to them in their life ... the thing that gets you up in the morning and makes life exciting.
"That's why I've rather committed myself to arts advocacy."
Previous winners
Here's a look at previous winners of the Kansas Governor's Arts Awards, in alphabetical order:
Accessible Arts, Inc. Association of Community Arts Agencies of Kansas, Salina Robert E. Ault, Topeka Thomas Fox Averill, Topeka Bank IV, statewide Jim Bass, Topeka Bayer Stone, Inc., St. Marys Ross & Marianna Beach, Hays Kepka Belton, Ellsworth Bethany College Oratorio Society, Lindsborg Queen Bey, Overland Park David E. Bernard, Wichita Connie Bonfy, Arkansas City Blackbear Bosin, Wichita Sue Jean Covacevich Boys, Winfield Vernon Brejcha, Lawrence Ruth Browne, Clay Center Jim Brothers, Lawrence Wayne Bryan, Wichita Connie Burket, Salina Karla Burns, Wichita Carnegie Arts Center, Leavenworth Zuohuang Chen, Wichita Ronald Christ, Wichita John Cody, Hays Columbian Bank, Overland Park Commerce Bank & Trust, Topeka Robert Cugno, Garnett Dan Dakotas, De Soto Jacqueline Z. Davis, Lawrence Marilyn Dobski, Lawrence Raymond J. Eastwood, Lawrence Phil Epp, Newton Ann Evans, Lawrence Kenneth Ferguson, Shawnee Mission Joan Foth, Topeka Ronald Frederickson, Emporia Friends of Mulvane Art Museum, Inc., Topeka Trudy Furney, Russell Ann Garvey, Wichita George Gibson, Wichita Ginny Graves, Prairie Village Robert B. Green, Lawrence Jack & Ruth Gribben, Wichita Marilyn Grisham, El Dorado Edward E. Grisnik, Kansas City The Hadley Foundation, Hays Rex Hall, Emporia Hallmark Cards, Lawrence James R. Hamil, Prairie Village Dane G. Hansen Foundation, Logan Saralyn Reece Hardy, Salina Gary Hawk, Iola Hays Arts Council HELICON 9, Inc., Shawnee Mission Steve F. Heller, Manhattan Stan Herd, Lawrence Philip Hershberger, Topeka Home National Bank/Brown Family, Arkansas City R. James Hunt, Topeka Ann & Norman Jeter, Hays Michael Florian Jilg, Hays Stephen Johnson, Lawrence Kansas Grassroots Art Assn, Lawrence KANU-FM, Lawrence Mailyn Killian, Wichita Charles & Elizabeth Koch, Wichita Margo Kren, Manhattan Kathleen Kuchar, Hays John Kudlacek, Emporia Don Lambert, Topeka Nancy Land, Burlingame Lawrence Arts Center Elizabeth Layton, Wellsville Lied Center of Kansas, Lawrence Lieurance Woodwind Quintet, Wichita Robert Logan, Garnett Twink Lynch, Topeka Judith Burns McCrea, Lecompton Charles L. Marshall, Topeka Terry Maxwell, Emporia Ellen R. Morgan, Salina W.R. Moses, Manhattan Joel Moss, Hays Muchnic Foundation, Atchison Music Theatre of Wichita Patricia Nemchock, Lawrence Jerry & Margaret Nerman, Leawood Martha Dodge Nichols, Shawnee Mission Ben Nyberg, Manhattan Harolyn Clark O'Brien, Leawood Michael Ott, Lawrence Larry Peters, Topeka Margaret "Redfern" Pitzer, Wichita Potpourri Publications Company, Prairie Village Lester Raymer, Lindsborg Martha Rhea, Salina Cecil J. Riney, Wichita Charles B. Rogers, Ellsworth Novelene Ross, Wichita Joy Rushfelt, Leawood Salina Arts & Humanities Commission Salina Community Theatre Assn, Inc. Charles H. Sanderson, Wichita Marjorie Schick, Pittsburg Cynthia Schira, Lawrence George Schlegel, Roeland Park Harold Schneider, Manhattan Larry Schwarm, Emporia Seem-To-Be Players, Lawrence Daniel & Shoko Sevart, Wichita Shawnee Mission North High School Roger Shimomura, Lawrence Carlyle H. Smith, Lawrence Southwestern Bell Foundation Christopher Staley, Wichita Richard R. Starr, Hays Richard L. Stauffer, Emporia Marilyn J. Stokstad, Lawrence Clifford Stone, El Dorado Gabriel L. Stoner, Melvern John Strickler, Topeka Robert Sudlow, Lawrence John Talleur, Lawrence Luci Tapahonso, Lawrence Elden Tefft, Lawrence John C. Thorns, Jr., Hays Roderick Townley, Shawnee Mission Elvera Voth, Lenexa Marion Annette Walker, Scandia Irma Wassall, Wichita Richard C. Welsbacher, Wichita The Wichita Symphony Wayne Wildcat, Lawrence William Inge Festival, Independence Winfield Regional Symphony Wint Winter, Jr., Lawrence Richard F. "Dick" Wright, Lawrence Walter Yost, Cummings
Special Awards Martin Umansky, Wichita Camilla Cave, Dodge City Hon. Nancy Landon Kassebaum, United States Senator
Kansas Arts Commission Distinguished Arts Award Gordon Parks, 1998 Dorothy DeLay, 1999 Samuel Ramey, 2000 Edward Asner, 2002 KANSAS, 2003 Bill Kurtis, 2006