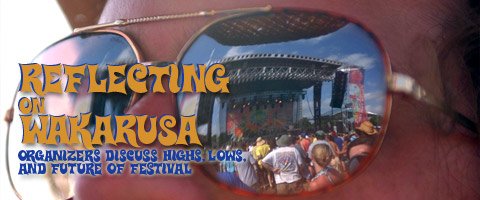 Wakarusa media coordinator Heather Lofflin recalls speaking with a fan who frequently travels from one concert festival to the next. He told Lofflin after Sunday's finale that Wakarusa was his favorite one because he always felt like "I had grown by the time I left."
Those involved with Lawrence's predominant musical event can share the sentiment.
Now in its third year, the Wakarusa Music & Camping Festival is both settling into a comfortable groove and threatening to break down the borders with which the state has attempted to confine it.
"We're not looking to make it into a huge festival like Bonnaroo," Lofflin says. "We want to keep it personal."
Even so, Wakarusa is expanding exponentially, especially when compared to other Midwest offerings.
"It's a shame the people nationally and internationally get it: the value, the park, the experience. And the people locally haven't quite understood how really cool it is," says Wakarusa organizer Brett Mosiman.
Mosiman reveals the attendance for the four-day event came in right under 60,000 tickets. He claims the organizers only needed 10,000 to break even financially. More than four-fifths of the concertgoers were estimated to be from out-of-state.
"We were comfortable with the attendance this year because we had a lot of issues that we had to do better," he says. "We wanted to prove to ourselves and the state that we could handle the trash better, the Porta Potti, the traffic, the security. We didn't just handle them better, we handled them impeccably."
Mosiman hopes to introduce a major headliner to the lineup next year, citing possibilities like Dolly Parton, Elvis Costello or Neil Young. But in order to do that, the attendance cap would have to be raised by the park. Currently, it is set at 15,000 per day. Compared to the 35,000 cap at Country Stampede in nearby Manhattan, it's easy to see why that event lures big-timers such as Toby Keith and Gretchen Wilson.
"We don't want to sell 35,000 tickets, but it would be important to us to sell a few more tickets to bring in a higher-profile artist that would draw more locally," Mosiman says.
Audio Slideshow
Wakarusa 2006 ... Son of 'more pics'!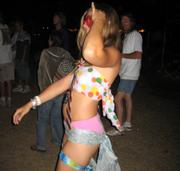 Wakarusa vs. Stampede
"From our standpoint, 15,000 is a good number," says Clinton Lake State Park manager Jerry Schecher.
"That was a cooperative decision between Wildlife and Parks, the Sheriff's Department and Fire and Medical. We look at what is a safe capacity for the park - our ability to address responses and move through the park with emergency vehicles. I would say we'll stay with that number."
Schecher says one of the reasons Country Stampede is able to accommodate such large numbers is the whole Tuttle Creek State Park area is dedicated to festival patrons.
"We're still doing a mix here in Lawrence," Schecher explains. "We have the marina operation to keep open and not interfere with their clientele, and access to our boat ramps for normal fisherman. And I still keep a lot of our general camping public in here, too."
Mosiman suggests that Wakarusa might introduce "another kind of pass that doesn't involve camping which could increase attendance without increasing the attendance 24-7 in the park."
The festival also is hoping for a long-term commitment from the state.
"I would like to help develop the park and invest in the park," Mosiman says. "You can only do that if you have some comfort level that you're gonna come back for five years. We want to put streetlights in, we want to put power in, build sand volleyball courts, more water, more lighting. We'd love to make those expenditures."
Schecher confirms that Country Stampede does enjoy a multiyear contract with the state. He says that same luxury is a legitimate possibility for Wakarusa.
"There were some financial issues the first year that didn't let us look at that for the second year," Schecher says. "Then the second year there were a lot of issues with drugs. We got a good handle on that this year. So we're going to be talking with the promoters and my administrators and maybe looking at a multiyear contract."
Problem areas
Although both Mosiman and Lofflin give this year's Wakarusa an A grade, Schecher gives it a B.
"I was pretty pleased overall. We had some traffic issues Thursday morning that really concerned me," Schecher says. "For safety issues and transportation issues, I really stress over backing up traffic."
Schecher attributes the snarl to a bigger advance sales crowd this year, all of whom seemed to show up Thursday.
As for the heavy police presence, which involved a mandatory checkpoint coming off I-70, Schecher says that will have positive effects on future festivals.
"That wasn't a particularly popular decision with some of the fans," he admits. "But when we are looking to limit the amount of drugs on the property, those things become critical for us to do."
He says it wasn't the casual users but those with the intent to sell who were targeted by a joint task force that involved the Highway Patrol, Sheriff's Department, DEA, FBI and the Alcohol and Beverage Commission.
"The (drug dealers) are not just coming here. They're coming from the festival before us to this festival to the next festival. I think we effectively moved them around us this year," he says.
The Wakarusa staff is catching a lot of heat from patrons venting on the event's message board site (wakarusa.com), specifically a thread called "Busterusa."
"Our response is that it was necessary," Mosiman says. "We had a (drug-related) death last year. We had to step up and insure people's safety. ... It does us no good for people to profit from illegal activity. It's critical to our long-term success that we nip that in the bud."
Happy bands
One group that didn't feel any added pressure from "The Man" were the artists themselves. Of the half-dozen performers contacted for this article, all were complimentary about their Wakarusa experience.
"The staff at Wakarusa treated us very well," says Egil Hegerberg of Hurra Torpedo. "They should have had showers backstage, a little bit more food and a bigger sound system for the main stages. But we were very pleased."
The Norwegian band, which specializes in "kitchen appliance rock," made its first trip to Kansas for Wakarusa. The trio closed the festival to a jam-packed audience.
"The highlight of our stay was our own excellent performance," Hegerberg says. "The way we won the audience over with our amazing music was simply breathtaking!"
Best shows ever
Those in attendance can attest to some of the "amazing music" to be found at Wakarusa.
"I couldn't stand up I was laughing so hard," Mosiman says of the Hurra Torpedo show. "Everybody who works for Pipeline (Productions), we're all jaded. We've seen 200 shows a year for 10 years. But between The Flaming Lips and Hurra Torpedo, I don't know if I've ever been as entertained in my whole life."
Lofflin concurs: "The Flaming Lips show was one of my top five of all time.
"The spectacle was on such a grand scale. The expression on (frontman Wayne Coyne's) face - I've never seen someone so happy to perform. It was like he was bringing us the best birthday party ever!"
Schecher, who took a break from his 18-hour Wakarusa work day to see Gov't Mule perform, agrees that the festival ultimately provides a positive impact on the region.
"I haven't seen the breakdown this year yet, but last year we had people from 50 states and five foreign countries," Schecher says. "I doubt there's any other event in the state of Kansas that can boast that - maybe more money, but not a more diverse attendance. I'm pretty proud of that.
"There are a lot of people who don't know what Kansas is. This gave them a good look."
Wakarusa 2006 photogalleries
June 15, 2006: Wakarusa Festival 2006 - Jesus Christ Superstar

° View thumbnails
° View slideshow

June 14, 2006: Wakarusa 2006 ... Son of 'more pics'!

° View thumbnails
° View slideshow

June 13, 2006: Wakarusa 2006 ... more pics!

° View thumbnails
° View slideshow

June 12, 2006: Wakarusa 2006 Party Pics

° View thumbnails
° View slideshow

June 12, 2006: Wakarusa Festival 2006 - Day 4

° View thumbnails
° View slideshow

June 11, 2006: Wakarusa Festival, 2006 - Day 3

° View thumbnails
° View slideshow

June 9, 2006: Wakarusa Festival, 2006 - Day 2

° View thumbnails
° View slideshow


June 8, 2006: Wakarusa Festival, 2006 - Day 1

° View thumbnails
° View slideshow

June 7, 2006: Wakarausa Festival, 2006 - Pre-Fest

° View thumbnails
° View slideshow