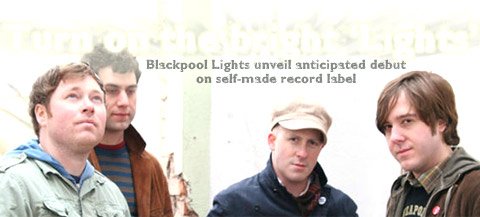 When The Blackpool Lights unveil their debut album "This Town's Disaster" on June 22 at Kansas City's Grand Emporium, the band will be celebrating the triumph of the spirit as much as the spirit of the rock band Triumph. After a prolonged battle with Ewing's sarcoma cancer, Billy Brimblecom has re-emerged as the hardest hitting one-and-one-half-legged drummer in the universe. Former Creature Comforts bandmate Brian Everard rounds out the Lights' all-pro rhythm section, with ex-Get Up Kid Jim Suptic out front and utilityman Thom Hoskins on lead guitar and backup vocals. Suptic and Brimblecom stopped by our podcast booth to discuss the new record and why even The White Stripes can't derail the Blackpool steamroller.

› Get the podcast
› Listen to the mp3 of the podcast
› Preview the album, "This Town's Disaster"



Interview highlights sans music
lawrence.com: Congratulations on finishing up your debut record. It must feel very exciting. The band's actually been brewing for a couple years now?
Suptic: About a year and a half. The record's actually been done for eight months. We started our own record label ourselves and our manager and we're just trying to get it off the ground and get distribution. It takes time when you do it yourself.
Is that a new experience for you? Did you have any of that responsibility in your former band The Get Up Kids?
Suptic: We sort of had an imprint on Vagrant Records, but it wasn't as much of a real label. It was more of us helping out our friend's bands and definitely learning a lot of stuff. Luckily Alex (Brahl) has worked with our management company and at record labels, so his experience has been an asset for sure.
So you're coming up on a pretty long tour?
Brimblecom: We've been going crazy. We were gone most of March, we were home in April, we were gone all of May, and we just got done doing 10 days. We're home for a few weeks and we're doing a five-week headlining tour starting July 8 in Detroit.
Past Event
Thursday, June 22, 2006, 7 p.m.
Grand Emporium, 3832 Main, Kansas City, MO
All ages / $3 - $5
How does this all feel for you, Billy, considering you spent much of the last year dealing with a lot of stuff?
Brimblecom: To put it lightly. It feels great. I'm really glad to be able to do all this again.
I did hear a story that I wanted to confirm or deny, which is that when you woke up in the hospital (following the amputation of your lower left leg) you got a call from the drummer of Def Leppard. Is that true?
Brimblecom: It's a true story. Basically what happened is I had found out the night before my surgery that Def Leppard was playing in town with Bryan Adams at a T-Bones game.
Suptic: Def Leppard blew him away.
Brimblecom: I assume. Anyway, some friends of mine had thought it would be cool if he could come to the hospital or call me : Right after my surgery I was still recovering and way out of it and the phone kept ringing and my stepsister kept answering the phone saying, 'No, he's asleep.' Then she was like, 'Hey, you might want to take this it's Def Leppard's tour manager.' He basically prepped me to make sure it was cool that Rick Allen called me. He called and we talked for a few minutes, but I was pretty out of it. He was like, 'Alright mate, I'll call you tomorrow when you're not so sedated.' I didn't think I'd hear from him again, but he called the next day at noon and we talked for like 20 minutes.
Did you get any practical advice from him as far as recovering?
Brimblecom: It was the most inspirational conversation I've ever had with somebody that was so laced with the F-bomb. It was a really uplifting thing, especially considering the timing of it. I kind of kept trying to steer it towards Def Leppard and how important he was to me : "Hysteria" was like the first album that I associated with actually playing music. I kept trying to talk about things like that and he kept trying to talk to me about diets and alkaline foods and all these things that my acupuncturist talks to me about.
Album Mp3s

This Town's Disaster
Tell me a little bit about the scene today in Kansas City. What sort of bands are you enjoying and what do you feel is excellent or in need of improvement?
Brimblecom: That's a good question. Every time we've had a local show recently we've had this very discussion.
Suptic: I can look at both sides. I think, lately, Lawrence bands aren't coming to play Kansas City very often and Kansas City bands aren't coming to play Lawrence very often. We've only played Lawrence one time, which is kind of strange :
Brimblecom: We actually had another show scheduled in Lawrence that we had to cancel when we found out I was sick.
Suptic: Jeriney, who does the The Buzz's local music show, told us that none of the Lawrence bands send their CDs to her.
Brimblecom: Which is kind of weird you're kind of shooting yourself in the foot:
Do you guys still go out on the streets and pass out handbills for shows?
Suptic: We haven't been doing it enough, but we did for the record release. We're starting over. It's not instantaneous fame and riches you gotta do the legwork.
Brimblecom: We're still a new band even though we've all been in bands that people knew about to some degree locally. I think that's helpful because we know more people than your average band of 17-year-old guys, but hard work pays off, period.
Well I don't think people need to know anything else about you guys.
Brimblecom: It might be best that way. Rock and roll is all about mystery. Hello KISS??
Let the music speak for itself. And the makeup. And the giant boots.
Brimblecom: Exactly.
You guys got a website or something?
Suptic: We just got blackpoollights.com set up. It's got lyrical content, merch the normal stuff you find on websites. Also, if you buy the CD it gives you a link to a secret site with demos: some that I just did in my room and some with the band. One of the coolest things on there is that our friend Al who actually owns the label with me and Alex is at film school now at UMKC and he made a documentary about Billy and the band and everything that we went through in the last year. It's like a 15-minute documentary and it actually turned out really cool. (Note: both the B-sides and the documentary are only available via a private section of the site, accessible once you purchase the album - ed.)
Brimblecom: He got an A+.
More like this story on Lawrence.com