Forget what you know about "traditional" theater.
Don't expect to watch complacently as a cast of characters suspends your disbelief and toys with your emotions for two hours.
"The Threepenny Opera," famously adapted by German theater revolutionary Bertolt Brecht, goes for your brain, not your gut.
"The show is very Brechtian, with direct address to the audience, no curtains and all the actors onstage during the entire performance," says Ric Averill, who's helming this weekend's Summer Youth Theatre production of the show with more than 30 students in eighth through 12th grades. "Brecht wanted to engage the audience on an intellectual level. He was seeking not to be particularly empathetic, but to make people think."
The slightly bawdy play, set to music by Kurt Weill, became the biggest hit of 1920s Berlin. Now it's enjoying a successful Broadway revival, starring "Girls Just Wanna Have Fun" wailer Cyndi Lauper as Jenny the prostitute.
"Threepenny" thrusts viewers into the seedy underworld of Mack the Knife, a charismatic criminal who runs in a London circle teeming with entrepreneurial beggars, thieves and prostitutes, any one of whom would betray another in an instant for personal gain.
The setup serves as a thinly veiled indictment of the bourgeois, Averill explains. Brecht believed everyone, rich or poor, should have access to theater. In that spirit, every ticket holder will get five pennies when they enter the arts center - two to pay street performers, singers and jugglers in the lobby before the show, and three to get into the auditorium.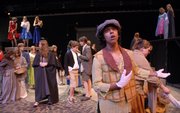 "The entire presentational nature of the show will carry right into the theater, including our bourgeois onstage rich people seats," Averill says. "Life's not fair, and neither is our theater. Wealth has its privileges, and anyone willing to pay $100 per seat will get a comfortable 'Eldridge Hotel' chair onstage. We'll be selling four or five seats per evening, and some of the show will be directly addressed to our special guests."
The young actors, who are accustomed to challenges - they mounted the formidable "Les Miserables" last summer - say "Threepenny" has tested their abilities.
"It was really hard for me to get in touch with my character because I'm not really mean," says Emily Foerschler, the 16-year-old Free State High School junior who plays Mrs. Peachum, half of a husband-wife duo that runs a shop for beggars. "That's not a side of me, and I just had to really dig and scratch and find who my character is so I can actually keep that character going throughout the whole show."
Brecht didn't employ the theatrical conventions many audience members have come to expect: curtains, offstage areas, separation between the action onstage and the response of theater-goers. As much as viewers may feel put on the spot, the actors can't escape to the wings either.
Past Event
Thursday, June 22, 2006, 7:30 p.m.
Lawrence Arts Center, 940 New Hampshire St., Lawrence
12+ / $6.50 - $8.50
"You see everything that's backstage. The suspension of disbelief is not there at all," says Geoffrey LaForce, who portrays Mr. Peachum.
To prepare students for their face-to-face interactions with audience members, Averill took them downtown during an evening rehearsal last week to do performances for people walking along Massachusetts Street. It was a good trial by fire, says 18-year-old Chris Bohling, who plays Mack the Knife.
"It's harder, obviously, on Mass. Street because people can choose to ignore you - or yell death threats out their window at you," he says. "Directly addressing the audience is tough in that sometimes it requires that you have to be able to jump over the line from character into performer, and that's hard."
Averill recommends "Threepenny," with its mature topics, for adults down to children in fourth grade. The high-school actors have done well with the show, he says.
"Because we're not a school group or a church group, we have the freedom to explore artistic things that might be a little beyond what a school would do. So we take a few more chances, and we talk about everything," Averill says. "We talk about the politics of the time when the show was written, we talk about the nature of what this kind of theater is about, the nature of the social issues that are being discussed. It's kind of in keeping with some of the things we have done over the years that are a little more on the edge.
"But it ends up being a little more comedic than controversial."
More like this story on Lawrence.com