Filmmaker Chris Ordal and artist Stan Herd are comparing wounds.
A long day of constant raking while roasting in the Kansas sun has produced red skinless circles in the spot between Ordal's thumb and fingers.
Herd recalls the newcomer's initial brush with making crop art: "That first day Chris got out here and started raking and got this blister on his hand, and he goes, 'This is like real work, isn't it?'"
And it's only the beginning of the real work.
Ordal has commissioned the renowned environmental artist to create "Direction." The "canvas" is a half-acre piece of land in East Lawrence that was formerly used to grow asparagus. The image will depict the Lawrence skyline connected by a bridge to the New York City skyline, which symbolizes Herd's collaborations in both cities.
"It's a unique art form that a lot of people are unfamiliar with," Ordal says. "But every time they're introduced to it, they're amazed. People can't believe that Stan is able to do this stuff on such a massive scale."
The aptly named "Direction" is just the first piece in a larger puzzle. Ordal is utilizing it as a means to become intimately familiar with the way Herd thinks, designs and works. This is because the filmmaker is in the pre-production stage of shooting a narrative feature about Herd called "Earthwork."
The pair will throw a concert Sunday at Liberty Hall to celebrate the announcement of the independent picture. Lawrence band Trucker and Omaha's Maxine will headline the free show.
Photo Gallery
Stan Herd's "Countryside"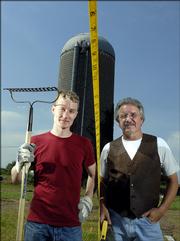 "I chose this project to be my first feature because it really speaks to what I want to do with my career - which is to focus on the storytelling, not the design or the twists," the 24-year-old Ordal says.
"Stan's art is so unique and daring. I love that he embraces who he is, what he is and where he's from. He's not afraid of that."
New 'Direction'
Armed with rake, weed whacker and tape measure, Herd surveys the 100 x 100 area that will become "Direction."
He pulls up an asparagus spear that is poking its way through his dirt canvas and takes a bite.
"At first I didn't take Chris seriously about a movie," Herd says. "Who would want to watch a movie about me?"
The two first met through mutual friends three years ago. The 55-year-old artist was impressed with Ordal's "energy and vision." Now he is putting Ordal's skills to work on this latest project with only five days left before the deadline.
"For Chris to really write adequately what it takes to do a piece like I did in New York, he had to stand hand in hand and physically help work on this," Herd says.
For "Direction," Herd is using native terrain, imported plants, mulch, gravel, sand and found objects. The Lawrence foreground features landmarks such as the Campanile and Fraser Hall; the New York background showcases the Empire State Building and the Chrysler Building. Herd is toying with the idea of lining the Chrysler Building with pop cans.
Herd says, "We've all found out we can enjoy New York and do projects there, but we can also live in this incredibly artistic burg out here on the plains and have the best of both worlds."
Manhattan transfer
New York is where much of "Earthwork" is set.
In 1993, Herd headed there to create a public art piece upon land that Donald Trump owned on Manhattan's west side.
"I may be the only person to ever have walked into Trump headquarters and not asked for money," Herd says.
He pitched the idea of doing a 1-acre earthwork for free, and Trump accepted. Herd went about tackling the chore, which took nearly a year.
"One day I actually got caught on 11th Avenue when my tractor ran out of gas," he recalls. "The policeman was there, and he was really PO'd at me. So I brought out my full bag of farmboy charm, and ended up chatting him up and signing pictures to his wife and family. He ended up taking me down to get gasoline for my tractor."
Past Event
Sunday, June 25, 2006, 10 p.m.
Liberty Hall Cinema, 644 Massachussets Street, Lawrence
18+ / Free
Eventually, Herd completed the innovative portrait of rolling hills and towering trees, dubbing the piece "Countryside."
"It was such an arduous task. It drained me in 15 different ways, emotionally and financially," Herd says.
Ordal, a Kansas University film major who walked down the Hill in 2005, was hooked by the story.
"I immediately latched on to that obsession Stan has," Ordal says. "You can't really sell four 160-acre earthworks to someone who would like to hang it on the wall. So he has a lot of challenges in the art he chooses to do."
But when the filmmaker delved deeper, he found a peripheral plot that really became the heart of his screenplay.
Herd befriended two homeless individuals who hung out at the old Penn Square railroad station nearby - a middle-aged man named Lone Wolf, and a young man named Ryan. ("C.S.A." director Kevin Willmott has agreed to play Lone Wolf in the film.)
From here the tale shifts gears and becomes as much about how these men - who are given jobs helping to create "Countryside" - grew to discover a new sense of self-worth through art.
Ordal says, "I think of it as a great film for actors, because the characters are phenomenal. But I see this as a small film. To me the focus is this (artwork) that has changed multiple lives."
Reconnecting to the past
Herd has a clear view of Fraser Hall while standing on the site of the unfinished "Direction." But he has to replicate the New York skyline from memory.
More on Stan Herd's artwork
"What I appreciate from this effort personally is it's reconnecting to a work I did in the past," he says between revs of his weed whacker.
The artist admits he's a bit distracted. He's doing a commercial venture for People's Bank, and he will soon be heading to Dubai for another. In addition, he is busy renovating the Kaw Valley piece in Lawrence.
He says, "I generally like five projects. Six is a little dicey. When I get seven I kind of lose it. I've got eight now."
Sometimes his involvement with Ordal's film may only be peripheral. Although Herd will recreate "Countryside" for the screen, an actor (so far uncast) will portray him.
"I'm trying to strike the right balance between being the subject and gently push Chris in certain directions, but also be respectful of his need to create his own story."
Ordal flings down his rake and removes his gloves. The blisters are red as ever.
But once "Direction" is finished and Sunday's concert has come and gone, he knows the most difficult part of the filmmaking process is ahead of him.
"Most people don't know what an earthwork is," Ordal says, noting the hurdles of financing a script about a Kansas crop artist.
"But it has such great double meaning. Stan started out to do something great - and he did - but he did so much more. It's cheesy to say, but he did positive 'earth work.'"