A group of war protesters covered themselves in tomato paste, walked into a local Army-recruiting office Thursday afternoon, linked arms and refused to leave.
They were protesting the deaths of 24 Iraqi civilians in November at the hands of U.S. Marines in the city of Haditha, an incident that remains under investigation. As protester David Strano read each name of those killed, the others in the group shouted, "Killed by the U.S. military."
"We're here to remind you. Every day these people are dying," Strano said.
The group chanted for about five minutes in the lobby of the recruiting center, 2223 La., then walked toward an office where the station's camouflage-clad manager stood talking on the telephone. As they neared his office, he slammed the door and shut himself inside. The group pounded and kicked at the door and kept chanting the names of the dead.
When the first Lawrence Police officer arrived moments later, the group immediately dropped to the ground face-down with their arms still linked. It took about a half-hour for officers to separate them, carry them from the building one by one and load them into a waiting prisoner-transport vehicle.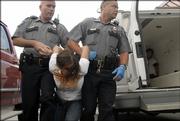 One or two walked, but most went limp and forced the officers to drag them. Overall, the removal went without major incident.
"They were resisting, but they weren't throwing punches or anything," Lawrence Police Sgt. Craig Shanks said.
All were arrested and taken to the Douglas County Jail on charges including disorderly conduct, trespassing and obstruction. Afterward, the recruiting station's manager declined comment.
About 15 of the protesters' supporters stood around the building videotaping the scene, writing down officers' names from their badges and holding signs with messages such as "Support all war resisters." One woman strummed a ukulele.
The Army, Air Force, Navy and Marines all have recruiting offices in the strip mall where the protest happened; the protest itself took place inside the Army's office.
Some of the people involved were also involved in a previous incident in December at the same address, in which seven people locked themselves to the outside of the building with bicycle locks.
Lawrence resident Patrick Tyrrell, who helped organize the protest, said the linking arms was a deliberate strategy to show solidarity, prolong the protest and make the group harder to separate.
"This will be one more reminder that people are still dying. Unarmed civilians are dying because of this unjust war," he said.