When it comes to the bar and nightclub industry, city staff members are researching all types of ideas to improve security - ranging from closed-circuit television cameras to more strict licensing requirements.
At least one downtown bar owner has an idea that he wants added to the list for consideration: Let police work at bars.
"I would love to hire off-duty police officers to work in my clubs, but the city policy won't allow it," said Dennis Steffes, owner of Last Call.
Steffes' club was in the news last month after someone fired seven shots inside the establishment, 729 N.H., sending 200 people fleeing into the street. No one was injured.
Steffes is correct that city policy does not allow police officers to do off-duty work where alcohol is sold. Both City Hall and police department leaders said there were good reasons for the rule.
"The policy is designed to prevent any conflict of interest or corruption," said Sgt. Dan Ward, a spokesman for the department.
The policy is designed to prevent police officers from being put in a position of writing tickets to bar owners or operators who also may be paying them for their services as an off-duty doorman.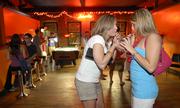 Steffes, though, said the use of off-duty police officers would have major advantages because bar and nightclub operators would be assured that the officers are trained in how to deal with a variety of situations.
The issue of bar and nightclub security has been a hot one following the incident at Steffes' club and a shooting earlier this year outside the Granada, 1020 Mass., that left one man dead and another man injured.
Lawrence's prohibition on the practice, however, isn't uncommon. Both the Kansas City, Kan., and Topeka police departments have similar policies, and both cite the potential for a perceived conflict of interest.
City leaders, though, said they want to hear bar owners out. City staff members are in the process of organizing an early July meeting for city staff members and bar owners to discuss security issues.
"The police chief has articulated a good rationale for that policy in the past, but I don't want to take something off the table before we ever have a meeting," Interim City Manager David Corliss said.
Whether the idea of hiring off-duty police officers has broad appeal among other Lawrence bar owners is unclear. Several this week said they were apathetic about the issue. Instead, they said they were more concerned that the city not look at a few incidents and assume that all bars need to follow new regulations.
"They're all individual situations," said Brad Ziegler, who has ownership interests in several bars and restaurants, including the Eighth Street Tap Room and Louise's Downtown. "I don't think it is fair to group all of us together.
"I think there are some bar owners who have made some poor decisions about the clientele they are trying to cater to, and that is what is causing their problems."
City commissioners earlier this month received a city staff report that researched four options that the city could consider implementing. Those included:
¢ Creation of an entertainment club license. All nightclubs that serve liquor already must be licensed by the state. But cities have the ability to make entertainment establishments obtain an additional license that would give the city more ability to regulate those businesses.
¢ A city-run program to license and train nightclub bouncers, doormen and other security personnel.
¢ Closed-circuit television cameras in city parking lots and street lamps and other public property. The cameras would allow police headquarters to view real-time video of activity outside bars and along downtown streets.
¢ A "bar-watch" program similar to neighborhood watch programs where bars and nightclubs band together and share information about problem patrons.