The lift jerked upward, and suddenly the wild grassland of Pendleton's Country Market grew a bit more distant.
But just below the lift, below the feet of the slowly rising Stan Herd, a canvas came into focus.
"It's everything you'd do in a painting and more," Herd explained.
For the renowned environmental artist, the piece called "Direction" marked the culmination of a relationship between himself and young filmmaker Chris Ordal, who commissioned the artwork to coincide with a film he plans to make about Herd and the processes he goes through in executing his giant works of landscape art.
Sunday, the work-in-progress made its public debut. In groups of three or four, family and friends of Ordal and Herd took turns going up in the mechanical lift getting a bird's-eye view of the mural, which depicts a bright Lawrence skyline complete with Fraser Hall and the Campanile, shadowed by the dark, distant skyline of New York City.
For both the artists and the filmmaker, both places have deep meaning. Ordal's film project will focus on Herd's time in the Big Apple constructing a Kansas mural with the help of the homeless there.
Photo Gallery
Direction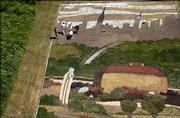 Ordal hoped this newest piece of art would put the work Herd does into perspective.
But at its heart, every grain of sand, stone and soybean comprising the half-acre art was a gift.
A gift to Emily Kammerer, Ordal's new fiancee.
"It truly began with her in mind," Ordal said.
A year ago, when Ordal first began considering Herd's story, he also was mulling over his personal life, his life with Kammerer.
The two met at Kansas University and had been dating for some years when, in the midst of pondering his movie about Herd, an idea dawned on him: Herd could make the art that would, like a soundtrack, accompany the beginning of their life together.
And when the art was completed, Ordal thought, he'd ask her to marry him.
"It would be an image hanging in our home for the rest of our lives," Ordal said of Herd's art.
Herd said that the young filmmaker was upfront with him about who the project would really be for from the beginning.
He wasn't crazy about the idea.
"I thought, 'Wow, how much money do you have, because I'm broke,'" Herd said, thinking back on the original proposal. "I didn't tell him what I really thought."
But as time passed, Herd came to understand that Ordal was serious about making the movie. He understood that for Ordal, the commissioned artwork would be both a gift Kammerer and a way to learn the nuances of how Herd constructed his art.
"It was two passions conveniently coming together," Ordal said.
Work began on the art two weeks ago, with Ordal and Herd working side by side, knees in the dry dirt.
Then, on Sunday, the moment arrived. The mural isn't quite done - Herd said every time he looks at it he can see 30 things he wants to change - but Ordal knew the surprise was ready.
So just as the Kansas sun began to creep down on the western horizon, Ordal and Kammerer flew above Herd's work in a plane Ordal rented.
She knew about the project - he couldn't keep that from her. But she never knew that everything about the half-acre mural was Ordal's gift to her.
"It was hard keeping something that big from the person you spend the most time with," he said.
But then, some hundreds of feet above Herd's work, Ordal popped the question.
There was no hesitation. She said yes, hugged him. Their first hurried kiss came with their airplane helmet microphones between them.
"It was perfect," Ordal said during a party at Liberty Hall on Sunday night, where the film project was formally announced. "It couldn't have gone any better."
Now, the filmmaker has two major undertakings ahead of him - his first movie depicting the experience of a Kansas artist in New York, and planning for a new marriage.
For Ordal, it was a coalescence of sorts, the culmination of two dreams in one place, one moment in time.
And for Kammerer, it was the surprise of her life.
"She had no idea it was all for her," Ordal said.