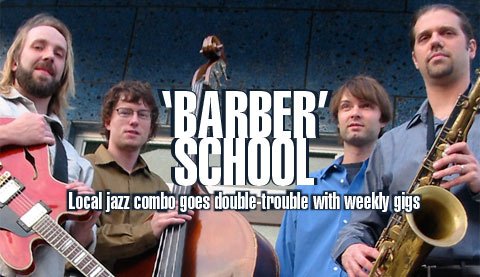 While dozens of wannabe rock bands soil the local dives with angst-ridden turdbombs, Floyd the Barber quietly goes about its business of playing left-field jazz for a crowd of thoughtfully imbibing bystanders. With influences ranging from the tried-and-true (John Coltrane, Sonny Rollins, Wes Montgomery) to the esoteric (John Zorn, Sun Ra, Allan Holdsworth), the four-piece unit thrives on spontaneity and an ever-evolving catalog of originals. Our half-hour podcast with the group features a live recording of a recent Pachamama's performance as well as commentary from guitarist Eric Mardis, saxophonist Dan Pem and drummer Ryan Johnson.


› Get the podcast
› Listen to the mp3 of the podcast
› Preview the live recording from Pachamama's



Interview highlights sans music
lawrence.com: Tell us about your two weekly gigs.
Mardis: We do Pachamama's every Thursday night starting at 9:30pm and we play until midnight with a half-hour break in the middle. We played during dinner at Pachamama's for the past two years at the old location. We switched it to a later deal to try to get people to come in and enjoy the listening room and the bar and not have to worry about dropping their entire bank account on dinner even though it is the best restaurant in town, probably. It's more of a bar scene: people hanging out and talking loud. It doesn't have to be church-like. It's been fun so far.
We do Limerance every Saturday night from 10pm to midnight. It doesn't seem like it belongs in west Lawrence. Once you're in there, you completely forget that you're at 15th and Wakarusa in a strip mall. It's a cool room, too. We've been doing that since January.
So Floyd the Barber has a history dating back how long?
Album Mp3s

Live at Pachamama's
Mardis: The original Floyd the Barber trio started in 1990. I think we got Dan involved in 1992 we met him through the KU jazz program : Calvin Bennett was the bass player for years and Will Dinkel has been in for the last year-and-a-half or so. Ryan became the official drummer in about 1995.
Let's talk about the set list at Floyd the Barber events. How much of it is covers and how much is originals?
Pem: We play jazz going all the way back to the '20s through the modern day as far as covers. We'll usually throw in some originals on the second set and maybe towards the end of the first set. They tend to be more out there and crazy and loud more drum solos and loud guitar solos :
We really mix it up. If you came and saw us for every gig in a month which would be eight gigs you probably wouldn't hear many repeat tunes.
Mardis: It's good for the audience's ears and it's good for us not to get locked into playing the same thing every week. Sometimes Dan will call a tune that I've not seen, but it lends this kind of spontaneity and boot-camp quality to it and a lot of times it turns out golden.
Is there a jazz "scene" in Lawrence or just a few people playing jazz?
Pem: There is a jazz scene in Lawrence, but it's not a big scene. It is kind of different that what you would see in Kansas City, which is a lot more traditional. There's a lot of good players there, but a lot of times you'll get exactly what you expect when you go see a jazz show in Kansas City.
Mardis: Jazz is a big thing. Anything from Allan Holdsworth-type super fusion jazz to the old stuff it all falls under the same blanket. There are some monster players in Lawrence for sure. But as far as the scene is concerned people coming out to see jazz I don't know that people seek it out, because it's not so readily available and not advertised that much. I think people are starting to get the idea at Pachamama's and Limerance, and I think they have jazz on Sunday nights at the Eighth St. Tap Room and I think they still do something at Free State.
Recurring event
Limerance, 1520 Wakarusa Dr., Suite D, Lawrence
All ages / Free
If you want to run the gamut, we're a good place to start. If you're a rock guy that thinks that jazz is like dentist's elevator music, come see us and we'll dispel that. Or if you like that kind of 'Elly May Clampett coming down the staircase' jazz music, there's a little bit of that too.
Is there some recording on-tap for Floyd the Barber this year?
Pem: We're going to make a recording of our originals and maybe a few more tunes just to have a representation of us at this time. We're really excited about it.
A 15-year retrospective?
Mardis: Exactly.
Pem: As time goes by, everybody changes in the way that we play. We really want to capture this moment because we feel like everybody is playing real well right now and nobody is on any serious drug binges. We want to catch it right now while we're all doing ok.