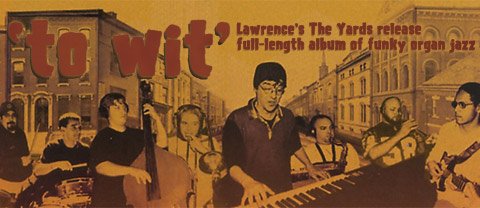 Lawrence quartet The Yards conjure mind-bending polyrhythms and tantalizing horn arrangements and fold them into a funky format reminiscent of The Meters and Medeski, Martin & Wood. Inspired by the powerful growl of the Hammond organ, lead songwriter Bradford Hoopes churns out chart-busting melodies that are nimbly interpreted by guitarist Michael Hamm, bassist Dave Shelton and drummer Kelly White. The group's new album "Wit" showcases these elements along with Tom Johnson's epic horn arrangements and Colin Mahoney's slick production skills. All four Yards hopped in our podcast booth to preview tracks from the new record and discuss Lawrence's funked-up music scene.

› Get the podcast
› Listen to the mp3 of the podcast
› Preview the new album, "Wit"


Interview highlights (sans music) long-hand-style:
lawrence.com: The Yards are an amalgam of styles - I hear a little jazz, I hear a little funk and a little of this and that. So why don't you give me the official line on that and set it straight.
Hoopes: We like to call ourselves a "dance band," because we prefer for people to dance when we play : If it makes us feel like dancing, it's probably going to be right.
Are The Yards a jam band?
Past Event
Thursday, April 6, 2006, 9 p.m.
Jazzhaus, 926 1/2 Mass., Lawrence
21+ / $3
Hoopes: I'll happily associate with a jam band. When we opened for (John) Scofield in 2002, he was a jazz player but he was opening up to the jam band world. Man, it was cool. That was the most people that have ever seen us and danced and really enjoyed it.
Are these songs composed? How similar is one performance to the next?
White: It's sort of in the standard of traditional jazz music, where there's a melody, a head and a set of chord changes that we all are aware of. But after that - have at it.
These horn arrangements that you got going - tell me some of your favorite records as far as horn arrangements go:
Album Mp3s

Wit
Hoopes: Anything by Tower of Power. Chicago. Earth, Wind and Fire.
Do these horns come out with you when you guys play shows?
Hoopes: Not very much. But hopefully when the record comes out that will be an inspiration for them to join us.
That organ is indeed distinctive. Is it a Hammond B3?
Hoopes: It's actually an XB2 - it's the digital clone version of the B3 : They haven't made 'em since the '50s.
Being that you named your record label Hammondbeat, I'm guessing that you have a bit of a fascination with this instrument.
Hoopes: Actually, it's not our record label. It's a whole online community that is basically Hammond-driven : They go across a variety of genres, but there's always a Hammond in there. That's how they discovered us.
What is it about that instrument that can pull all these people together?
Hoopes: It's powerful : When you turn the thing on you have to warm it up, do this ignition-switch thing and gradually the tone comes up. It's like driving a car. It's the closest (instrument) to the guitar, and the guitar has been the powerful instrument that has been affecting everyone in popular music for so many years. The Hammond organ has that ability to just grab you : It really does fill a room like nothing else.
Who are some of your favorite Hammond players?
Hoopes: Jimmy Smith is the king. I love Barbara Dennerlein - she's a newer woman out of Germany. Larry Young. There's so many.
Can I challenge you to each tell me one record that really opened your eyes to the type of style that has become The Yards?
Hoopes: I gotta throw Stevie Wonder "Innervisions."
White: "Back to Oakland." The first time I heard that heard that record I knew I was going to be a Tower of Power fan. For drummers - it's David Garibaldi. Then after you listen to it about 47 times, you start to realize how great everybody else is:
Hamm: I'd have to say, especially for some of the older Yards stuff, probably "Boss Guitar" by Wes Montgomery. It's a really great organ-trio album : guitar, organ and drums.
Shelton: Obviously The Meters is a huge influence. But for this band, pretty much everything that James Jamerson ever recorded on Motown.