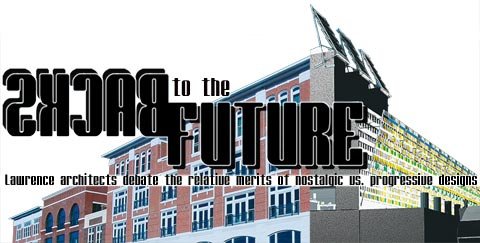 Dan Rockhill is not afraid of the future.
The workaholic KU architecture professor - known around town for his trademark structures like the metallic residence at Seventh and Alabama - is the kind of guy who covets the opportunity to put a house on stilts, divvy it up with a drawbridge, or create "rooms" with sliding metal sheets.
All of which might explain why it took more than two decades for Rockhill to get a major project in the downtown area.
"What I see is that increasingly there's an attempt to beautify downtown and make it Disney-like," says Rockhill, whose design-build firm is giving a new look to the Van Go Mobile Arts building at 715 N.J. St.
"They want to make a little nostalgic neighborhood with Victorian lamps," he says. "I don't see the attraction, but obviously a lot of others do. We're a little outnumbered in that area."
Rockhill doesn't cast stones at projects around town, but you can be sure the Hobbs Taylor Lofts would look completely different if Rockhill and Associates had designed it.
Rockhill deems that building's faux-historic façade "totally inappropriate."
"Copying things from the past, I think, is a measure of our insecurity," he says. "I prefer to think that, as a culture, we see ourselves advancing, and the footprints that we leave behind us are fresh."
Rock and a hard place
In the real world of architecture, of course, the client's interests typically supercede an architect's desire to create memorable, modern structures. It's a struggle that Rockhill is familiar with, and precisely the reason he doesn't place blame on the architects whose projects he is more than happy to critique.
"I know Dan Sabatini, and I can commiserate with him," Rockhill says of the principal architect of the Hobbs Taylor Lofts. "You have an owner who is begging for something that takes a far more conservative approach. I think Dan is very successful on the interior of (the building). It's just too bad that it has to reflect so much historicism on the outside. But those are issues that are well beyond his control."
The vision behind that part of downtown Lawrence's new look, after all, is Bo Harris, whose development group spearheaded the Hobbs Taylor project. Harris is currently working to convert the 800 block of Pennsylvania Street into a mixed-use district of apartment-style housing, offices and retail.
It's doubtful, Rockhill says, that Harris would ever hire a risk-taking firm like his own for such a project.
"Bo is a careful developer who wants to take advantage of the majority's interest in historicism," he says. "Unfortunately, the majority of people ... are not inclined to want to take chances. They're more interested in a safer direction, because they know that the return is going to be equally safe on their investment. That's just business, and I understand that."
Faux history
If Harris's project on the 800 block of Pennsylvania Street is approved for placement on the National Register of Historic Places, however, it could have peripheral effects on the surrounding East Lawrence neighborhood.
A historic designation would allow developers to apply for tax credits to restore the buildings, and it would also mean that any properties within the 500-foot "environs" of the buildings would have to go through a review process to make changes and/or improvements.
Such reviews, done by the city's Historic Resources Commission, have a reputation for being stingy with allowing modern design. According to Rockhill, these guidelines dilute the potential for neighborhoods to remain interesting and individualistic.
"It irritates me to see so much of Lawrence become controlled," he says. "Now in East Lawrence, if they have their way, they'll have a development where the proportions of windows have to conform to a certain standard. It's just a desire to make everything the same. It's unfortunate. It's that kind of rich, eclectic quality that I find appealing in neighborhoods."
Fortunately for Rockhill, his unorthodox Van Go project didn't fall within the environs of a historic building. (Although, as a courtesy, he plans to get final approval for the design from the East Lawrence Neighborhood Association.)
More than anything, Rockhill says, the Van Go project has been fruitful because he gets to discuss his progressive design philosophies with local philanthropists, however skeptical they might be.
"Having the opportunity to go into all these living rooms and talk to people about why it looks the way it does is great," he says. "These people are literally stacking dollar bills to make this million-dollar project happen. It's an amazing community effort and it's been one of the most exhilarating experiences I've ever had."
Balancing act
Since so much architecture bows to the conservative preferences of clients, one can imagine David Dunfield's reaction when the Lawrence Arts Center charged him with the duty of erecting a building that "would win design awards."
"We love to hear that kind of thing," says Dunfield, a former city commissioner and project manager for Lawrence's GLPM Architects. "I know that Dan Sabatini, for example, is capable of doing pretty out-there design work. But we do have to represent the wishes of our clients, and I'm sure that's reflected very much in the design of the Hobbs Taylor Lofts. It certainly was the case with the Arts Center."
That building - with its lack of historical styles - may have set the tone for GLPM's latest project: an addition to the old Arts Center, the Carnegie Library building at Ninth and Vermont. The glass-plated, modern-style addition is pending approval from city commissioners and could be completed in early 2007.
According to Dunfield, the Carnegie addition will be "in the style of our time" so as to complement rather than imitate the building's Depression-era architecture.
"When you have a strong historic context like downtown Lawrence, I think architects have a certain responsibility to be respectful of that," Dunfield says. "At the same time, I think that we also have a responsibility to be honest about the time that we're living in and design in ways that reflect the economy and the technology of our time."
Dunfield views the Hobbs Taylor Lofts (which he deems "handsome") and the east 600 block of Massachusetts Street as the downtown's most "conservative" new architecture. A proposed major development near Sixth and Wakarusa streets is also slated for a similar look. But he cautions against extrapolating such examples to formulate conspiracy theories of a nostalgic takeover.
"I think there are a lot of people in town who would love to see more of that kind of work," he says. "At the same time, I think there are others who say, 'Well, can be a little more contemporary and still fit in with the downtown.' That's the direction we've been going in with our recent projects."
Like Rockhill, Dunfield is averse to the idea of an "imaginary 19th-century place" that reeks of Disney-fication. But he says it's going to take more than just modern thinking to produce interesting architecture.
"It's also a matter of being courageous," he says. "Dan Rockhill knows that his buildings are going to create controversy, and he has the courage to go out there and take the heat. Sometimes that's a hard thing to do."
Tough sell
Lest Sabatini be pigeonholed as a conservative, nostalgia-prone architect, a glance at his firm's Fire & Medical Station No. 2 near the Douglas County Fairgrounds reveals a penchant for some of the same bold metallic contours that are often associated with Rockhill.
Sabatini, whose firm also designed the polarizing renovation of the Eldridge Hotel, says that one common problem with modern architecture is people's perception of "modern."
"If it's done elegantly and well, it doesn't have to be crazy," Sabatini says. "I like to go out there and do new things, but at the same time, sometimes a grilled cheese sandwich and soup is pretty comforting."
This appetite for "comfort food" is what propels the majority to favor historic-looking architecture, Sabatini says. One of the worst things that architects can do, he says, is to strike an awkward balance between traditional and modern elements.
"A lot of times architects try to modernize traditional architecture, and that has a tendency to look very Disneyland-like because they're not applying the original formulas," he says. "I wanted people to look at (Hobbs Taylor) and say, 'I can't tell if it's old or new' - knowing very well that the interior was going to be much more edgy or contemporary."
Sabatini says that downtown districts constantly seek to renew their appearance because "they want people to think they're on the edge." He envisions a downtown that sprawls out onto New Hampshire and Vermont streets with mixed-use residential and commercial properties.
"I'd like to see the city push hard for an overall master plan of downtown," he says. "The worst thing we can do is come in and start knocking some of the old buildings down for more parking and suburban kinds of answers."
Sabatini Architects figures to be among 20-plus firms competing for the right to design a new $30 million Lawrence Public Library within the next couple years.
"That's a can of worms - where it's going to go and the process they're using to select a developer," Sabatini says. "From my standpoint the city really has to rein it in : The library needs to drive where they want to be, not the developers."
Sabatini says he could eventually see progressive architecture like Rockhill's finding a home in the downtown area.
"If you talked to someone who owned a storefront 100 years ago, they were probably not talking about preserving a style of architecture," he says.
"There aren't too many commercial projects in this area that want a very contemporary look," he adds. "If Dan Rockhill or I wanted to be developers and put our own money into it, we could do something 'modern.' But it's a tough sell."