Emma Stone was looking for a place in Lawrence to ride horses.
Instead, she found a place to share her love of horses with disabled adults and children.
"Either they're real excited to do it or kind of nervous," says Stone, a volunteer for Therapeutic Horse Riding Instruction of Lawrence. "But they all have fun. There's a lot of laughter."
THRIL is an all-volunteer organization that introduces special-needs individuals to the physical and emotional benefits of horse riding. The organization is active during the spring and fall, with once-a-week sessions at the Douglas County Fairgrounds.
"It was a good way to find a niche in the Lawrence community outside of KU," says Stone, a senior who has volunteered with THRIL since her freshman year.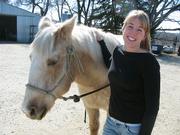 "I've never had anything but a wonderful time with it," she says. "The program is blessed with really great horses. You could set off fireworks in front of them and they're just going to look the other way."
All THRIL volunteers go through a training session before hitting the stables. They're often called upon to come up with creative challenges, such as the beanbag and hula-hoop game that Stone invented on a whim one day.
"This student bent down to me and said, 'I did it. It was great,'" Stone recalls. "The little game we thought up just totally made his day."
Experience with horses is a bonus for aspiring THRIL volunteers, but a desire to work with disabled individuals is equally important.
Persons interested in volunteering for THRIL should contact Leann Williams at 841-9740. More Lawrence volunteer opportunities available at rhvc.org or at lawrence.com/volunteer.
"They know the people and they know the horses," Stone says. "A lot of times you work with the same students."
The organization is currently seeking volunteers for upcoming autism and muscular dystrophy camps. Volunteers can also be placed into opportunities at the Tall Oaks stables near De Soto.
"They work well with their volunteers and make them feel like they're a part of what's happening," Stone says. "I'm sad that I'll have to leave it."