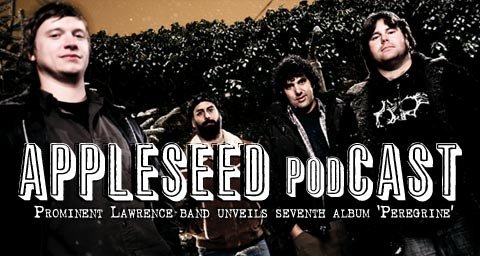 Two years ago, it looked as though Lawrence's pre-eminent experimental emo rockers were calling it quits. With lead singer Chris Crisci pursing Old Canes, The Appleseed Cast took a long hiatus that eventually ended with the addition of drummer Nathan Richardson and a renewed interest in creating expansive guitar-rock soundscapes. The result is "Peregrine," a seventh full-length album that will be toasted with fellow Lawrence bands White Whale and Black Christmas on March 25 at The Granada. Guitarist and vocalist Aaron Pillar phoned in from the Appleseed tour van in the midst of an Atlanta hail storm to discuss the new record, the rumored breakup and the evolution of his decade-old band. Included are portions of the following tracks from "Peregrine": Here We Are (Family in the Hall), Silas' Knife, Mountain Halo, Sunlit and Ascending.

› Get the podcast
› Listen to the mp3 of the podcast
Note: mp3 preview of the album not availed by the label.
Past Event
Saturday, March 25, 2006, 8 p.m.
Bottleneck, 737 New Hampshire, Lawrence
All ages / $8