Diners at Jubilee Cafe indulge on a scrumptious breakfast menu of homemade gravy, eggs-made-to-order, pancakes, bacon, sausage and grits.
But that's not the only fuel the cafe serves.
"The social interaction is what will keep them going until the next day," says Michael Gillaspie, a volunteer for the twice-a-week community breakfast at First United Methodist Church, 946 Vermont St.
"It's a great opportunity to verse yourself in different cultures and get to know how other people live and operate," Gillaspie says. "I usually have regulars that come to my table. They like my service and they like talking to me, so we're building up a relationship."
Gillaspie, 21, does a little bit of everything to keep the cafe running smoothly. He takes orders, waits tables, washes dishes and eats with the guests. Most importantly, he knows how to cook.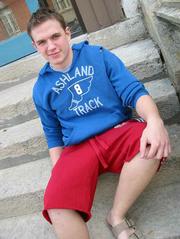 "Being well-versed at cooking helps, but it's really easy breakfast stuff," he explains. "A lot of people who come are from the Greek life, where they have to do a certain amount of community service hours. They've been known to not have very much experience in the background of making eggs or pancakes."
Gillaspie - a frat boy himself - is part of a team of volunteers than sacrifice sleep to arrive at the cafe at 5:30 a.m. on Tuesday and Friday mornings (the only two days that the program operates).
"I really don't want to get up that early, but it's worth it," Gillaspie says. "The people that just come once-a-month don't get to know as many people, so I feel it's important to show up every morning."
Individuals interested in volunteering for Jubilee Cafe should simply show up to First United Methodist Church early Tuesday or Friday morning. Groups should e-mail Carolyn Tharp at jubilee@ku.eduhref="jubilee@ku....> to plan a date. More Lawrence volunteer opportunities available at rhvc.org or at lawrence.com/volunteer.
Jubilee Cafe strives to serve its guests with dignity and respect. All in-need community members are welcomed - homeless or otherwise.
"We actually take people's orders because a lot of the time they're not given many choices in life," says Carolyn Tharp, a coordinator for the cafe. "People serve them just like a waiter would, and we sit down and eat breakfast with them."
The cafe is especially in need of volunteers for spring break (March 21 and 24) and cleanup sessions following meals (approximately 7:30 to 9 a.m.), Tharp says. The organization is also seeking volunteers for upcoming fundraisers.
If you're like Gillaspie, you might even get to try grits for the first time.
"I've gotten all different kinds of instruction about how to eat them," he says. "Some people say butter and salt; some people say sugar."