Twelve musicians sat in a circle and fiddled with their guitars, harmonicas and other instruments as one person spun the wheel that would direct the theme of the next song they would play.
The musicians assembled for a Saturday Jam session at the Americana Music Academy, 1419 Mass. The Saturday afternoon Lawrence tradition began about two years ago.
This time the wheel landed on "Bawdy Song," or a Bob Dylan tune. Greg Pelligreen started off "Tomorrow is a Long Time" with his guitar. He put his harmonica that had been fixed in front of his mouth to the side as he took the lead on the vocals on this one.
Different musicians of all skill levels attend the jams, which are played almost impromptu with no real agenda. They usually play bluegrass, country, folk music and other styles.
"It's never one thing. It's always different. It's people here every Saturday - completely open and always a different lineup," said Tennyson LeMaster, of Lawrence, who played a snare drum and a little bit of guitar during the jam.
The relaxed atmosphere allows the musicians to have fun and concentrate on their music.
"Everybody in there's been playing music in one form or another," LeMaster said. "There's no pressure. We just get to play what we want."
Americana Music Academy is a nonprofit organization that celebrates American music and its influences. It offers group and private music lessons.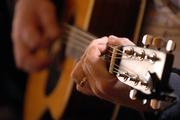 The organization has submitted a proposal to the City Commission for the use of the Carnegie Library building at Ninth and Vermont streets.
Anyone can attend the Saturday Jams, which last from 3 p.m. to 5 p.m. Beginning musicians are welcome, LeMaster said.
"It's the best way to learn: to play with other people," he said.