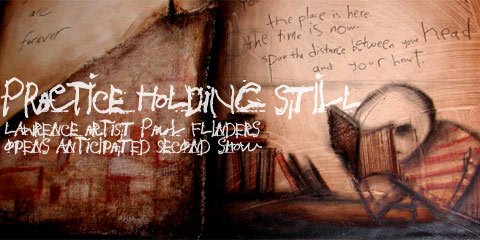 Only a kid from Utah could describe northeast Kansas as noisy and crowded.
Lawrence artist Paul Flinders grew up on an orchard at the base of Utah's Manti Mountain and moved to small-town Kansas as an adolescent. He regretfully compares the landscapes.
"It's not quiet here. People are everywhere. You go to a lake, trying to get away, and there's a farmhouse or something," says Flinders, whose Utah childhood was marked by secluded bliss, weekend camping trips, escaping into the wilderness.
By contrast, Flinders spent his high school years in Wathena, Kansas-population 1,400-escaping through his artwork. The second of eight children whose parents often pulled the plug on TV time, Flinders used watercolors to create new scenery for himself.
"I'd completely plaster my walls with paintings, and them empty them when I was finished. I would cycle through them that way. I could see the endless possibilities when the walls were bare again."
The possibilities may have been endless, but Flinders mostly returned to images of tranquility-a rolling Kansas thunderhead, a meditative guitarist, still life.
Now an art student at KU, Flinders maintains a level of quiet in his work. He has grown past watercolor landscapes into slightly surreal oil paintings of the human figure, most often seated in sparse, Zen spaces. In "Flick," a woman cries a large, hyperbolic tear in a movie theatre empty but for a disinterested boyfriend. "The Sea Inside" shows a guy holding a seashell to his ear, trying to categorize its sound. In many paintings, arms bend and slump over giant eggheads with E.T.-looking eyes. The figures aren't moving, but they're always thinking.
"I consider myself a contemplative person," says Flinders, pacing around the basement studio of his East Lawrence house. Paintings are stacked in every corner-he is quick and prolific. "You know how you wake up from a night's sleep, and you sometimes just lie in bed thinking? I do that a lot."
Flinders says that, while many artists are compelled to shed light on "things people don't want to see," his work instead highlights moments in which people are transcending, or trying to transcend, this crazy-ass world.
"It's an attempt at peace and calm in a world that may be chaotic. A lot of the figures are trying to just chill out," Flinders says. "In America, everyone is so damn busy, they forget about things that make life extremely wonderful. It's good to slow down."
While a lot of Flinders' work has an air of optimism-words meant to uplift, characters that try for better situations-it sometimes ventures to the dark side. He pulls out a painting in which a young man is crumpled in a sterile corner with a telephone that obviously isn't ringing.
"Who hasn't felt like that?" he says, looking at the downtrodden figure. "But when I work with things that are positive, it's easier to stay with it to the end." Flinders says he tends to do his moping through music rather than painting. (He tinkers on several instruments and has made a long recording, "Muse," though says he's a better painter than a musician.)
So, can modern paintings abstain from gore, politics and perverse juxtapositions without being labeled weak?
"My work can be interpreted as sentimental," Flinders says. "But I don't really think of it that way. Maybe it allows people to enjoy sentimentality without succumbing to banality."
Ultimately, Flinders says, he is "too introverted to consider the viewer" during the whole, messy process. Nonetheless, his work has found a strong Lawrence following. His paintings sold quickly at his first solo show, and have been popping up in public venues around town. Flinders says this, his second show, reflects his own aspirations to achieve an infinite calm (opening reception info).
"It would be nice to, no matter what situation I'm in, to feel the same, rather than just react to everything," he says. "But it's a struggle for me and for everyone."