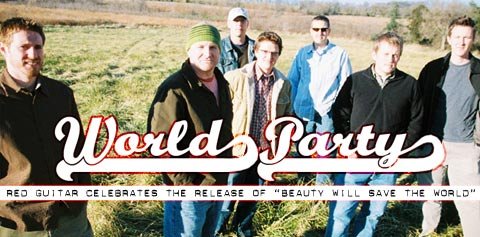 The melodic FM-friendly pop rock purveyed by The Jayhawks, The Gin Blossoms and Matthew Sweet lives on the capable hands of Red Guitar. The KC-based seven-piece is a collective of friends whose lineage dates back to the mid-'90s Lawrence music scene. The band recently released "Beauty Will Save The World," a keenly produced follow-up to 2003's "Based on a Blue Story." Songwriter and keyboardist Nick Nave stopped by to preview the new record and discuss the band's past and present journey.

› Get the podcast
› Listen to the mp3 of the podcast
› Preview the new album, "Beauty Will Save the World"


Interview highlights (sans music) long-hand-style:
lawrence.com: Fill us in on the back-story a little bit.
Our story probably started in about 1994. Me and the other main singer/songwriter John McKenna were in a band called Huckleberry. It was very acoustic college folk-pop-rock stuff. We kind of went our separate ways for a while and came back together in about 2000 and started playing together as a duo and started adding musicians : We've always split songwriting duties 50/50.
Tell me about your formative influences what records do you look up to most and which had a direct effect on Red Guitar's sound?
Past Event
Saturday, April 1, 2006, 9 p.m. to 2 a.m.
Bottleneck, 737 New Hampshire, Lawrence
All ages
I think you can definitely draw some direct links to some Springsteen, some Neil Young, some Jackson Browne : that vein of classic American rock and roll songwriters.
When I hear your CD, I hear hits. You have to create your own buzz when you're an independent band - how are you doing that?
Maybe a long time ago it was doing it to get rich and famous or to be that popular guy that's playing down the street. But now we take pride in being truly independent. We do all of our own production - our recording, our management, our booking. We just keep trying to put our name out there in every way we can trying to play shows on the weekends in Lawrence and Kansas City primarily and trying to get radio stations to be interested in us. We had some good interest with the last record and we're hoping with this one we can hopefully find that hit : As much as we want to be 'cool' or whatever, we do write hooky, poppy songs.
So let's go back in time to Lawrence 1994 when you were playing in Huckleberry. That was a time when The Crossing was still a venue. How was (Lawrence) different?
At The Bottleneck, for instance, there was buzz every night. It was hard to get into open mic night : If you were a rock and roll fan you could probably go pay the cover at The Bottleneck just about any night and be pretty happy with what you saw. That was kind of the shining light back in the mid-'90s for us and when we finally got to play there it was a big deal and we worked really hard to pack it. I really feel like Lawrence is rising again, but it definitely dipped a little bit after that mid-'90s peak. I think it got mentioned in "Rolling Stone" as kind of a buzzworthy music town. The Lazer was playing free-format indie/modern rock music. There was definitely a buzz. It was fun to be in a band and have big dreams.
Did you try and ride the coattails of the Paw/Stick thing at all?
Well, if you listen to our music you might know that even if we tried we probably couldn't have done it. That stuff was huge. There was some serious national buzz about the Lawrence "scene" and "sound." We kind of write these pop songs and we're kind of in the Bob Marley/John Denver vein - in a good way.
I don't know if that's possible. You think you sound like John Denver?
No. I think John Denver was an influence, though. I can vouch for that.