Most Lawrence residents can talk at length about Allen Fieldhouse, Liberty Hall, the Campanile or that "Honk for Hemp" guy.
But there are a number of equally prominent fixtures in town that most people drive by every day but don't really know what they are, what they do or who put them there.
So here is a little background that can be used to answer the question when locals ask, "What is that thing?"
'Salina Piece'
Nickname: The waffle iron
Location: West campus by Nichols Hall
The looming object may appear to be a remnant of Cold War-era machinery, but the "Salina Piece" is a 40-ton sculpture created by the late artist Dale Eldred.
"It's a very distinguished piece," says art historian Marilyn Stokstad. "I think it's perhaps Dale's best piece."
Installation on the sculpture originally began on the triangular field between Indiana Street, Sunflower Road and Sunnyside Avenue. But it was moved to west campus after enduring several years of controversy.
"The neighbors hated it," Stokstad says. "They didn't like abstract art. People don't like anything they're not familiar with."
Bull sculpture
Photo Gallery
Thingamajigs in Lawrence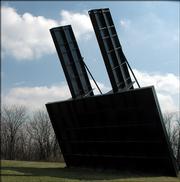 Photos by Mike Yoder, Nick Krug and Jon Niccum
Interactive map
Nickname: The bull house
Location: 11th and Maine streets
Directly across the street from Memorial Stadium sits a mighty beast that guards the entrance to a residence commonly referred to as "the bull house."
"It defines this place," says tenant Ricky Brown.
Brown reveals that a female art student brought the bull to the house around 10 years ago. It was her senior project, constructed from plaster, cement and wire (no clue what the eerie red eyes are made from).
"Drunken looters" actually uprooted the hefty bovine off its base in 2003, according to Brown. Fortunately, the raging bull has become a sitting bull only a few feet away from its original spot.
AT&T tower
Nickname: The tower
Location: Seventh and Vermont streets
What remains downtown's tallest structure is also one of its least understood.
But the AT&T tower (renamed after SBC switched to AT&T in November) has always been in operation for the sole purpose of communication.
"It used to be a microwave tower that carried toll traffic between Lawrence and Topeka," says Brett Sayre, director of external affairs for AT&T. "What it does now is it carries wireless traffic. You might notice a number of little antennas on that tower. Those are antennas in connection with Cingular Wireless service."
The Sphere
Nickname: The big metal ball
Location: South of the Riverfront Mall by Rhode Island Street
Looking like something Atlas might have held, the "Sphere" is a metal ball from the old Lawrence Paper Company that used to be located where City Hall is now at Sixth and Massachusetts streets. According to Lisa Patterson, communications manager for the city of Lawrence, the original purpose of the rotating device involved filling it with pulp material, which was heated with water and utilized to make cardboard boxes.
"The ball was removed from the site and placed in storage during the construction of City Hall," Patterson explains. "It was later placed as an art object in the landscaping of the surface parking lot directly east of city hall to help recognize the history of the site and a remnant of the box factory."
The item was relocated to its present site in 1990, and a sign was installed that explained its role in the factory. The fact the sign was stolen several years ago has only added to its mystery.
Hoch pipes
Nickname: Campus candy canes
Location: In front of Budig Hall on north side
In a reversal when compared to the other items on this list, the Hoch pipes look like modern art but are actually functional machinery.
"They have to do with the circulation system in Budig Hall," says James Long, vice provost for facilities planning and management at Kansas University. "They are associated with the intake and exhaust of air."
Brick schoolhouse
Nickname: Creepy brick schoolhouse
Location: 23rd and Iowa streets
The building itself is not particularly odd, but its location is rather unconventional. Situated directly in front of Lawrence's busiest intersection and flanked by the open expanse of the Shenk Complex athletic fields, the brick building was an operational schoolhouse called Crutchfield No. 6 beginning in the 1920s. According to Lawrence historian Steve Jansen, "It was one of the last of the rural schoolhouses" and was decommissioned in the late 1950s.
"It's on property of the endowment association," says Long of its current status. "It's been there a number of years. Currently, it's being used for university storage for what we call cold storage. I think it has to do with storing concrete lab samples."
Water intake valves
Nickname: Nessie
Location: In river across from Burcham Park
One can see them from Burcham Park, from the levee or the Kansas River bridge. Sometimes they are completely submerged or barely peek above the surface like the back of the Loch Ness monster. Other times - such as this week - they are more distinguishable as large concrete platforms.
Patterson says these represent one of the most commonly asked "What is that thing?" questions she receives.
"Everyone goes, 'Isn't that where the old bridge used to go across the river?' No, they are water intake valves. They're simply exposed when the river level is lower."
Correction: In the original version of this story Marilyn Stokstad's last name was incorrectly spelled.