Past Event
Saturday, May 6, 2006, 7 p.m. to 2 a.m.
Bottleneck, 737 New Hampshire, Lawrence
All ages / $5
If music were a competitive sport, five athletes would carry Lawrence's Olympic torch: Brett Armstong, Apollo 13, Trucker, Lethe, and Marry Me Moses. This quintet of gladiators dueled their way to the finals of the first annual lawrence.com Deadwood Derby, winning over online voters, audiences and judges with their boundless charisma and precision gunnery. To relive the glorious details of these bands' journeys to the finals, immerse yourself in this digital memorial.
And now prepare yourselves, worthy citizens of Lawrence, as the ultimate bloodsport culminates at The Bottleneck on May 6. Find music and more on each band via the hypertext linkage below.
COMBATANT #1: Brett Armstrong
With just an acoustic guitar and a cigarette-tinted voice, Brett Armstrong got the best of his alt-rock peers in Round 1. The handful of people who were there in time for Armstrong's opening set were likely taken by his penchant for radio-ready songs in the vein of Pete Yorn and/or Howie Day. Or maybe they just took pity on a guy who evidently hasn't found the right pieces for a full-time full band. Prediction: that'll change soon.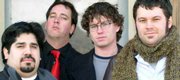 COMBATANT #2: Apollo 13
Apollo 13 is the wily veteran of the group, having already captured prizes in the John Lennon Songwriting Competition and the International Songwriting Competition. Mixing modern rock and electronica in equal measure, the band describes its sound as "smooth like Jack Johnson, hard like The Kinks, and edgy like The Chemical Brothers." We think the latter is the most prominent, but don't overlook the confident vocal presence of former Band That Saved the World frontman Shannon Savoie.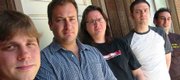 COMBATANT #3: Trucker
If you can't beat 'em, give it to 'em for free. That's the new motto of Trucker, who's giving away copies of its new EP "Feeling Better Today" in hopes of expanding its local following. Lead singer Todd Johnson's backwoods drawl is the band's calling card, and echoes of Drive-By Truckers permeate its tuneful Midwestern rock. The band recently expanded to a five piece, developing a two-guitar attack with noisy dual solos.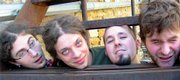 COMBATANT #4: Lethe
While scenesters might debate the official pronunciation Lethe, four Def-Leppard-worshipping doods from Lawrence have assumed the identity of this mythical river that floweth through Hades. The instrumental quartet shreds eight-minute epics akin to Pelican and/or Explosions in the Sky, with shifting dynamics and assorted atmospheric brush strokes. Composed of former members of Salt the Earth and This Building Is Cursed, Lethe strives to create music for music lovers or maybe just lovers. Oh and btw, it's not "Let He" or "lathe" or (our fav) "Le The" - it's "LEE-thee."
COMBATANT #5: Marry Me Moses
This Lawrence quintet debuted its original rock opera "Paul Bunyan and the Year of the Infinite Snow" during Round 2 of the Derby, winning the judges' wild-card vote with searing guitar riffs and a companion libretto. Marry Me Moses promises "more props" for the second go-around, during which the three Kritikos brothers will attempt to maintain domestic stability and not, like, totally beat each other up.
The winner will receive:
¢ Recording time for one single at Black Lodge Studios
¢ Music video production for one song by Through A Glass Productions
¢ Graphic design development (T-shirts, posters, website, etc - 5 hours total) by Red Hand Media (who crafted the Deadwood Derby logo)
¢ 50 screenprinted shirts by Blue Collar Press
¢ 100 full color 1" pins by Blue Collar Press
¢ 24 screenprinted T-shirts by Big Deal Merch
¢ 90 minute legal consultation and copyright registration by A&E; Legal Services
¢ Full-rights-use professional promo photo shoot and full color, double-page spread poster in lawrence.com Deadwood edition
¢ Appearance on The Turnpike music television program (subject to negotiation with winner)

* Technically speaking Hunt Industries and A&E; Legal Services did a couple things here and there. OK, so maybe they did more than us, who's keeping track? And of course we'd like to thank the sponsors who generously donated prizes. And to you, the fans - who helped make Year No. 1 a HUGE success (OK, so maybe just a moderate success) - big ups!
More like this story on Lawrence.com